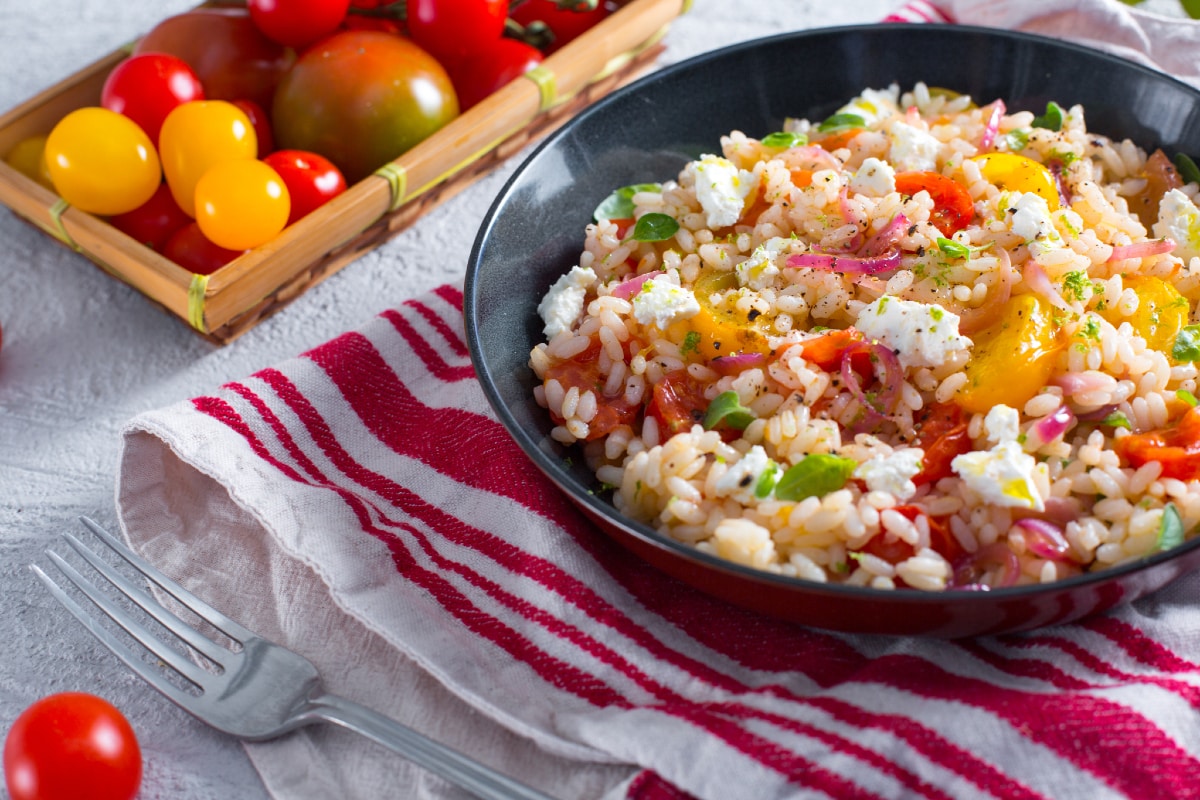 Gluten Free
Vegetarian
PRESENTATION
4-tomato rice salad is a fresh first course that is easy to prepare, perfect for the hot season. Choosing from numerous tomato varieties was not easy, but we went with our gut instinct and opted for 2 varieties of date tomatoes, red and yellow ones, our beloved pachino tomatoes and the camone tomato, an aromatic Sardinian variety with an intense flavor. Quickly sautéed tomatoes add all the sweetness of these tomatoes together with an acidic touch, for a flavor you will never grow tired of! We added some pieces of cheese to decorate the plate and for a creamy touch, along with lots of aromatic herbs and lime peel, for a truly unique taste! A fresh salad that is perfect enjoyed any time and anywhere!
INGREDIENTS
Rice
1
cup
(320 g)
Datterino tomatoes
5
oz
(150 g)
– yellow
Datterino tomatoes
5
oz
(150 g)
Cherry tomatoes
5
oz
(150 g)
Sardinian camone tomato
5
oz
(150 g)
Red onions
1
– medium
Robiola cheese
6
oz
(180 g)
Lime peel
to taste
Oregano
to taste
Basil
to taste
Extra virgin olive oil
to taste
Fine salt
to taste
Preparation
How to prepare 4-tomato rice salad


To prepare 4-tomato rice salad, start by thoroughly washing all the tomatoes. Cut the red date tomatoes in half 1, do the same for the yellow ones 2 and the cherry tomatoes 3.

Destalk and cut the camone tomato in half. Place the tomato on a cutting board with the skin facing up, and cut it into 0.6 inch slices 4. Cut each slice into 3 triangles that are equal in size 5. Now peel the onion 6.

Thinly slice it 7 and start cooking. Heat a large pan, add a drizzle of oil and the onion 8. Cook on a medium-low flame for a few minutes, add around 0.7 oz of water. When nicely stewed, add the 4 types of tomatoes 9. 

Add salt to taste 10 and sauté the tomatoes for around 5 minutes. Place them in a container and leave them to one side 11. Cook the rice in boiling salted water 1 for the time indicated on the packet.

Once cooked drain it 13 and cool it under cold running water 14. Thoroughly drain the rice and place it in a bowl 15.

Add a drizzle of oil 16, stir 17 and leave to cool. Place the rice in a large bowl, add the 4 types of tomatoes which will have cooled to lukewarm by now 18, and stir some more.

Break the robiola cheese by hand 19 and place it in a bowl 19. Place the rice on the plates 21. 

Add the pieces of robiola cheese, oregano and hand-torn basil leaves 22. Finish with a sprinkling of grated lime peel 23, a drizzle of oil, and serve your 4-tomato rice salad 24.
Storage

Rice salad can be stored in the refrigerator for 2 days if thoroughly covered. If you choose to prepare it in advance, add the cheese and aromatic herbs just before serving!
Tips

We recommend adding the robiola cheese at the end to prevent the salad from becoming too firm and the rice grains from sticking together. Oregano and basil can be replaced with marjoram and thyme. Lime peel can be replaced with lemon peel. The fresh cheese can be replaced with diced feta or quartirolo.
SHARE

/5


Source : www.giallozafferano.com