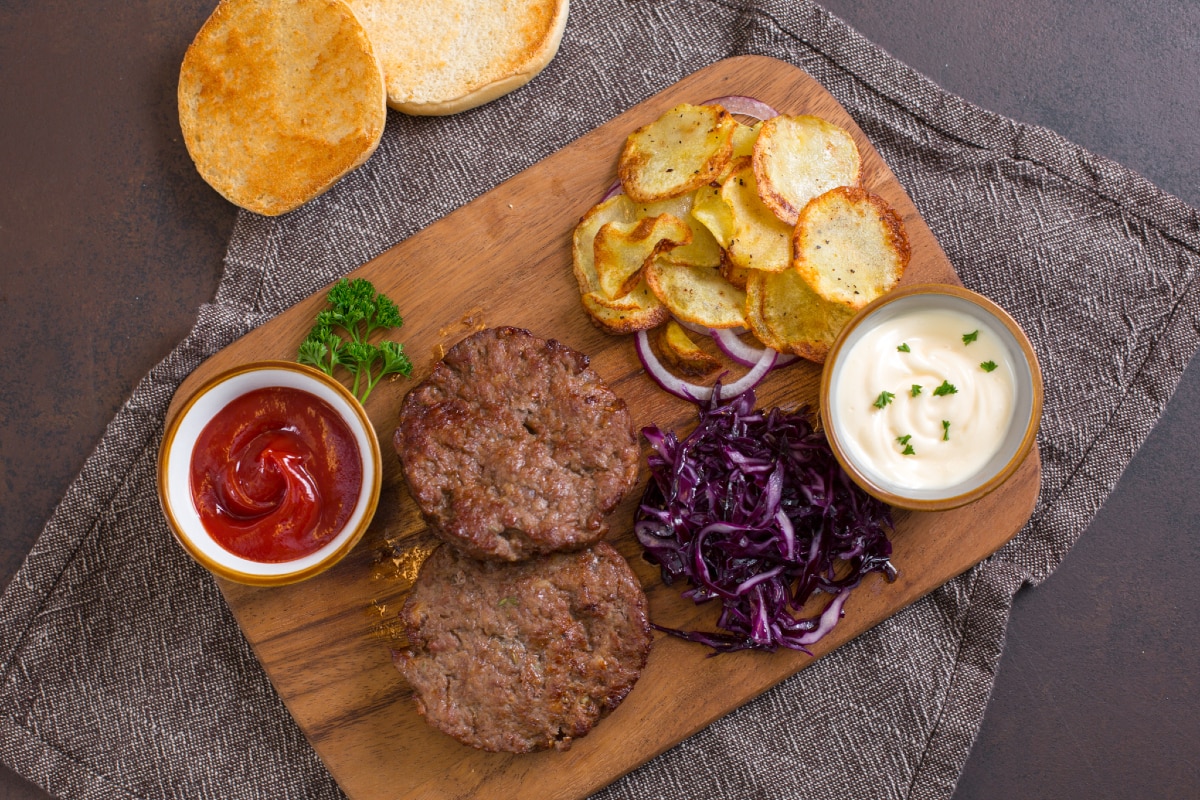 Gluten Free
Lactose Free
PRESENTATION
Hamburger night coming up? With the air fryer hamburger recipe, delivery will be just a memory! Homemade hamburgers are easy and quick to prepare and, thanks to this cooking method, they will also be healthier and lighter… with the air fryer, you won't need to add fats and you'll avoid the typical smell of grilled meat filling up the air. Tender and juicy, air fryer hamburgers are perfect to enjoy inside rich and succulent buns or as a main course with a side of vegetables! Enjoy!
Check out these other air fryer recipes:
Air fryer Zucchini
Air frier Calamari
Scotch Eggs
INGREDIENTS
For 4 hamburgers
Beef
12.35
oz
(350 g)
– minced
Pork
4.6
oz
(130 g)
Grana Padano DOP cheese
3
tbsp
(20 g)
– grated
Thyme
to taste
Fine salt
to taste
Black pepper
to taste
Preparation
How to prepare Air fryer hamburger


To make air fryer hamburgers, combine ground beef and pork in a bowl 1, then add salt 2, pepper, and grated Grana Padano DOP cheese 3.

Also add the thyme 4 and mix with your hands to obtain a homogeneous mixture 5. Place a circular pastry cutter with a diameter of 3.5" on a sheet of parchment paper and fill it with 4 oz of the mixture 6.

Compact the meat with the back of a spoon or a meat mallet, depending on the desired consistency 7. Gently remove the pastry cutter 8 and proceed in the same way to form the other 3 burgers. At this point, cut the parchment paper into squares to separate the burgers and handle them more easily 9.
 

Place the hamburgers in a 4.4 Qt air fryer using parchment paper to assist, then remove it 10. Cook 2 burgers at a time at 390°F for 10 minutes, flipping them halfway through 11. Your air-fried hamburgers are ready to be enjoyed as desired 12!
 
How to store

Air fryer hamburgers can be stored in the refrigerator for a maximum of 2 days in an airtight container.
You can store raw hamburgers in the refrigerator for one day, separated with parchment paper. Alternatively, you can freeze them.
Tips

If you prefer a rare cooking, you can cook the burgers for 8-9 minutes!
You can flavor the air fryer hamburgers with sage, rosemary, oregano, or marjoram instead of thyme, or replace the Grana Padano with Pecorino or a mix of both cheeses.
SHARE

/5


Source : www.giallozafferano.com