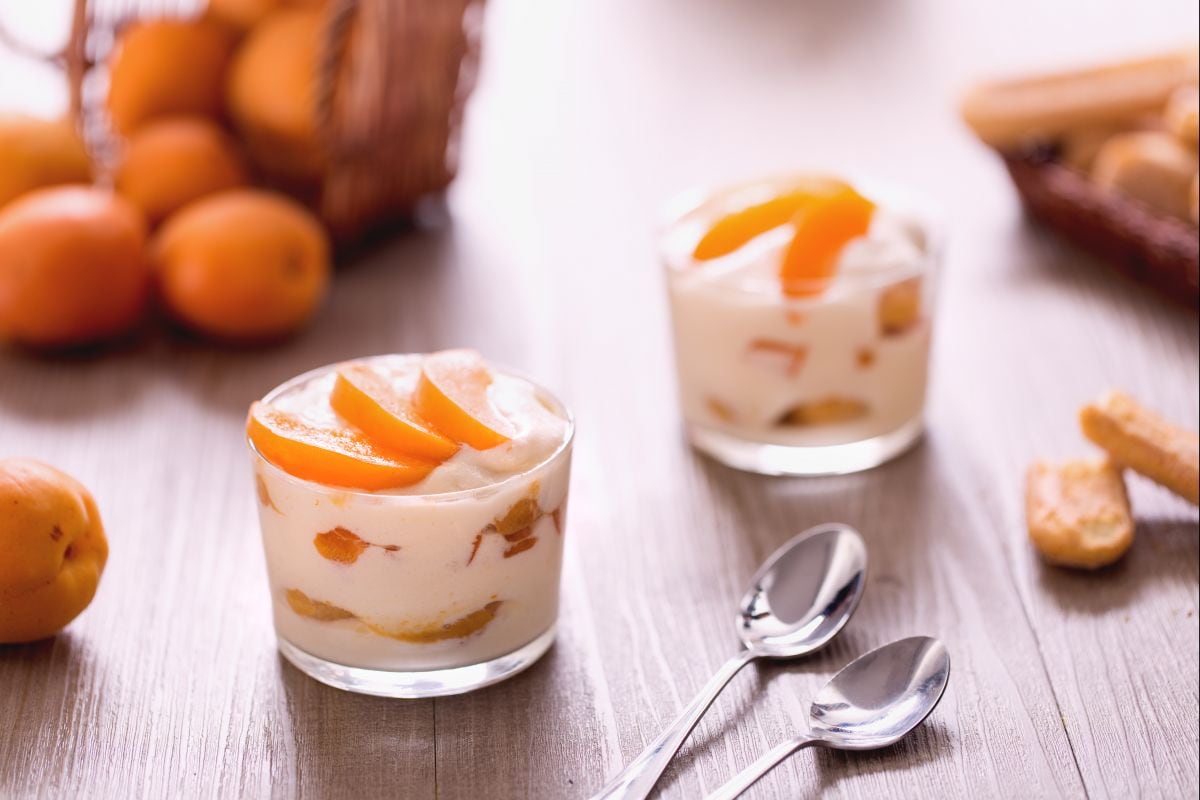 Vegetarian
PRESENTATION
The classic tiramisu takes a vacation… to make room for a much more summery version, perfect for this season! The cream is still the same, made with eggs and mascarpone, but instead of coffee for soaking the ladyfingers, we've used fruit! After the strawberry version and the mixed berries one, today we want to suggest an even more original idea: apricot tiramisu. This summer fruit pairs perfectly with the mascarpone cream due to its sweetness, but we'll reveal a little trick to enjoy this dessert all year round: use canned apricots to make it even during the winter season. The result will be a refreshing and delightful dessert that encapsulates all the flavor of apricots, embraced by a luscious cream. Give it a try and let yourself be swept away by the fruity whirlwind of this apricot tiramisu!
Check out these other tasty variation of tiramisu:
Pistachio tiramisu
Orange tiramisu
Lemon tiramisu
Pineapple tiramisu
Strawberry tiramisu
Strawberry tiramisu without eggs
Eggless tiramisu
Vegan tiramisu
Chocolate tiramisu
Chocolate cream tiramisu
Nutella tiramisu
Gourmet tiramisu
Ricotta tiramisu
Tiramisu with dry cookies
Five spice tiramisu
Tiramisu truffles
Tiramisu semifreddo
Tiramisu bundt cake
Tiramisu cake
Tiramisu cheesecake
Soft tiramisu tart
Wild berry tiramisu
Pandoro tiramisu
Pandoro tiramisu with baileys
Pandoro tiramisu with wild berries
Colomba tiramisu
Yogomisu
INGREDIENTS
433
Calories per serving
Ingredients for 12 glasses of 250 g each
Apricots
22
oz
(600 g)
Mascarpone cheese
18
oz
(500 g)
Ladyfingers
14
oz
(400 g)
Sugar
⅔
cup
(120 g)
Eggs
6
– medium size, at room temperature
for the soaking syrup
Apricots
9
oz
(250 g)
Whole milk
½
cup
(100 g)
Powdered sugar
3
tbsp
(20 g)
Preparation
How to prepare Apricot tiramisu


To prepare the apricot tiramisu, start by making the syrup for the ladyfingers. Take the apricots (intended for the syrup), wash them thoroughly under running water, and using a small knife, cut them in half 1. Remove the central pit and without peeling them, dice them into small pieces 2, then transfer them to the tall glass of a blender 3.

Add the milk 4 and start blending with an immersion blender 5 until the apricots are creamy 6.

Add powdered sugar 7 and continue blending until you obtain a smooth and creamy mixture 8. Transfer your soaking syrup into a shallow and spacious baking dish (this will make it easier to dip the ladyfingers later) 9 and place it in the refrigerator.

Now, focus on preparing the cream. Break the eggs and separate the egg whites from the yolks into two separate large bowls. Add half of the sugar 10 to the yolks and start whisking them with a beater until you obtain a light and frothy mixture that has doubled in volume 11. Then, while keeping the beater running, add the mascarpone cheese 12.

Continue to beat until the mascarpone is fully incorporated with the eggs 13. After washing and drying the beaters, also take the egg whites and start whisking them with the mixer 14. Once a white foam is obtained, add the remaining portion of sugar 15.

Whisk the egg whites until stiff peaks form 16 and gently fold them into the egg and mascarpone mixture 17, using a whisk, being careful not to deflate the mixture. Your apricot tiramisu cream is now ready 18.

Wash the apricots (intended for the preparation of the tiramisu), cut them in half, and remove the pit. Slice 5 of these halves into thin slices, resulting in 4 slices per half 19, which will be used for the final decoration. Dice the remaining apricots into cubes 20. Now, proceed to assemble your apricot tiramisu. Take the small glasses and, using a spoon, place a first layer of mascarpone cream 21.

Retrieve the soaking syrup from the refrigerator and use it to dip the ladyfingers 22. For each layer, half of a ladyfinger will be sufficient. Once the ladyfingers are soaked, place them on top of the cream in the serving glasses 23. Add another layer of cream 24

and diced apricots 25. Layer again with 2 halves of soaked ladyfingers in the apricot syrup and finish the glass with a final layer of cream 26. Decorate with apricot slices 27 and refrigerate for about 2 hours before enjoying your apricot tiramisu!
How to store

Store your apricot tiramisu in the refrigerator, covered with plastic wrap, for a maximum of 2 days.
Tip

If you prefer, instead of making individual portions, you can use a single baking dish measuring 30×20 cm.
SHARE

/5


Source : www.giallozafferano.com