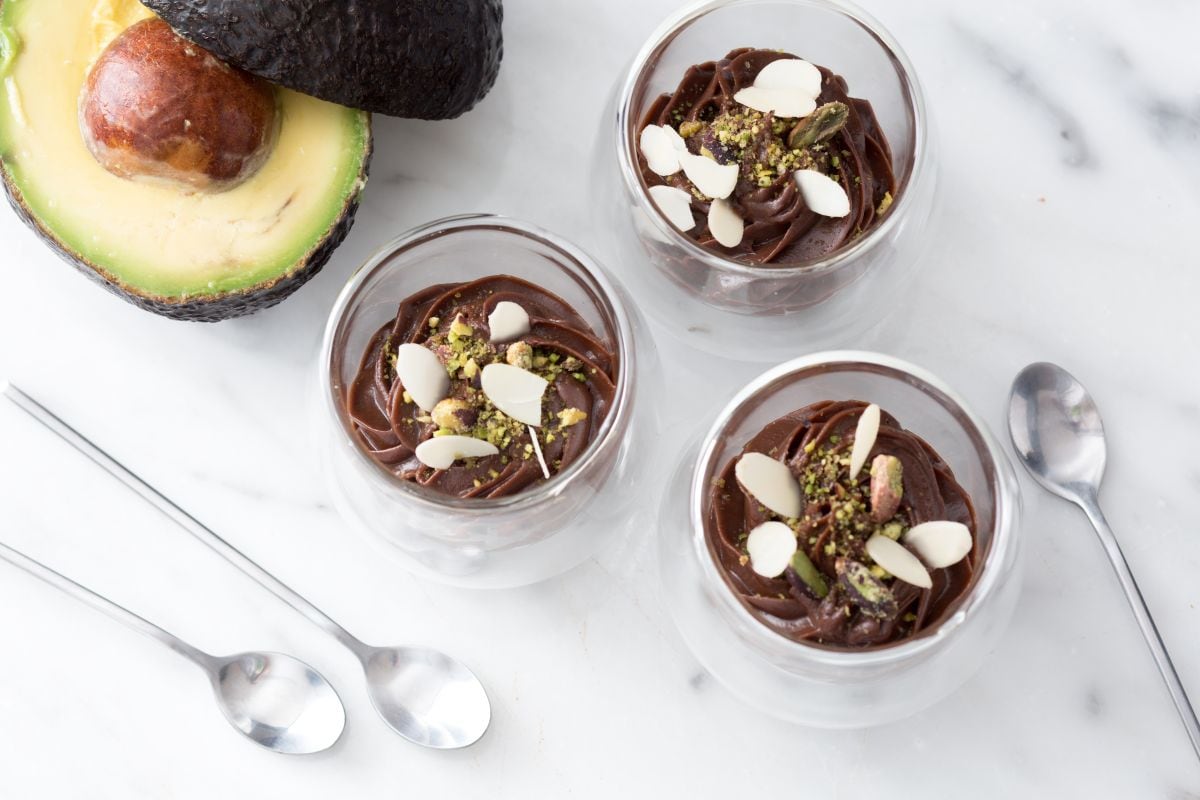 Lactose Free
Vegetarian
PRESENTATION
We've often repeated that simple recipes are the best and in this case we won't deny it: avocado chocolate mousse is a creamy summer dessert made with only three ingredients that can be prepared in less than half an hour! If you liked the avocado and chocolate popsicles, then you'll love the same flavor combination in this sweetly velvety version, which will allow you to fully appreciate the buttery texture of the avocado and its slight nutty aroma, the perfect complement to the intensity of dark chocolate. Naturally vegan and gluten-free, avocado chocolate mousse is the ideal choice if you're looking for a last-minute dessert for a dinner with friends, but also for a nutritious snack to tempt even the most indulgent kids! All that's left is for you to try it out!
Also check out our classic version of the Chocolate mousse
INGREDIENTS
371
Calories per serving
Ingredients for 4 glasses
Dark chocolate
3 ½
oz
(100 g)
Avocado
9
oz
(260 g)
Sugar
3
tbsp
(40 g)
to garnish
Ground pistacchio
to taste
Almond slices
to taste
Preparation
How to prepare Avocado chocolate mousse


To prepare the chocolate and avocado mousse, first cut the avocado in half 1 and remove the pit using a spoon 2, then extract the pulp (you will get about 8.5 oz) and put it in a blender 3.

Add the sugar 4 and blend until you get a smooth and lump-free cream 5. Melt the chocolate in the microwave at 900W for about 2 minutes, stirring it every 30 seconds 6 to prevent it from burning; alternatively, you can melt it using a double boiler or the bain marie method.

Combine the avocado cream with melted chocolate 7 and mix well with a spatula to blend everything 8, then transfer the mixture to a piping bag fitted with a star-shaped tip 9 and let it firm up in the refrigerator for about 15 minutes.

After the resting time, fill 4 glasses with the chocolate and avocado mixture, then garnish with pistachio 10 and sliced almonds 11: your avocado chocolate mousse is ready to be served 12!
How to store

The avocado chocolate mousse can be stored in the refrigerator for a maximum of 3 days. Freezing is not recommended.
Tips

If you love spicy notes, you can blend some freshly grated ginger together with avocado pulp and sugar… or dare with a pinch of chili pepper!
SHARE

/5


Source : www.giallozafferano.com