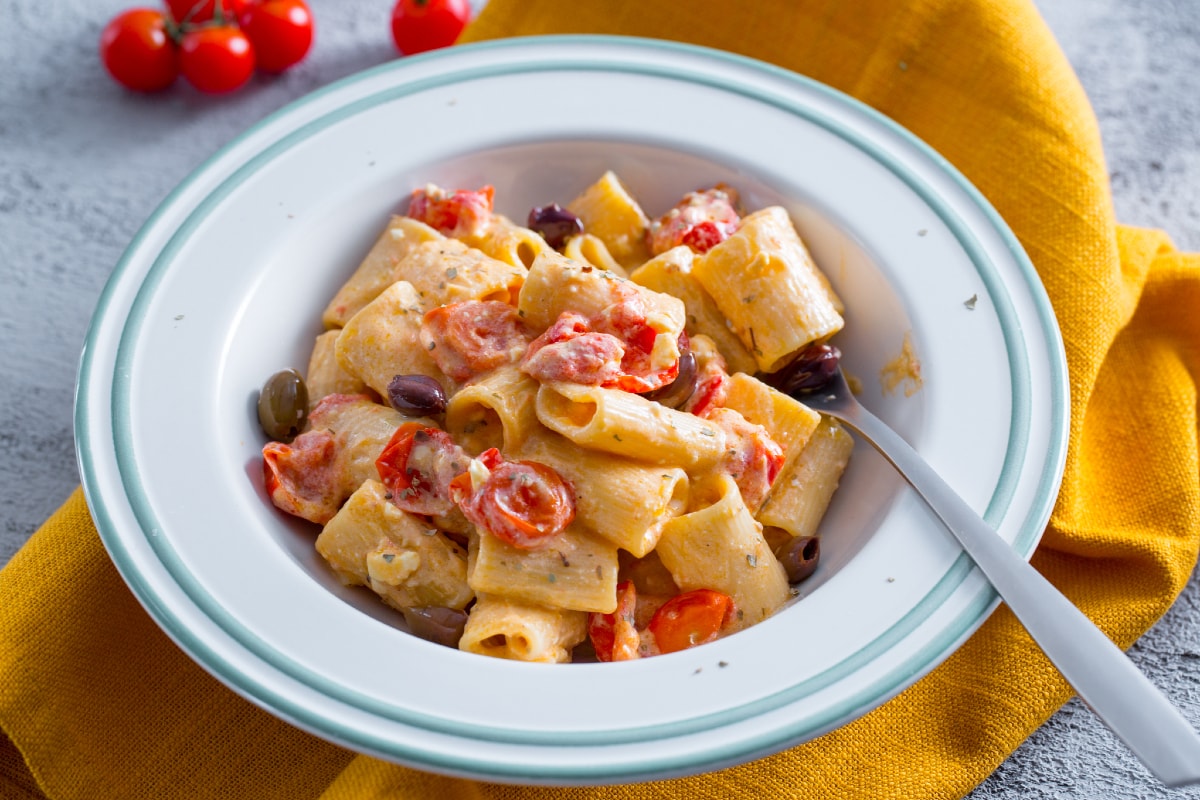 Vegetarian
PRESENTATION
Do you remember our baked feta recipe? It is so delicious and captivating that we decided to turn it into a sauce for a first course: baked feta pasta! Mediterranean flavors have always been a source of inspiration and feta, borrowed from Greek cuisine, seemed the natural choice, paired with sweet cherry tomatoes and our very own taggiasca olives, for a tasty match made in heaven that will win you over as soon as you take your first bite.
INGREDIENTS
Mezze Maniche Rigate pasta
¾
lb
(320 g)
Cherry tomatoes
1
lb
(400 g)
Feta cheese
7
oz
(200 g)
Taggiasca olives
5
tbsp
(50 g)
– pitted
Basil
to taste
Oregano
to taste
– dried
Extra virgin olive oil
to taste
Black pepper
to taste
Preparation
How to prepare Baked feta pasta


To prepare baked feta pasta, place the whole feta on a tray 1, then add the washed and dried tomatoes 2, seasoned with the fresh basil leaves 3.

Drizzle with olive oil 4 and season with black pepper 5. Bake in a ventilated oven preheated to 392° for 25 minutes. In the meantime, bring some water to the boil in a pan, add salt and cook the pasta until firm to the bite 6.

In the meantime, remove the tray from the oven 7, then drain the pasta 8 and add the pitted olives 9.

Stir to amalgamate the flavors 10 and crumble the feta. Finish by garnishing with dried oregano to taste 11. Serve the baked feta pasta right away 12.
Storage

Feta tends to dry pasta out so the dish is best enjoyed freshly prepared.
Tips

If the pasta is a little dry, add some of the cooking water for a more enveloping sauce.
Looking for a tomato-free version? Try the recipe for pasta with baked feta and spinach!
SHARE

/5


Source : www.giallozafferano.com