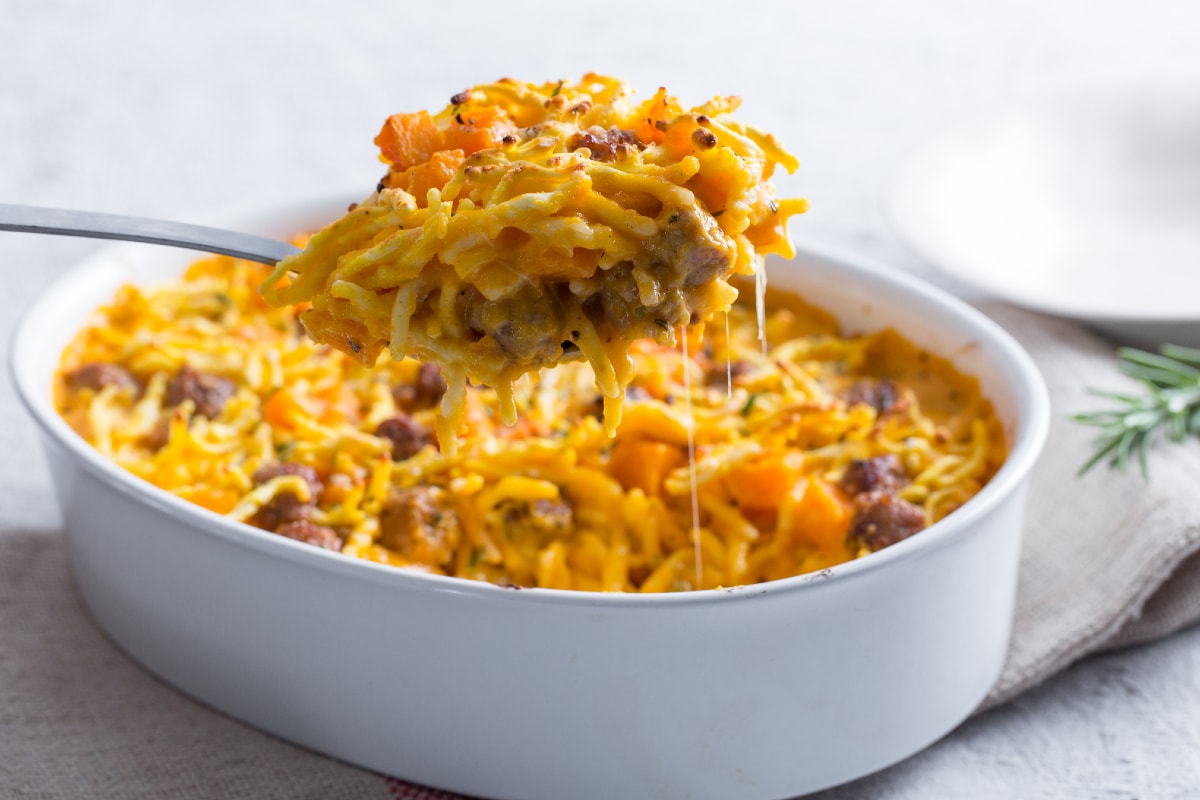 Energy
Kcal
969
Carbohydrates
g
96.6
  of which sugars
g
11.8
Protein
g
34.9
Fats
g
48.5
  of which saturated fat
g
21.18
Fiber
g
3.8
Cholesterol
mg
82
Sodium
mg
1166
PRESENTATION
Trofie are a type of pasta from Liguria that are traditionally served with pesto, but really, they're ideal for making lots of other first course dishes, too! This recipe for baked sausage and butternut squash trofie is a tempting idea for your autumn menus: The creamy butternut squash and béchamel-based sauce is livened up with bite-sized pieces of sausage with rosemary and cubes of melting cheese. And baking this dish au gratin will make it even more enticing! Try this baked sausage and butternut squash trofie for Sunday lunch or dinner with friends… The dish will be empty before you know it!
INGREDIENTS
969
Calories per serving
Trofie pasta
1
lb
(500 g)
– fresh
Butternut squash.
2 ¼
lbs
(1 kg)
Sausage
⅔
lb
(300 g)
Provolone cheese
¼
lb
(100 g)
Water
1
cup
(200 g)
Dry white wine
3
tbsp
(40 g)
Garlic
2
cloves
Rosemary
to taste
Extra virgin olive oil
to taste
Fine salt
to taste
Black pepper
to taste
For the béchamel sauce
Whole milk
1
cup
(250 g)
Butter
1 ¾
tbsp
(25 g)
Flour 00
2
tbsp
(15 g)
Nutmeg
to taste
Fine salt
to taste
For baking au gratin
Grana Padano DOP cheese
2
tbsp
– grated
Preparation
How to prepare Baked sausage and butternut squash trofie


 
To make the baked sausage and butternut squash trofie pasta, first clean the butternut squash by removing the skin and inner strands 1. Then cut the flesh into ½-inch (1-cm) cubes 2; you'll need around 1¾ lbs (780 g) of flesh. Add a drizzle of oil to a pan and let it infuse with a clove of garlic and a sprig of rosemary 3.

 
Next, add the squash and let it brown for a few minutes 4, and then remove the garlic and rosemary 5. Pour in the water 6 and cook over low heat for 10-15 minutes or until the squash has softened. Season with salt.

Once the squash has cooked 7, set a few spoonfuls aside and then blend the rest using an immersion blender 8 to get a smooth, even purée 9.

 
While the squash is cooking, start making the béchamel sauce: Heat the milk, seasoned with salt and nutmeg 10, in one saucepan and melt the butter in another. Once the butter has melted 11, add the flour all at once 12.

 
Whisk for a couple of minutes until you get a golden roux 13, then pour in the warm milk 14 and let the béchamel thicken over heat while continuing to whisk 15. The sauce should be runny and velvety.

 
Now prepare the other ingredients: Remove the casing from the sausage and cut the meat into small cubes 16; do the same with the provolone cheese 17, and then chop the rosemary 18. Bring a pot of water to a boil and salt once boiling.
 
Heat a splash of oil in a frying pan with one clove of garlic, then add the sausage and brown for a couple of minutes 19. Season with the chopped rosemary 29, then deglaze the pan with the white wine 21.

Once the alcohol has evaporated, turn off the heat and set aside 22. Meanwhile, the water for the pasta should have come to a boil, so add the trofie and cook for half the recommended time 23. While the pasta is cooking, add the béchamel to the butternut squash purée 24.

 
Stir well to combine 25, and when the pasta is ready, drain and pour into the pan with the sauce 26. Then add the squash cubes you set aside 27.

 
Next, add the sausage 28 and provolone cubes 29 and season with pepper 30.

Stir well and transfer the mixture to a baking dish 31. Sprinkle over the grated Grana Padano cheese 32 and cook in a conventional oven preheated to 465°F (240°C) for 10 minutes, until golden. Your baked sausage and butternut squash trofie is ready to be served 33!
Storage

The baked sausage and butternut squash trofie pasta can be stored in the fridge for 2 days.
 
You can freeze this dish either before or after baking it.
Tips

You can also add cubes of speck or pancetta to make the baked sausage and butternut squash trofie pasta even tastier!
 
Instead of béchamel, you can use roughly the same amount of heavy cream.
SHARE

/5


Source : www.giallozafferano.com