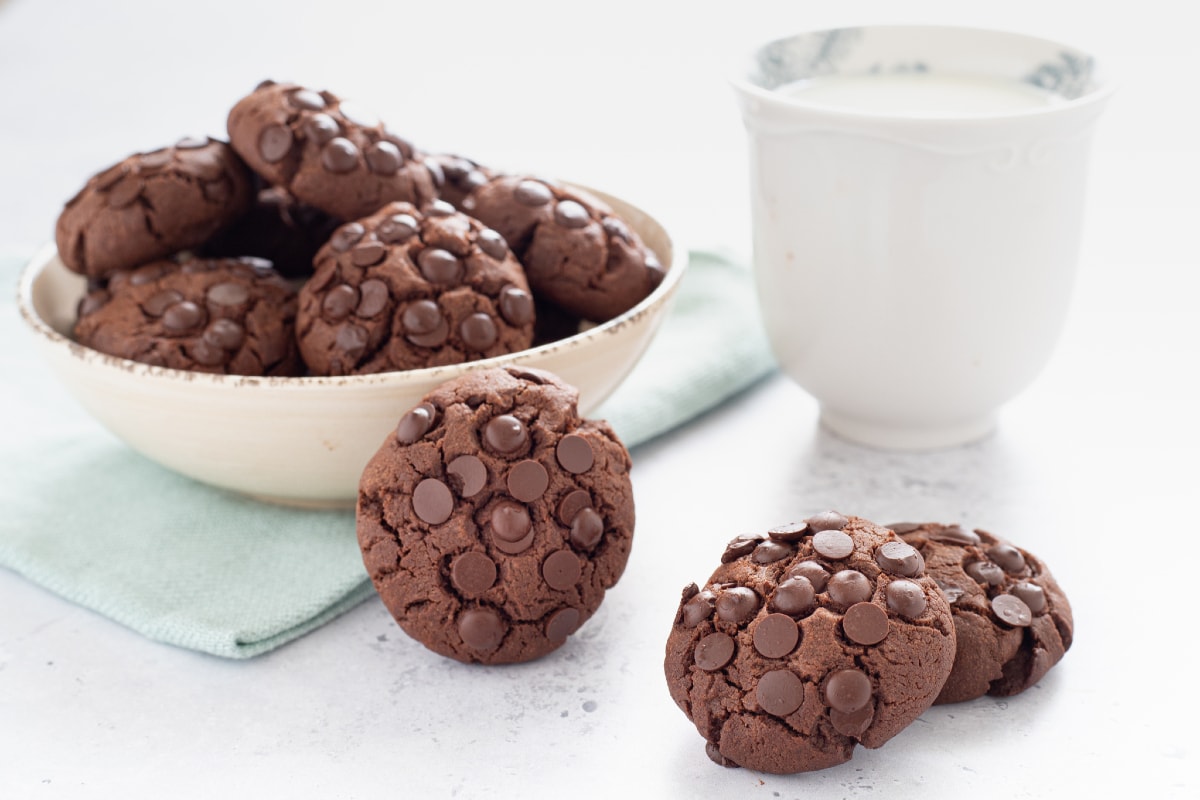 Vegetarian
PRESENTATION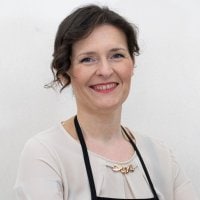 Recipe by
Fernanda Nicotra
Ready for the latest addition to your cookie cookie jar? Say hello to these butter-free chocolate cookies. Do you think it is impossible to skip the butter and still make delicious chocolate cookies? Then you must try these ones: you'll discover they are just as delicious as traditional cookies! Indeed they are also enriched with chocolate drops, and the seed oil replaces the butter for the dough. These cookies are easy to make and are perfect as a snack, a sweet coffee break or an energy rich breakfast!
INGREDIENTS
Eggs
2
Sugar
⅓
cup
(80 g)
Sunflower seed oil
½
cup
(100 g)
Dark chocolate 50%
¾
cup
Dark chocolate chips
3
tbsp
(30 g)
Flour 00
2 ¼
cups
(260 g)
Unsweetened cocoa powder
⅓
cup
(30 g)
Baking powder
½
tbsp
(6 g)
Vanilla extract
1
tsp
For the topping
Dark chocolate chips
½
cup
(80 g)
Preparation
How to prepare Butter-free chocolate cookies


To make butter-free chocolate cookies, finely chop the dark chocolate with a knife 1. Melt the chocolate in a bain-marie, stirring frequently all the while 2. Beat the eggs together with the sugar using a manual whisk 3.
 

Add the oil 4 and stir it in 5. Add the melted chocolate and stir 6.

Stir the cocoa in too 7, then add the vanilla extract, the flour and the yeast 8. Finish with 3 tablespoons of chocolate drops 9 and knead rapidly, first with a spoon and then by hand. 

The dough will be rather soft 10, so leave it to rest in the refrigerator for 1 hour, covered with plastic wrap so that it firms up. Once this time is up, the dough will be firm and ready for use: break off walnut-sized pieces and roll each one in the palm of your hand 11. Shape cookies that are 0.88 to 1 oz in weight. Place half a cup of chocolate drops on a plate, gently press the balls down over them so that the chocolate drops stick to each side of the dough 12.

Line a tray with parchment paper and add the cookies 13. Bake the cookies in a static oven preheated to 338°F for 15-20 minutes, remove from the oven 14 and leave to cool. When removed from the oven, the butter-free chocolate cookies will be soft but they will become crunchy and crumbly once cooled.
Storage

Butter-free chocolate cookies can be stored in a tin for a week. You can freeze the uncooked dough.
Tips

Store the chocolate drops in the refrigerator so they won't melt during baking.
SHARE

/5


Source : www.giallozafferano.com