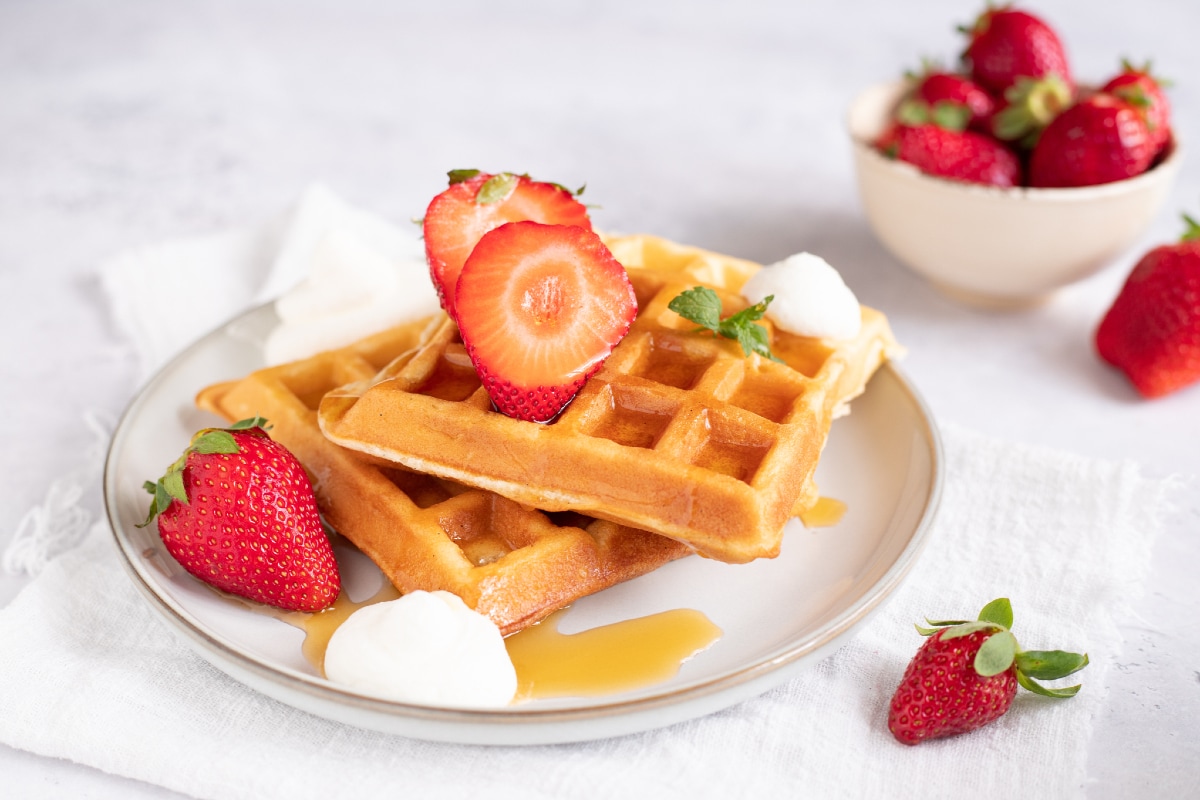 Vegetarian
PRESENTATION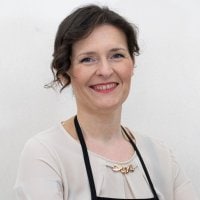 Recipe by
Fernanda Nicotra
Waffles are a soft dessert that originated in North Europe. The honeycomb weave of this sweet street food makes it perfect for serving with toppings. Today we're going to show you how to prepare butter-free waffles, with an equally soft dough made with oil and greek yogurt, which are easy and quick to prepare. You'll need a waffle maker to make these classic sweets with square holes, before topping them with tempting creams, jams, syrups, or simply enjoying with some cream and strawberries, like we have done.  You could also opt for a spreadable hazelnut or pistachio cream, or some greek yogurt. An excellent recipe for breakfast that you can share with all the family!
INGREDIENTS
Ingredients for 10 butter-free waffles
Cake flour
2
cups
(270 g)
Eggs
3
(160 g)
– (2 large)
Greek yogurt
¾
cup
(200 g)
Sunflower seed oil
6
tbsp
(80 g)
Sugar
7
tbsp
(90 g)
Powdered yeast for sweets
1
tbsp
(16 g)
Vanilla extract
1
tsp
Whole milk
3
tbsp
(45 g)
for garnishing
Fresh liquid cream
1
cup
(250 g)
Sugar
4
tbsp
(50 g)
Strawberries
to taste
Preparation
How to prepare Butter-free waffles


To prepare butter-free waffles, start by breaking the eggs open and placing them in a bowl. Add the sugar 1 and start beating with an electric whisk until light colored and frothy 2. Gradually add the oil 3 while beating with the whisk all the while.

Now add the yogurt 4 and beat some more with the whisk to stir it in 5. Add some of the flour 6.

Gradually add the remaining flour, beating with the whisk all the while 7, so that you end up with a thick consistency 8. Soften with the milk 9.

Flavor by adding the vanilla extract 10 and lastly, sieve the yeast 11. Stir one last time until homogeneous 12.

Grease the waffle maker 13 and heat it up. Place a ladle of batter in the right side 14 and another in the left side 15. Close the waffle maker and cook for 5 minutes.

Place the waffles on a plate using a spatula 16 when nice and golden. If they are stuck together simply cut them apart. Repeat until the batter finishes 17. With these amounts you should end up with 10 waffles, 4″x 5″ each. Beat the cream with the sugar and use it to decorate the waffles. Add the strawberries and serve 18.
How to store

It is best to prepare and cook the batter right away. 
Cooked waffles can be cooled and then frozen for a couple of months. 
Tip

If you don't have a waffle maker, you can cook the batter in a pan, in which case you will prepare pancakes.
SHARE

/5


Source : www.giallozafferano.com