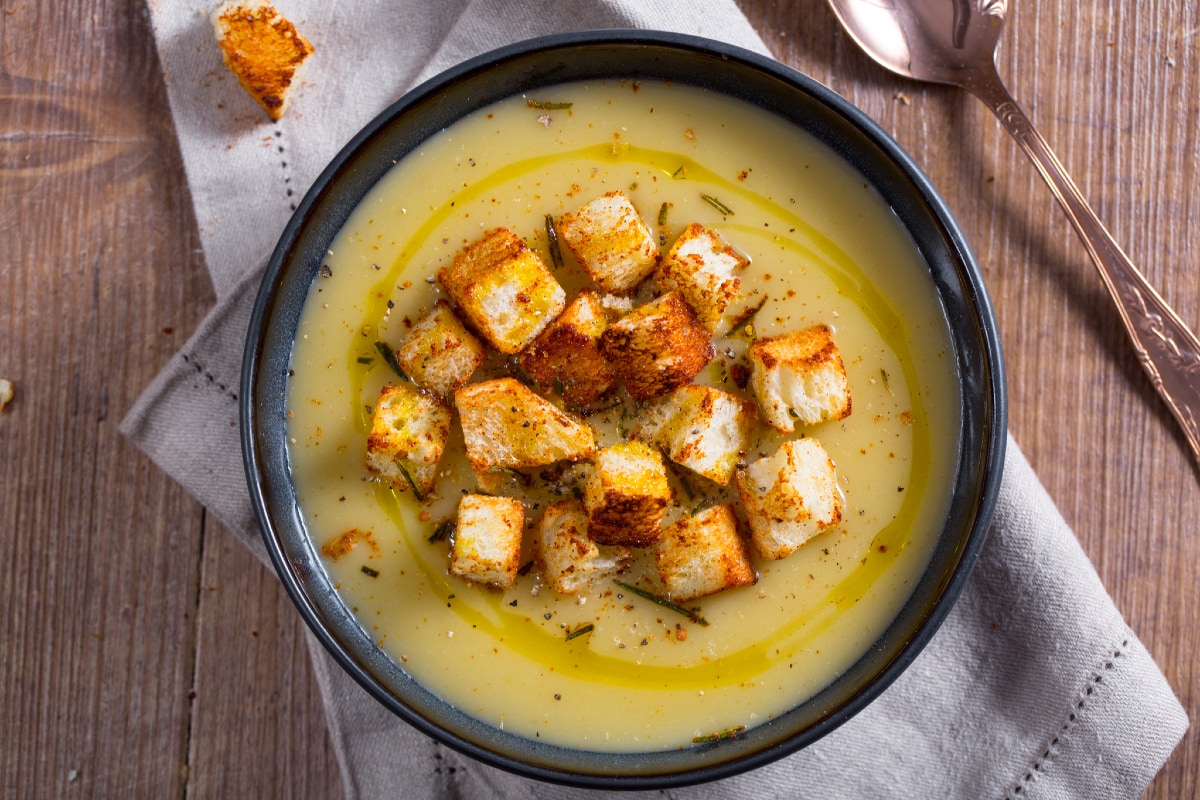 Lactose Free
Vegetarian
PRESENTATION
Cabbage and potato soup is a vegetarian zuppa with a velvety consistency, the perfect winter comfort food! Ideal for a home made dinner, this recipe is rich in vegetables that children will also love thanks to the pairing of these two vegetables: indeed the characteristic flavor of the cabbage will be softened and sweetened. Simply add some crunchy croutons and cabbage and potato soup will be a hit with your family.
INGREDIENTS
Verza (savoy cabbage)
1
lb
(400 g)
Potatoes
¾
lb
(350 g)
Onions
2
Carrots
1
Celery
1
stalk
Vegetable broth
4
cups
(1 l)
Extra virgin olive oil
to taste
Fine salt
to taste
Black pepper
to taste
For serving
Croutons
to taste
Preparation
How to prepare Cabbage and potato soup


To make cabbage and potato soup start by preparing around 4.25 cups of vegetable broth; keep it hot and in the meantime peel and coarsely chop the onions 1 and celery 2. Now peel, tip and cut the carrot too 3.

Place the vegetables in a large saucepan, add a drizzle of oil 4 and a pinch of salt 5, then brown on a medium-low flame for 5-7 minutes, stirring occasionally until done. In the meantime clean and coarsely chop the savoy cabbage too 6.

Add the savoy cabbage to the saucepan 7, cover with the lid and simmer for a few minutes 8. Once the savoy cabbage has reduced in volume add the hot vegetable broth 9.

Peel and dice the potatoes in the meantime 10. Brown the potatoes in a pan with a drizzle of oil for a few minutes 11 12.

When the squash starts to boil add the potatoes 13, salt to taste and cover with the lid. Simmer for around 30 minutes. Once this time is up 14, remove from the heat and blend with an immersion blender 15.

Place the pureed soup in bowls, garnish with croutons, finish with a drizzle of oil 16 and a grating of pepper to taste 17. Your cabbage and potato soup is ready to be served 18!
Storage

Cabbage and potato soup can be stored in the refrigerator for 3 days, in a sealed container.
You can freeze it if you want.
Tips

Toast the croutons in a pan with a drizzle of oil flavored with whatever spices you like!
SHARE

/5


Source : www.giallozafferano.com