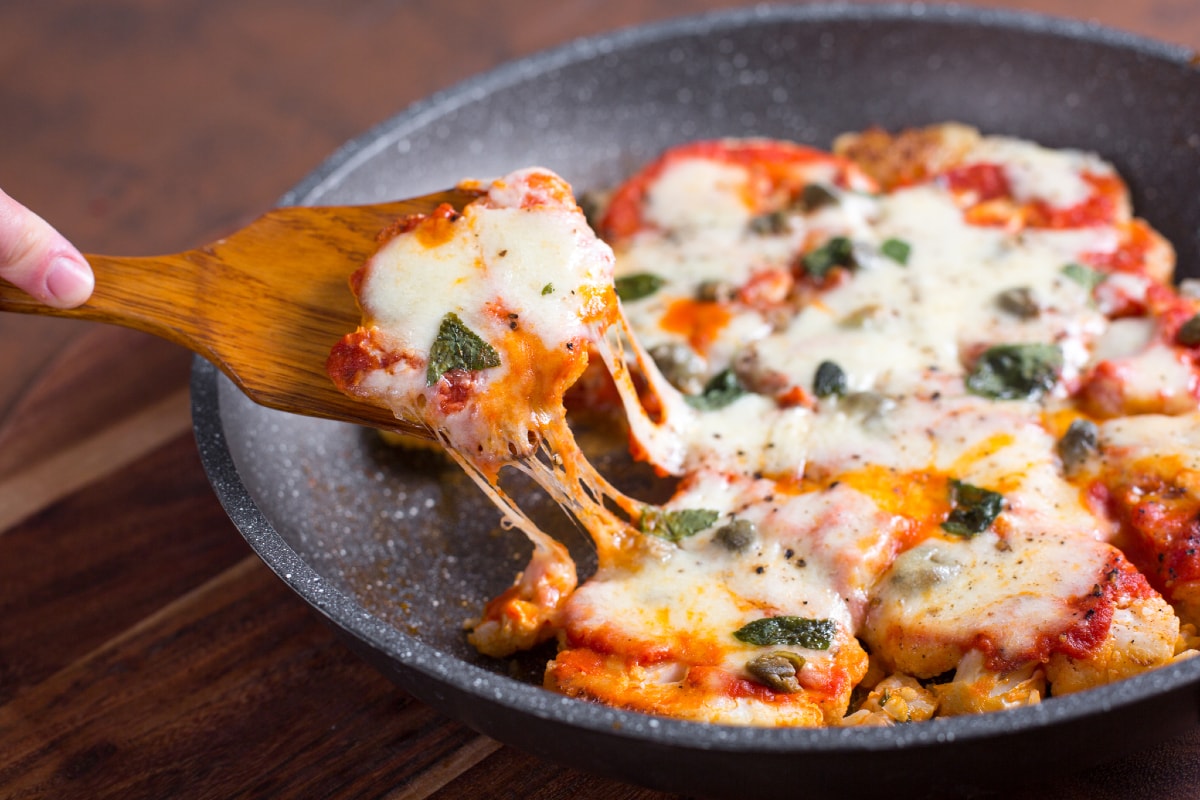 Difficulty: Easy
Prep time: 10 min
Cook time: 25 min
Serving: 4 people
Cost: Average
PRESENTATION
Cauliflower alla pizzaiola is a rich and inviting vegetarian side dish. If you're not really a fan of cauliflower recipes we are bound to win you over with this one! This dish is inspired by the classic meat alla pizzaiola, with its creamy sauce and melted mozzarella. You will be pleasantly surprised! Now, in addition to cauliflower in a pan and baked cauliflower, you can have fun preparing and eating this irresistible cauliflower alla pizzaiola… Ready to cook?
INGREDIENTS
Cauliflower
2
lbs
(1 kg)
Tomato puree
1
cup
(280 g)
Mozzarella cheese
7
oz
(200 g)
Basil
to taste
Salted capers
to taste
– desalted
Pecorino Romano cheese
1
oz
(40 g)
Fine salt
to taste
Black pepper
to taste
Extra virgin olive oil
to taste
Preparation
How to prepare Cauliflower alla pizzaiola


To prepare cauliflower alla pizzaiola, wash the cauliflower, remove any leaves 1 and the bottom part of the stalk while leaving the upper part with the tips so that the slices (roughly 0.4 inches) won't break up 2. Don't worry if they crumble, they'll stick back together in the pan. We recommend leaving it as intact as possible for a better consistency on the fork. Heat a drizzle of oil in a non-stick pan that is roughly 11.8″-12.6″ in diameter (make sure you have a lid too because you'll need it). Arrange the cauliflower slices to evenly cover the bottom 3 and season with a pinch of salt. 

Cook on a rather high flame with the lid on for around 10 minutes 4. In the meantime drain the mozzarella, shred it by hand and leave to drain in a colander as you continue making the recipe. No gently turn the nicely braised slices over5. Cover with the tomato puree 6. 

Season with a pinch of salt, just enough to flavor the sauce, then the desalted and coarsely smashed capers 7, the grated Pecorino cheese 8, and the previously drained and shredded mozzarella 9.

Flavor with the pepper and basil leaves 10. Cover 11 and cook for around 10 minutes, on a slightly lower flame. Now remove the lid and reduce on a slightly higher flame, for 5 minutes. Leave to thicken for a couple of minutes before serving your cauliflower alla pizzaiola 12.
Storage

Cauliflower alla pizzaiola can be stored in the refrigerator, thoroughly covered, for 1-2 days. It can be frozen once cooked.
Tips

If you're not serving cauliflower pizzaiola to children you can flavor with powdered turmeric which you can add when you start cooking. You can use the cauliflower scraps (leaves andbottom part of the stalks) to make a vegetable squash or pureed soup.
SHARE

/5


Source : www.giallozafferano.com