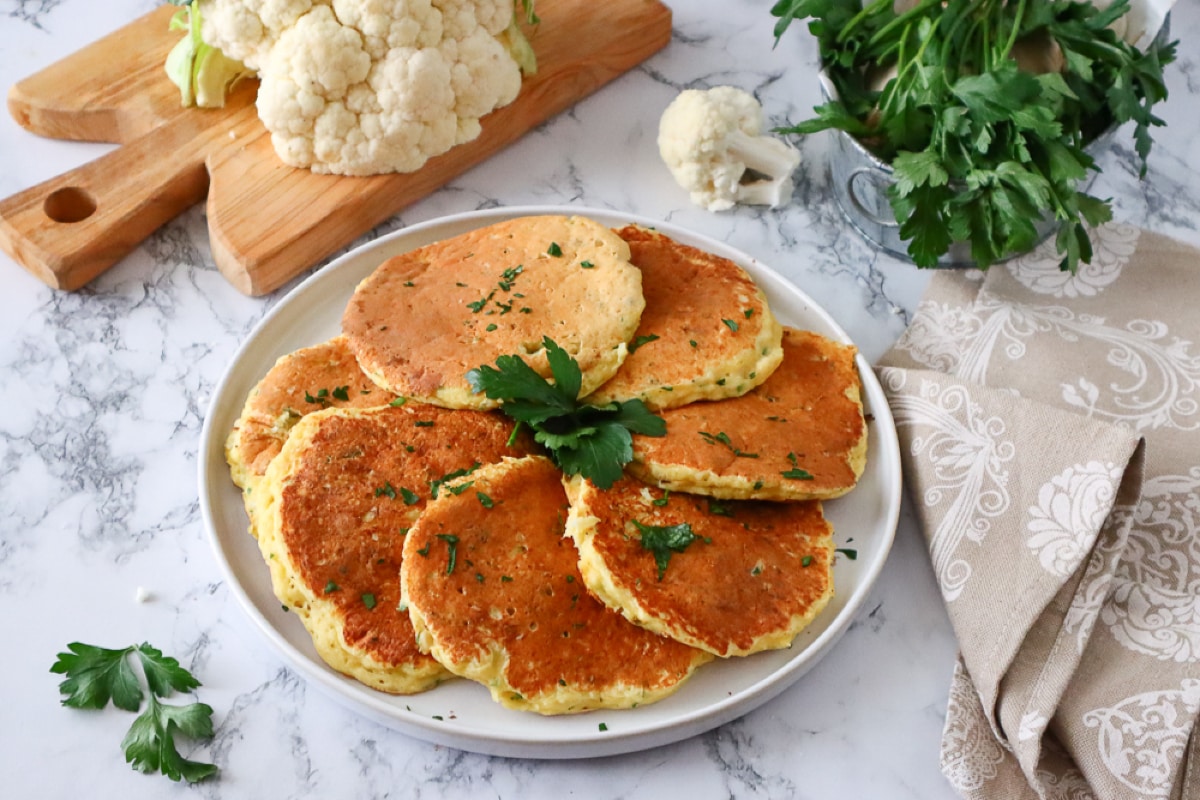 Vegetarian
PRESENTATION
Recipe by
Rossella Cosentino
Cauliflower pancakes are a recipe for an easy and delicious dinner! When we think of pancakes, those with maple syrup spring to mind, which make for a great breakfast. But we can be versatile and creative with pancakes too: this wintry version, with cauliflower puree enriched with spices and seasoning, will also be perfect for your brunches, served with cold cuts, cheeses and morishly fresh sauces, like this yogurt one. A delicious and original idea for using vegetables, just like in the recipe for rosti and vegetable fritters. Hearty and flavorsome, these pancakes are a delicious and original idea for cooking cauliflower!
INGREDIENTS
Cauliflower
11
oz
(330 g)
– to be cleaned
Flour 00
1
cup
(130 g)
Eggs
2
(110 g)
– medium
Whole milk
¾
cup
(150 g)
Parmigiano Reggiano DOP cheese
1
oz
(30 g)
– for grating
Pine nuts
2
tbsp
(20 g)
Baking powder
1
tbsp
(10 g)
Fine salt
to taste
Black pepper
to taste
Nutmeg
to taste
Parsley
to taste
Extra virgin olive oil
to taste
Preparation
How to prepare Cauliflower pancakes


To make cauliflower pancakes, cut the cauliflower tips and remove the outermost leaves 1. Place in a saucepan, cover with water 2 and add salt 3. 

Cook for 15 minutes 4. Once tender, drain 5 the cauliflower (it should weigh around 13 oz), place it in a bowl and smash with a fork while still hot 6. 

Leave the puree 7 to one side. Finely chop the pine nuts 8 and the parsley 9.

Season the puree with salt, pepper and nutmeg 10, then add the pine nuts 11 and the parsley 12.

Now add the flour 13, the grated cheese 14, the yeast, and stir. Stir the eggs and milk in too 15. 

Stir everything together 16. Grease a pan with oil 17 and heat it up. Add a ladle of the batter for each pancake 18. 

Cook for a couple of minutes and use a spatula to turn them over 19, then cook on the other side too 20. Once golden, place the cauliflower pancakes on a serving dish 21.
Storage

Cauliflower pancakes are also delicious served cold. They can be stored in the refrigerator for 2 days.
Tips

Be sure to throughly smash the cauliflower before adding the other ingredients. Alternatively, it can be blended in a mixer. 
SHARE

/5


Source : www.giallozafferano.com