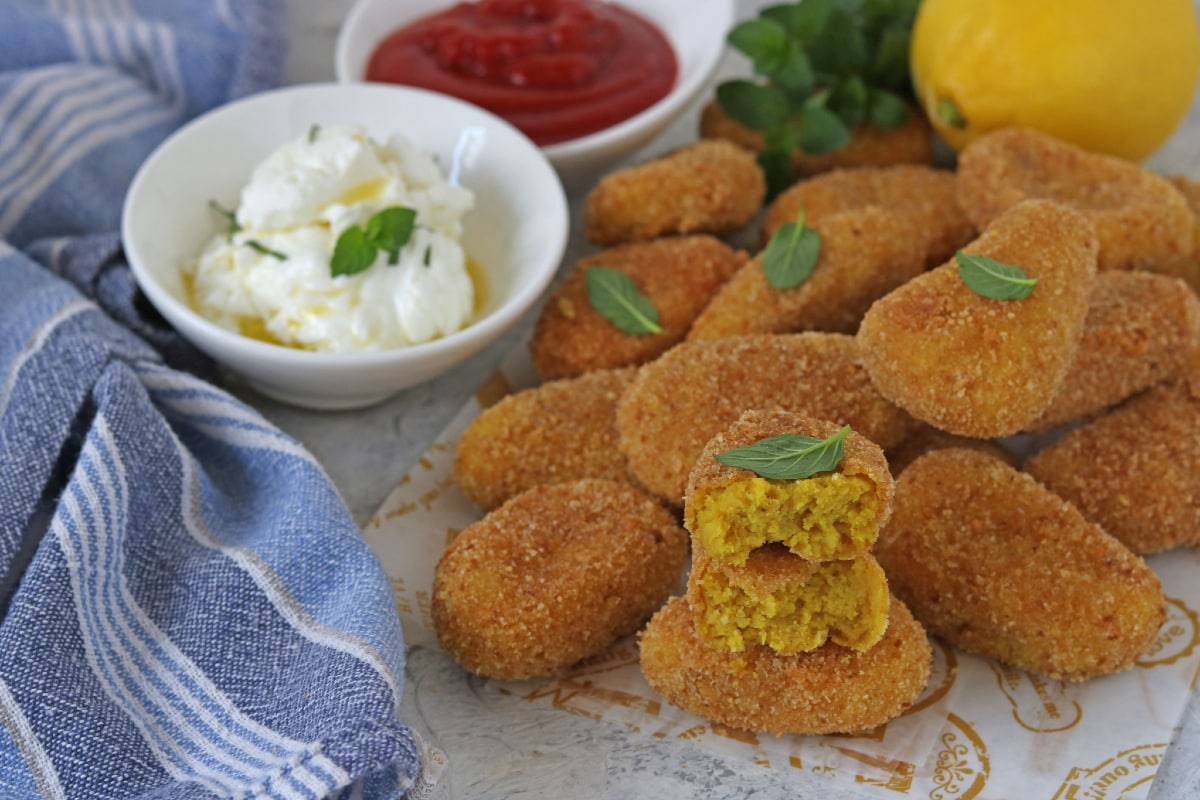 Vegetarian
PRESENTATION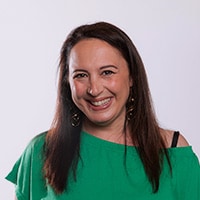 Recipe by
Monica Pannacci
The word nuggets immediately conjures up images of golden bite-sized chicken pieces served at all fast food restaurants, but the version we present you with here is definitely more genuine: chickpea nuggets! Similar to potato croquettes, these vegetarian nuggets are made with a soft pulse and cheese mixture that is flavored with spices and lemon peel. A recipe bursting with Mediterranean flavor that may remind you of falafel, but with the use of precooked chickpeas, so that it is much simpler and quicker to make. These fragrant and morish chickpea nuggets can be served with a simple yogurt or mustard sauce and enjoyed with drinks… the oven baked version is delicious too!
INGREDIENTS
For 24 nuggets
Precooked chickpeas
1
lb
(420 g)
– (drained)
Grana Padano DOP cheese
¼
cup
(30 g)
– grated
Whole milk
1 ½
tbsp
(20 g)
Powdered turmeric
1
tsp
Salt
to taste
Cream cheese
¼
cup
(60 g)
Breadcrumbs
¼
cup
(30 g)
Sweet Paprika
1
tsp
Lemon peel
1
Black pepper
to taste
For the breadcrumb coating
Eggs
2
Breadcrumbs
to taste
Flour 00
to taste
Fine salt
to taste
For frying
Peanut seed oil
to taste
Preparation
How to prepare Chickpea nuggets


To make chickpea nuggets, drain the precooked chickpeas, place in the mixer 1 and blend into a puree 2. Add the spreadable fresh cheese 3.

Season with the paprika 4 and turmeric 5, then add the grated Grana Padana PDO cheese 6.

Add salt 7 and pepper. Lastly, add the breadcrumbs 8 and the grated lemon peel 9.

Soften the mixture with the milk 10 and thoroughly stir together by hand 11 so that you end up with a homogeneous texture 12. Leave the dough to firm up in the refrigerator for 30 minutes.

Once the firming time is up, remove roughly 0.88 oz portions of the dough and gently flatten in the palm of your hand 13, then shape into a nugget by hand 14. With these amounts you should be able to make around 24 nuggets 15.

Dip each nugget in the flour 16, then the egg previously beaten with a pinch of salt 17 and lastly, coat them in breadcrumbs 18.

You're ready to fry now: heat the seed oil to 338-356°F (170-180°C) and add a few nuggets at a time 19. Fry for around a minute per side until nice and golden 20, then drain on absorbent paper 21. Serve the chickpea nuggets nice and hot!
Storage

Chickpea nuggets are best enjoyed freshly made. If necessary, you can store the cooked nuggets in the refrigerator for a couple of days.
You can freeze them cooked or uncooked.
Tips

If you prefer, you can bake the chickpea nuggets in a static oven preheated to 392°F (200°C) for around 15 minutes.
Vary the spices according to taste, adding turmeric, ginger, oregano, garlic, parsley or anise for example!
A few ideas for a sauce you can serve them with? Try serving with some tzatziki!
SHARE

/5


Source : www.giallozafferano.com