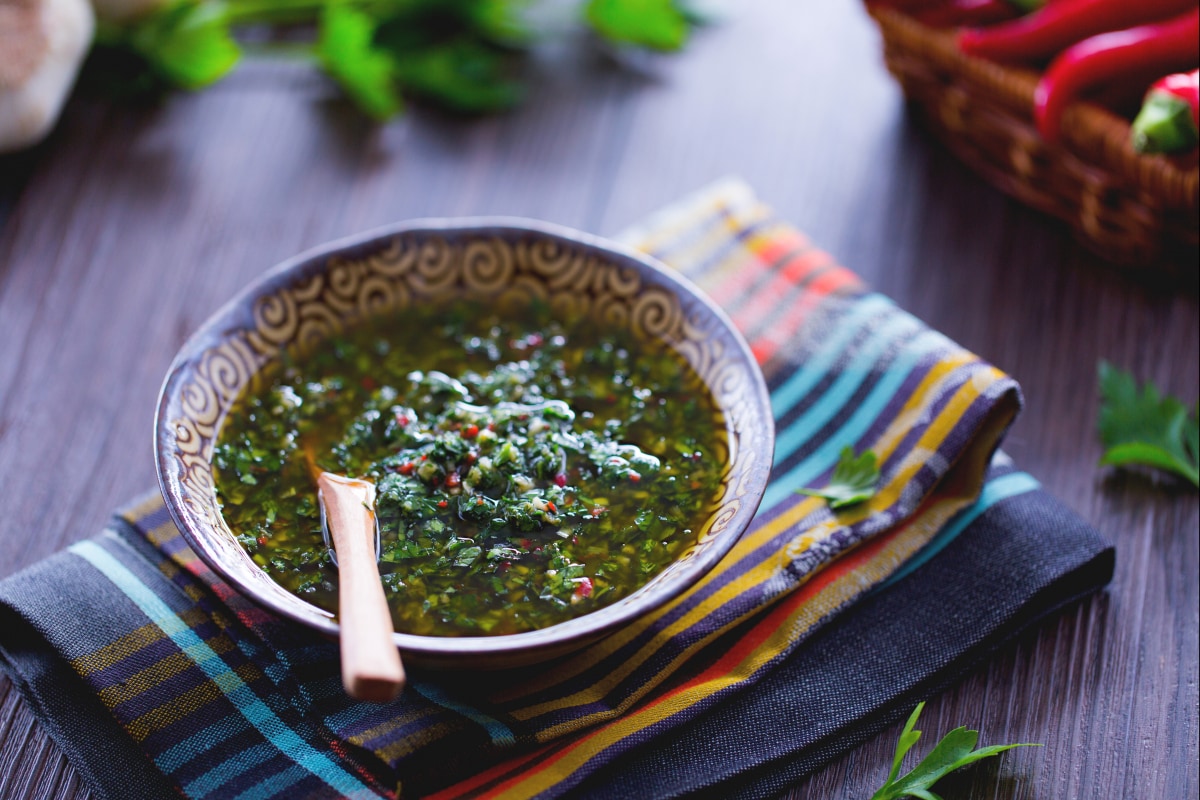 Difficulty: Very easy
Prep time: 10 min
Cost: Low
PRESENTATION
If you are looking for a sauce that will bring lashings of flavor to your grilled meat, then chimichurri is just what you need! Similar to green sauce, chimichurri is an Argentinian sauce made with parsley, oregano, garlic and peperoncino. It is extremely popular throughout Latin America, and is used to add flavor to meat, fish, bruschetta and panini, like choripan! Legend has it that the father of chimichurri is a certain Jimmy McCurry, an Irish soldier who supported the movement for Argentina's independence. The sauce became extremely popular and the name of its creator, which the local population found difficult to pronounce, was gradually changed until it became chimichurri. True story or legend? What we do know is that chimichurri is a legendary tasting sauce, perfect for lovers of decisive flavors: are you ready to take your barbecues to the next level?
INGREDIENTS
Parsley
2
tbsp
(15 g)
Garlic
3
cloves
Dried chili pepper
2
– small
Oregano
2
tbsp
– dried
Thyme
2
tbsp
– dried
Powdered cumin
1
tsp
Fine salt
1
tsp
Black pepper
1
tsp
Water
4
tbsp
(60 g)
Extra virgin olive oil
3
tbsp
(40 g)
White wine vinegar
1
tbsp
(20 g)
Preparation
How to prepare Chimichurri


To make chimichurri, place the dried thyme 1, dried oregano 2 and crumbled peperoncino 3 in a bowl.

Add the powdered cumin 4, the black pepper 5 and the crushed garlic cloves 6.

Add the previously washed and dried parsley leaves 7, the salt, the vinegar 8 and the water 9.

Lastly, pour in the extravirgin olive oil 10 and stir thoroughly 11. Leave to rest at room temperature for at least an hour before serving your chimichurri 12!
Storage

You can store chimichurri in a sealed tin in the refrigerator for around 3-4 days and add extra oil so that it is fully covered.
Tips

Laurel is one of the most commonly used herbs in chimichurri: replace it with thyme if you prefer. If you wish to prepare chimichurri and serve it with a grilled or baked fish-based second course, we recommend reducing the amount of garlic and replacing the vinegar with 0.7 oz of lemon juice. Instead, if you want to serve this sauce with intensely flavored meats, such as pork, turn the taste up a notch by increasing the amount of peperoncino. Chimichurri is also perfect as a sauce for panini: for an extra touch, try replacing the cumin with a couple of finely chopped anchovies!
SHARE

/5


Source : www.giallozafferano.com