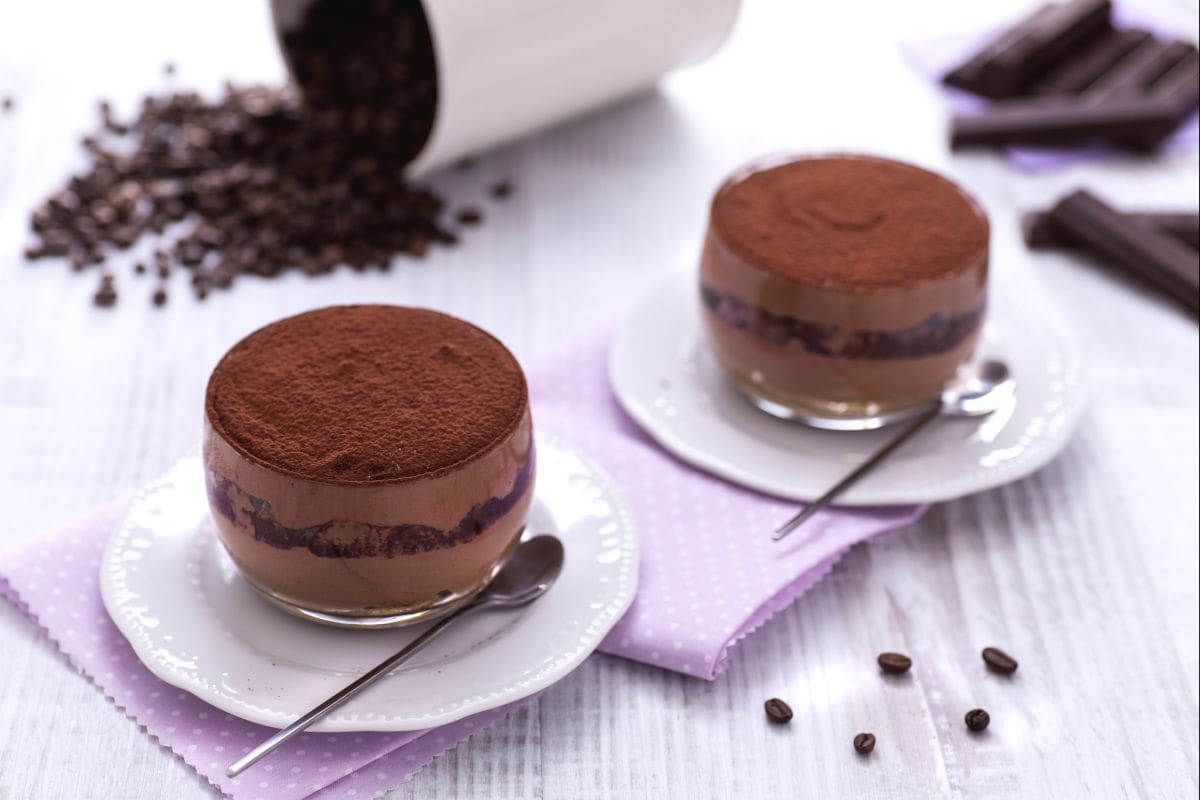 Vegetarian
PRESENTATION
A classic dessert among the most beloved and that everyone agrees on! Tiramisu is a real spoonful delight, a skillful alternation of layers of mascarpone cream and ladyfingers dipped in coffee. In this version, we propose chocolate tiramisu, adding high-quality dark chocolate to the cream, which gives more texture and flavor. A delicious version that will even more stimulate the desire for sweets and make the dessert moment even more enjoyable, especially if served in pretty single-portion glasses!
Check out these other tasty variations of classic tiramisu:
Pistachio tiramisu
Orange tiramisu
Lemon tiramisu
Strawberry tiramisu
Strawberry tiramisu without eggs
Eggless tiramisu
Vegan tiramisu
Chocolate tiramisu
Nutella tiramisu
Gourmet tiramisu
Ricotta tiramisu
Tiramisu with dry cookies
Five spice tiramisu
Tiramisu truffles
Tiramisu semifreddo
Wild berry tiramisu
Pandoro tiramisu
Pandoro tiramisu with baileys
Pandoro tiramisu with wild berries
Colomba tiramisu
INGREDIENTS
1036
Calories per serving
for 4 glasses of 220 ml each
Dark chocolate
¾
cup
(120 g)
Egg yolks
6
Sugar
½
cup
(100 g)
Mascarpone cheese
1 ¾
cup
(400 g)
for the base
Ladyfingers
8
Coffee
1 ⅓
cup
(300 g)
Sugar
1 ½
tbsp
(20 g)
for decoration
Unsweetened cocoa powder
to taste
Preparation
How to prepare Chocolate cream tiramisu


To prepare the chocolate tiramisu, start by melting the dark chocolate: chop it finely 1, then melt it using a double boiler, being careful not to let water come into contact with the chocolate 2 (alternatively, you can melt it in the microwave, stopping to stir every 2-3 minutes until it's fully melted). Stir to ensure it's completely melted 3 and once done, transfer it to a bowl and let it cool.

Meanwhile, separate the egg yolks from the egg whites 4 and add the sugar 5 to the yolks, then whisk with an electric mixer to create a frothy and light mixture 6. You can use the remaining egg whites to prepare delicious meringues or ladyfingers.

Work the mascarpone cheese with beaters, then add it to the mixture of whipped eggs and sugar 7, mix again with the beaters to obtain a dense cream 8. When the chocolate has cooled down, add it to the cream 9.

When the cream is ready 10, put it in the refrigerator while you continue with the preparation. Prepare the coffee with the moka and pour it into a low and wide bowl 11; dissolve the sugar inside 12 (if you prefer, you can omit it) and let it cool down.

Split each ladyfinger in half and dip it in coffee on both sides 13, then place two halves at the base of the glass 14 and pour in the chocolate mascarpone cream 15; you can also use a disposable pastry bag to create layers of cream. Continue by dusting with unsweetened cocoa powder, then add another layer of coffee-soaked ladyfingers and cream.

Once ready 16, you can dust with some unsweetened cocoa powder 17 and serve your chocolate tiramisu 18!
How to store

Keep the chocolate tiramisu refrigerated for a maximum of 1-2 days.
They can also be frozen for about 1 month.
 
Tips

A crunchy touch to your tiramisu? You could add small dark chocolate shavings between each layer!
SHARE

/5


Source : www.giallozafferano.com