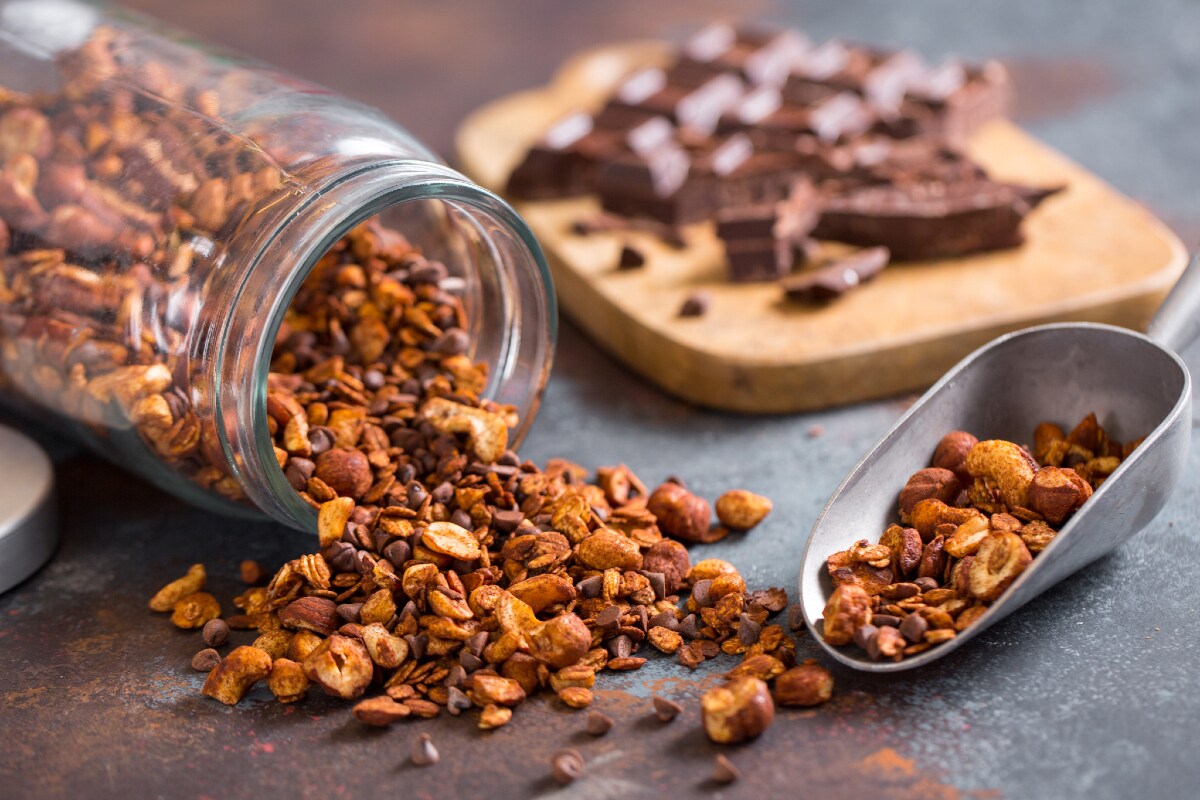 Vegetarian
PRESENTATION
Have ever tried homemade granola? Unlike store-bought versions, you can add your own personal touch according to your preferences, like chocolate granola, which we present to you in this recipe! The rolled oat and nut base is enriched with cocoa and chocolate drops for an even more delicious result, which is great for serving with milk or yogurt. Toasted granola is also quick and easy to make, and it can be stored for several days, so our chocolate granola will be a special treat at breakfast or as a snack any time of the day!
INGREDIENTS
For 9 oz (250 g) of granola
Rolled oats
1
cup
(100 g)
Dark chocolate chips
½
cup
(80 g)
Unsweetened cocoa powder
2
tsp
(5 g)
Wildflower honey
2
tbsp
(50 g)
Water
3
tbsp
(50 g)
Whole hazelnuts
3
tbsp
(30 g)
Cashews
3
tbsp
(30 g)
Peanuts
3
tbsp
(30 g)
Preparation
How to prepare Chocolate granola


To prepare chocolate granola, place the honey and water in a large non-stick pan 1, heat on a medium-low flame and stir until they start to simmer 2. In the meantime, coarsely chop the hazelnuts, the cashews and the peanuts 3.

When the syrup starts to bubble, turn the heat up and add the nuts 4, then the rolled oats 5. Thoroughly stir the ingredients together with a wooden spoon, then turn the heat down and cook for around 20 minutes on a medium-low flame, stirring every 5 minutes more or less 6.

When the granola is golden and slightly toasted 7, remove from the heat and pour it into an aluminum tray 8. Spread the mixture out evenly 9 and leave to cool.

Once cold, place the granola in a bowl, then add the cocoa 10 and the chocolate drops 11. Stir thoroughly and use the chocolate granola however you like 12!
Storage

Chocolate granola can be stored for a week in a glass cooking jar, in a dry place.
Tips

Don't worry if the freshly made granola isn't very crunchy, it will become crunchier after cooling.
If you prefer you can replace the dark chocolate chips with finally chopped white or milk chocolate, obviously the result will be even sweeter! You can use unsweetened or sweetened cocoa powder, according to your tastes.
You can use whatever honey you prefer instead of wildflower honey.
Add your own personal touch by including your favorite nuts, like pecans, pistachio or pine nuts! You could also add oily seeds if you like.
SHARE

/5


Source : www.giallozafferano.com