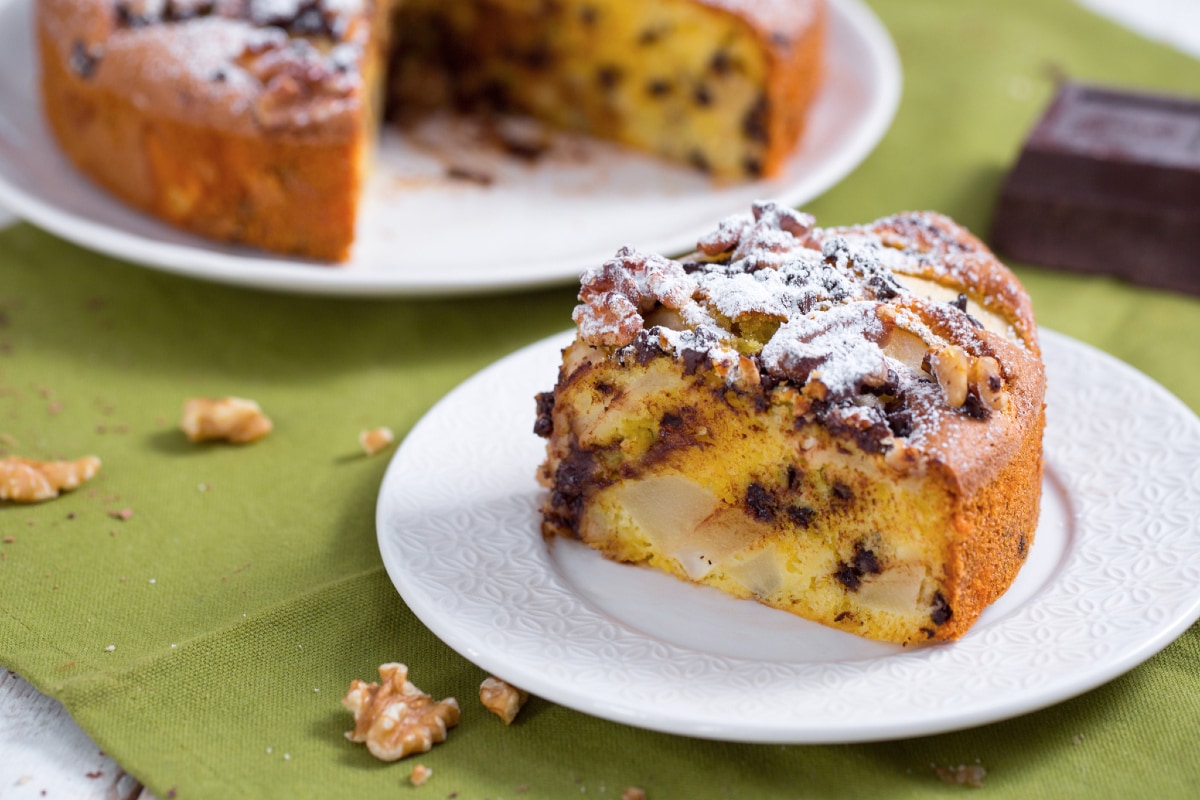 Vegetarian
PRESENTATION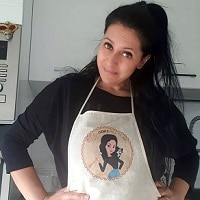 Recipe by
Valeria Ciccotti
Just like the apple version, pear cake is a classic autumn dessert. Chocolate and pear cake is one of the best-loved versions and today we present you with an even richer one: chocolate, pear and walnut cake! The soft and delicious batter is enriched with fresh fruit and dark chocolate drops. The surface of this dessert also features this match made in heaven, with the extra touch of crunchy nuts, walnut kernels to be exact. Perfect served as a snack, chocolate, pear and walnut cake is also delicious for breakfast as the perfect start to any day!
INGREDIENTS
Ingredients for a 9″ diameter mold
Abate pears
2
Dark chocolate chips
¾
cup
(80 g)
Eggs
4
– at room temperature
Flour 00
2
cups
(250 g)
Sugar
1
cup
(200 g)
Powdered yeast for sweets
1
tbsp
(16 g)
Sunflower seed oil
4
tbsp
(50 g)
Whole milk
3
tbsp
(50 g)
Lemon juice
1
tbsp
(20 g)
For buttering and sprinkling
Butter
to taste
Flour 00
to taste
For garnishing
Dark chocolate chips
5
tbsp
(50 g)
Walnut kernels
6
tbsp
(40 g)
Powdered sugar
to taste
Preparation
How to prepare Chocolate, pear and walnut cake


To make chocolate, pear and walnut cake, place the eggs and the sugar in a large bowl 1 and beat with an electric whisk at top speed into a soft and frothy mixture. Add the seed oil 2 and the milk 3.

Add the previously sieved flour 4 and yeast 5 too. Beat with the whisk at a high speed to incorporate all the ingredients 6.

Now peel one of the pears and leave the other unpeeled: cut both in half, remove the core and then cut the peeled one into slices 7 and the unpeeled one into small pieces 8. You'll need around 14 oz of pear in total. Drizzle with the lemon juice so that they do not darken 9.

Add the peeled pear to the batter 10 and stir with a spatula; add the chocolate drops too 11 and stir everything together thoroughly 12.

Pour the batter into a buttered 9″ diameter mold sprinkled with flour 13. Smooth the surface off and create a spoke pattern with the unpeeled pear slices 14, then sprinkle with the chocolate drops 15.

Lastly, garnish with the walnut kernels 16. Bake in a preheated ventilated oven at 356° for 25 minutes on the middle shelf, then switch to static mode and bake for another 35 minutes at 356° 17. Remove from the oven when done and leave the cake to cool in the mold before removing it 18; sprinkle with powdered sugar. Your chocolate, pear and walnut cake is ready to be enjoyed!
Storage

Chocolate, pear and walnut cake can be stored in the refrigerator for 2-3 days. You can freeze it after baking and leaving it to cool.
Tips

Cow's milk can be replaced with a plant-based milk, like soy, rice or oat. Instead of walnuts you could use almonds or hazelnuts. If you prefer, choose another kind of fruit, like apples, oranges or wild berries, to try out new and delicious versions of this cake!
SHARE

/5


Source : www.giallozafferano.com