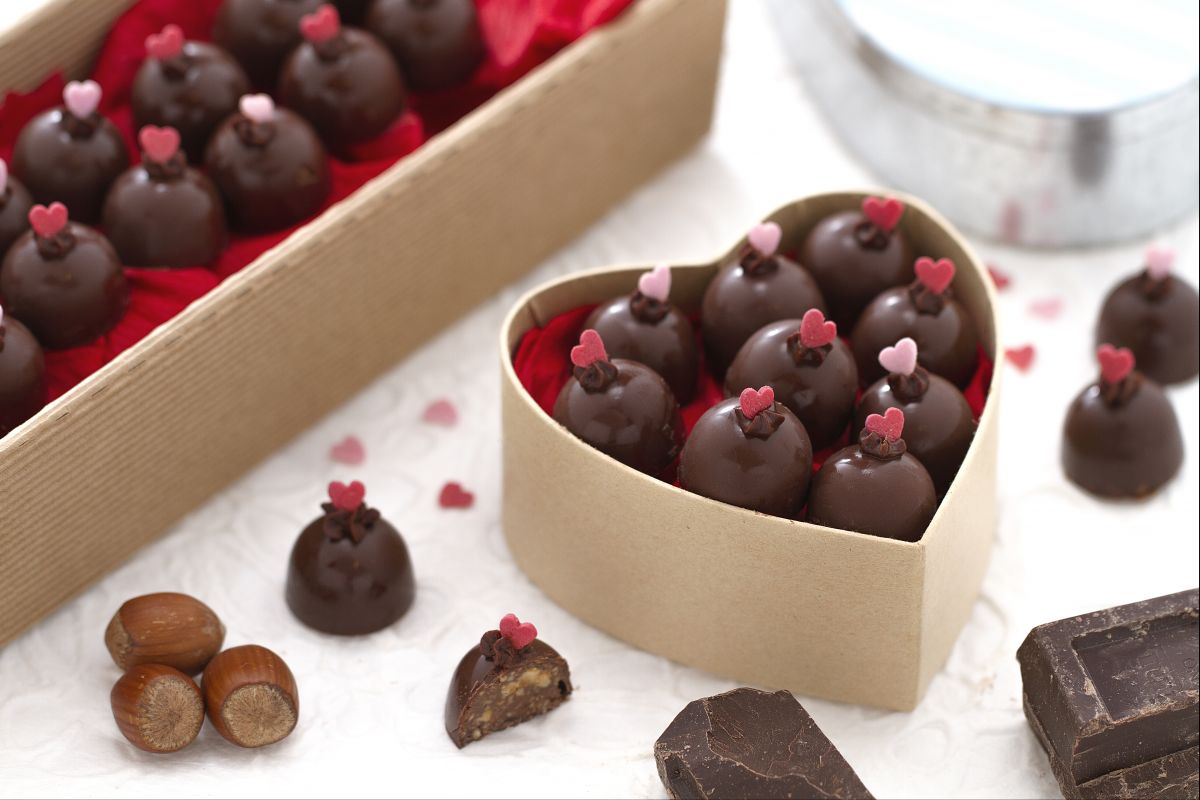 Vegetarian
PRESENTATION
For for a truly special gift for your sweet other half this Valentine's Day? Try these chocolates by GialloZafferano: small dark chocolate bites with a crispy wafer, hazelnut praline and gianduia filling!
A delight for the palate and a feast for the eyes, these chocolates are also suitable for other occasions, simply decorate them differently or leave them as they are, straight from the mold.
Be warned however, as in order to prepare these chocolates, in addition to excellent quality ingredients you will also need a touch of manual dexterity, experience and the right instruments, to guarantee the success of this recipe: a polycarbonate mold, a food thermometer and a marble worktop for tempering. The recipe may not live up to your expectations if you do not have all this equipment!
The chocolates will be appreciated by everyone who tastes them and they will keep coming back for more!
Try the recipe for Coconut chocolates too, a light version with a delicate flavor!
INGREDIENTS
Ingredients for 35 chocolates
Dark chocolate
17
oz
(500 g)
For the filling
Cocoa wafers
3
oz
(100 g)
Whole peeled hazelnuts
1
cup
(200 g)
Gianduia chocolate
3
oz
(100 g)
For the caramel
Sugar
1
cup
(350 g)
For the ganache and for garnishing
Heavy cream
3
tbsp
(50 ml)
Dark chocolate
1
oz
(50 g)
Sprinkles
to taste
– heart shaped
Preparation
How to prepare Chocolates


To prepare the chocolates, start by toasting the hazelnuts by placing them on a tray 1 and then in the oven preheated to 302°F for 35 minutes, until nice and golden 2. Prepare the caramel in the meantime: add the granulated sugar to a double-bottomed steel saucepan, one spoon at a time, and slowly melt on a low flame, delicately rotating the saucepan without stirring. You will make a brown caramel 3, 330.8-347°F in temperature (use a food thermometer to measure it).

Add half of the toasted hazelnuts to the caramel and stir very rapidly 4. Place it all on a silicon mat and separate the hazelnuts 5. Use a wooden stick to avoid burning your hands. This needs to be a very quick operation, otherwise you will not be able to separate the hazelnuts in time before everything hardens. Once cooled, finely chop both the toasted and caramelized hazelnuts with a kitchen knife 6, or if you prefer, with a mixer (depending on whether you want larger or smaller hazelnut pieces).

Now complete the filling for the chocolates: coarsely crumble the wafers by hand in a bowl 7 and add the chopped hazelnuts 8. Stir a little by hand, so that the wafer cream melts a little and the ingredients amalgamate 9.

Melt the gianduia chocolate in the microwave or in a bain-marie (10-11) and add to the wafer and hazelnut mixture. Stir thoroughly 12: the chocolate filling must be soft and compact.

Now melt the dark chocolate. For the chocolates to be nice and shiny and not lackluster and whitish, the chocolate must be tempered, so it should never exceed 87.8°F. In this way you will make shiny chocolates that will keep for longer. This step can be completed in two different ways: either melt the chocolate in a bain-marie and continue to stir until it melts, maintaining the required temperature all the while, with the help of a thermometer. If you exceed 87.8°F, you'll need to heat the chocolate to 113°F, at most 122°F, pour 2/3 of it onto a marble top (it is not possible to do this with any other surface) 13 and use a spatula to move it rapidly (14-15), stirring continuously, until it reaches 84.2°F. Pour it into the bowl with the remaining chocolate and stir continuously until 87.8°F.

Now take a polycarbonate mold for chocolates and pour abundant melted chocolate inside 16, turn the mold over and tap it on the side for the excess chocolate to drip away 17. Remove the excess chocolate with a spatula; this step is necessary in order for the chocolate shell to form and should be carried out on a tray so as to recover the chocolate that drips away. Leave to cool quickly for a couple of hours, until little white bubble form underneath18.

Fill the resulting shells with a spoon of filling 19, but never to the top: leave 1/16-1/8 inch of space. Melt the chocolate once more by tempering it again, and upon reaching 87.8°F, pour it over the chocolates 20 to create the bottom; remove any excess with a spatula.

Leave the chocolates to cool for a couple of hours. When hard, delicately tap the mold on a flat surface 22 to remove them. Place them on a serving tray and prepare the ganache for the decoration: melt the chocolate, add the cream 23 and stir to amalgamate 24. Place the ganache in a narrow star-tipped pastry bag.
Decorate each chocolate with a small tuft of ganache 25, topped by a star-shaped sprinkle 26. And voilà: the chocolates are ready 27 to be enjoyed: they'll disappear in a flash!
Storage

Store the chocolates in a tin with a lid.
If the tempering was a success, you should be able to store the chocolates for 3 weeks.
Tips

You can also use milk or white chocolate to make the chocolates.
In this case you should never exceed 84.2°F.
During tempering, the part of the chocolate that should be spatulated must reach 80.6°F and once added to the chocolate in the bowl, stir so that everything reaches a temperature of 84.2°F.
These instructions hold true for both milk and white chocolate.
Polycarbonate or silicon? That is the question. Basically the different comes down to this: with silicon there is no need to form a shell, simply fill the mold and add a ball of filling to the middle, however you will not achieve the same degree of shininess as the chocolates will be more opaque. Whatever you choose, just don't stop stirring the melted chocolate, lesson number one in chocolate making! Lastly, yes I added the heart because the chocolates are a great classic of romance. Seeing as they are also a classic sweet treat, you can decorate them however you like: I've also tried them with almond, pistachio or hazelnut shards and they are delicious!
SHARE

/5


Source : www.giallozafferano.com