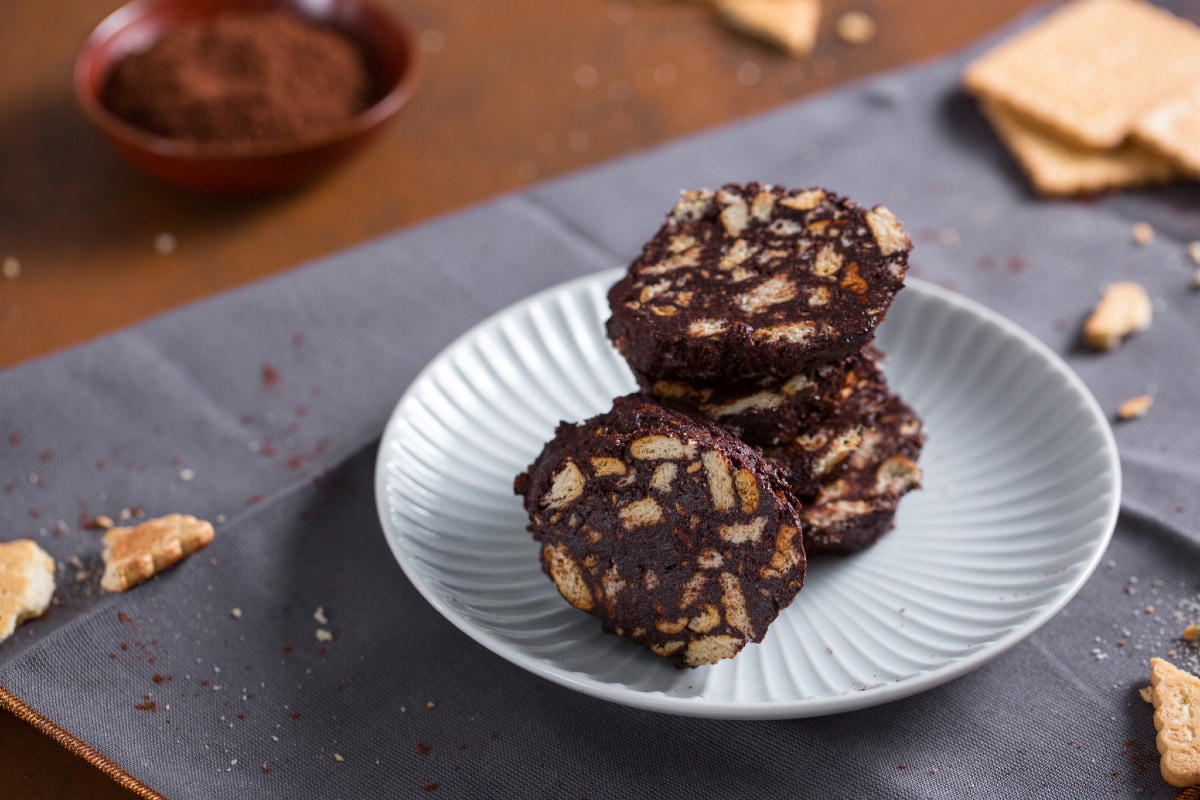 Vegetarian
PRESENTATION
Cocoa salami is a version of the popular chocolate salami, a typical home made preparation that is one of the simplest and quickest no-bake desserts ever, perfect on every occasion: as a delicious snack, a welcome addition to any party buffet or the perfect sweet ending to a meal. This version is even quicker to make: simply replace the melted chocolate with bitter cocoa. It really will be love at first bite with this tantalizing sweet salami!
 
INGREDIENTS
Cookies
6
oz
(180 g)
Butter
1
stick
(125 g)
– soft
Brown sugar
7
tbsp
(100 g)
Unsweetened cocoa powder
½
cup
(60 g)
Egg yolks
2
Cognac
2
tsp
(10 g)
Fine salt
1
pinch
Preparation
How to prepare Cocoa salami


To make cocoa salami, start by crumbling the cookies 1; leave them to one side. Place the soft butter 2 and the brown sugar 3 in a large bowl. 

Add the salt 4 and stir the ingredients with an electric whisk until homogeneous. Add the egg yolks 5 and the liquor 6 to the mixture.

Stir some more until fully absorbed 7. Lastly, add the sieved bitter cocoa 8 and beat with the electric whisk for a few seconds. Stir the crumbled biscuits in 9. 

Thoroughly stir the ingredients together 10. Place the dough on a sheet of parchment paper 11 and shape it into a sausage by rolling in the paper 12. 

Press down to make the salami more compact and wrap with the plastic wrap 13. Leave in the refrigerator to firm up for around 2 hours. Cut the cocoa salami into slices and enjoy 15!
Storage

Cocoa salami can be stored in the refrigerator for 3 days. It can be frozen.
Tips

You can leave out the cognac, or replace it with another aromatic liquor, like Grand Marnier or Brandy.
For an even more delicious cocoa salami, use chocolate or cocoa biscuits.
If you don't want to use raw eggs, the yolks alone can be pasteurized. Just be sure to recalculate the amounts for 2 eggs.
You could use the leftover whites to make other recipes, like shortcrust pastry with egg whites!
SHARE

/5


Source : www.giallozafferano.com