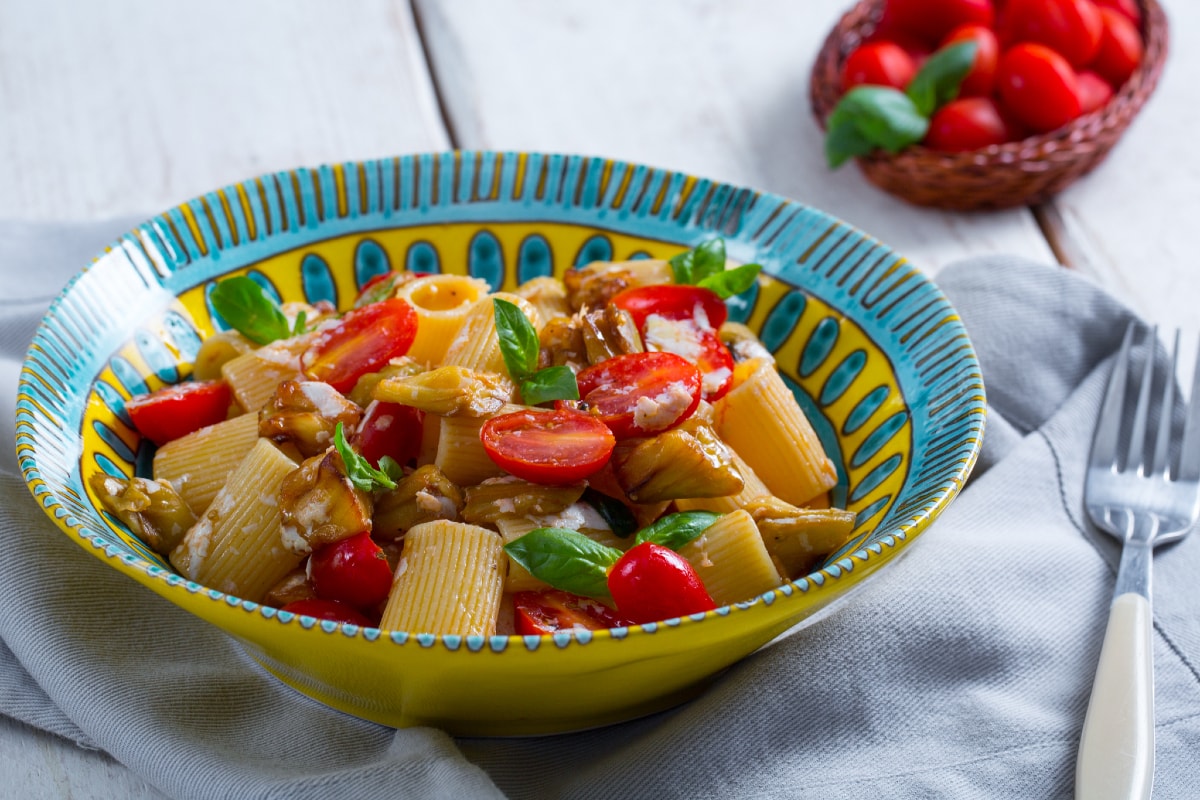 Vegetarian
PRESENTATION
Eggplant, ricotta cheese and tomato means one thing only: pasta alla Norma! Today we present a fresher and delicious version inspired by the famous Sicilian dish: cold pasta alla Norma. A summer reinterpretation for the beach, or for sharing with friends outdoors, the perfect first course for a picnic. Fried eggplant, cherry tomatoes and lashings of salted ricotta cheese: an inseparable trio of exquisitely Mediterranean ingredients, always a hit at the table! 
INGREDIENTS
Mezze Maniche Rigate pasta
¾
lb
(320 g)
Black eggplants
2
– (large)
Salted ricotta cheese
1
cup
(150 g)
Datterino tomatoes
10
oz
(300 g)
Basil
1
sprig
Fine salt
to taste
Extra virgin olive oil
to taste
Peanut seed oil
to taste
Preparation
How to prepare Cold pasta alla Norma


To prepare cold pasta alla Norma, peel the eggplant with a vegetable peeler 1 (don't throw the skin away, you could julienne, fry it and use it to decorate the dish if you prefer), then dice 2. Salt the eggplant and place in a colander to drain the vegetable water and remove the bitter taste 3.  

In the meantime, wash the cherry tomatoes and cut them in half 4. Leave 4-5 to one side; place the rest in a bowl and season with some oil, a pinch of salt, pepper and lots of fresh basil 5. Stir and leave in the refrigerator to amalgamate the flavors. Rinse the eggplant under running water 6. 

Dry thoroughly on absorbent paper 7. Heat some oil to 338-356° and fry the eggplant for a few minutes 8. Drain when golden 9.

Place on a tray lined with absorbent paper to remove the excess oil 10. Bring the water to the boil in a saucepan, add salt to taste 11, and then 4 cherry tomatoes 12.

Cook the pasta together with the tomatoes until firm to the bite 13, drain 14 and place in the serving dish.

Add the cherry tomatoes previously placed in the refrigerator 16 and the previously fried eggplant 17. Stir thoroughly and season with a drizzle of raw oil 18. 

Stir and flavor with basil leaves 19. Season with small grated shards of salted ricotta cheese 20 and another drizzle of oil. Stir thoroughly and leave to rest for 5 minutes before serving. Your cold pasta alla Norma is ready to be enjoyed 21!
Storage

Cold pasta alla Norma can be stored for one day in the refrigerator.
Tips

We removed the skin from the eggplant to make it softer, if you prefer you can leave it on and fry whole.
SHARE

/5


Source : www.giallozafferano.com