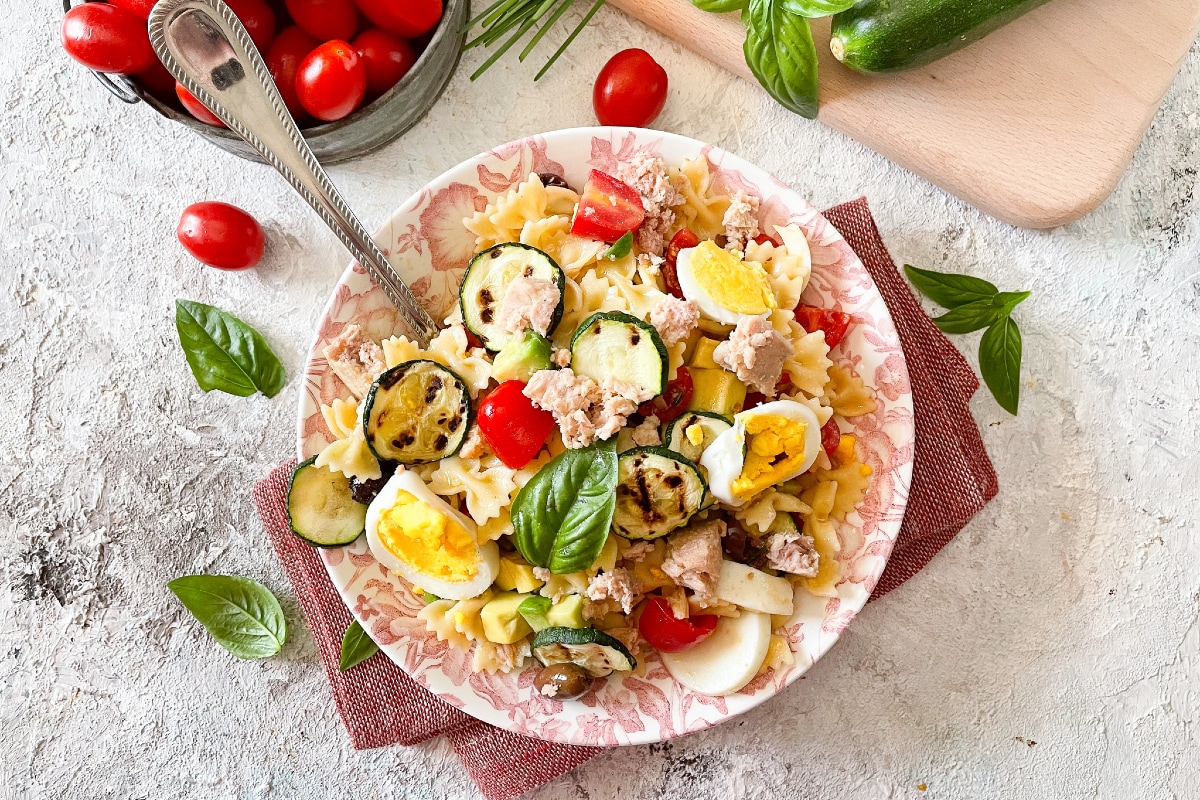 Lactose Free
PRESENTATION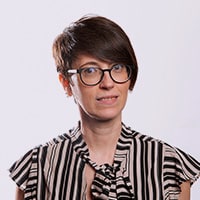 Recipe by
Barbara Benetti
Cold pasta is one of our favorite summer dishes. There are so many versions of cold pasta, all delicious and original, and today we present you with this simple but flavorsome one: cold tuna pasta. A first course that is easy to make, personalize with whatever ingredients you have at home and take with you on trips or to work. To make this pasta, apart from tuna, we also added grilled zucchini, tender diced avocado, cherry tomatoes, olives, boiled eggs and lots of aromatic herbs, for a delicious scent. Obviously you can vary all these ingredients according to your tastes, to create a dish that is always different and which can be shared with all the family!
INGREDIENTS
Bow tie pasta
7
oz
(200 g)
Datterino tomatoes
7
oz
(200 g)
Tuna in oil
4
oz
(120 g)
– (drained weight)
Zucchini
5
oz
(140 g)
Avocado
½
Eggs
2
Taggiasca olives
5
tbsp
(50 g)
Basil
to taste
Chives
to taste
Fine salt
to taste
Black pepper
to taste
Extra virgin olive oil
to taste
Preparation
How to prepare Cold tuna pasta


To prepare cold tuna pasta, start by cooking the bowtie pasta in boiling salted water 1. In the meantime, place the eggs in a saucepan with cold water and bring to the boil, then cook for 7 minutes 2. As soon as the pasta is firm to the bite, place it in a large bowl 3.

Season with a drizzle of oil 4, stir and leave to cool. Once the 7 minutes are up, drain the eggs and cool under running water. Now wash and cut the zucchini into slices 5. Heat a grill and place the zucchini slices on it 6.

Cook on a medium flame for 3-4 minutes, turn them over when nice and golden 7. Once cooked on both sides, put them on a plate and leave to one side. Cut the avocado in half and remove the pit 8. Peel and cut it into pieces 9, you'll need around half a cup. Wash the tomatoes and cut into 4 pieces. 

Now peel the eggs 10. Cut into slices 11 or wedges, if you prefer. When the pasta cools, add the tomatoes and boiled eggs 11.

Now add the grilled zucchini 13, the thoroughly drained tuna 14 and the olives 15.

Add the avocado (1&) and the basil leaves 17; if you prefer, you can tear them by hand. Use a pair of scissors to chop the chives and add straight to the bowl 18. 

Stir throughly 19, add salt and pepper to taste 20. Add a generous drizzle of oil and stir some more. Place the cold tuna pasta in the refrigerator until ready to serve 21.
Storage

Cold tuna pasta can be stored in the refrigerator for 1-2 days.
Tips

Use grilled peppers instead of grilled zucchini.  Add a couple of spoons of mayonnaise if you are a fan!
SHARE

/5


Source : www.giallozafferano.com