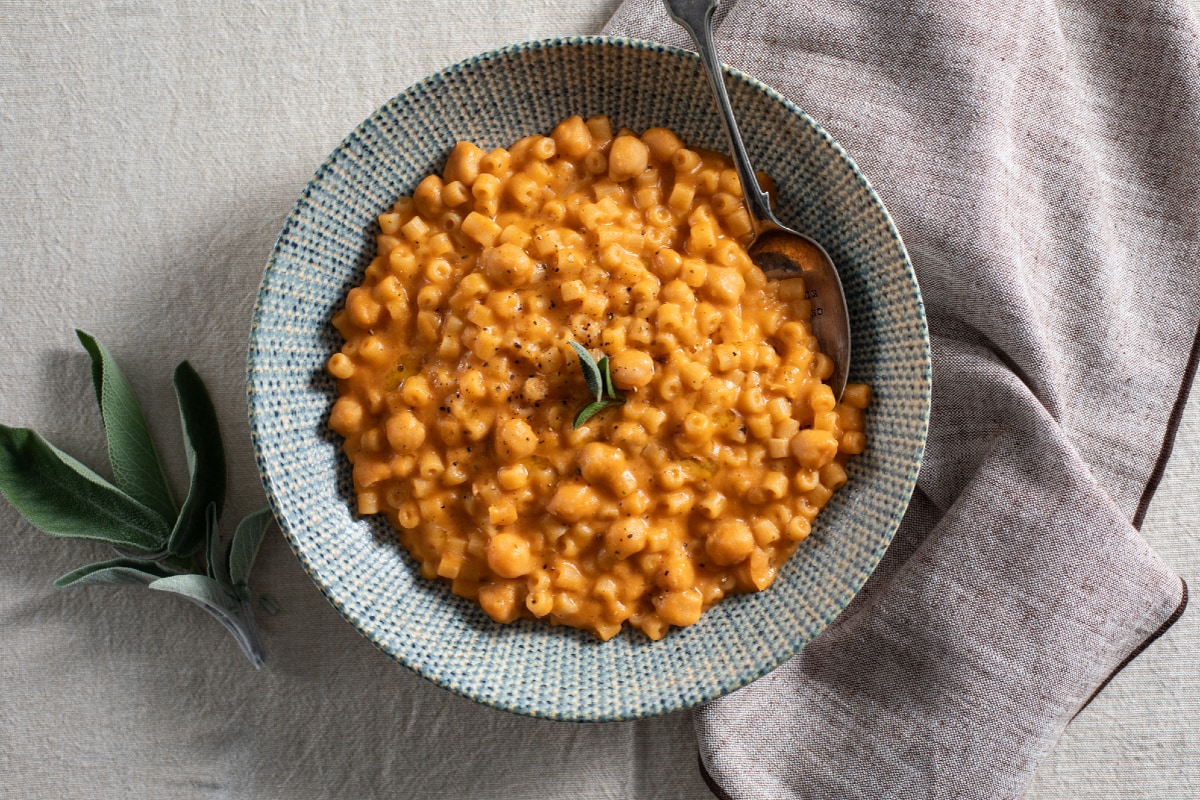 Vegetarian
PRESENTATION
Creamy pasta and chickpeas: a genuine and rustic home made first course, a must for the autumn table Inspired by this evergreen preparation, we present pasta with creamy chickpeas, a delicious version with a soft consistency, thanks to the ricotta, which together with the chickpeas, creates a velvety and tasty sauce that envelops the pasta with flavor. 
INGREDIENTS
Fusilli pasta
¾
lb
(320 g)
Precooked chickpeas
2
cups
(350 g)
Rosemary
to taste
Thyme
to taste
Garlic
1
clove
Dried chili pepper
to taste
Cow's milk ricotta cheese
½
cup
(100 g)
Fine salt
to taste
Preparation
How to prepare Creamy pasta and chickpeas


To make creamy pasta and chickpeas, add a drizzle of oil and the crushed garlic clove to a pan 1. Brown for a couple of minutes. Finely chop the rosemary in the meantime. Add the chickpeas to the pan, followed by the chopped rosemary 2 and thyme leaves 3,

the dry peperoncino 4 and the salt. Add a ladle of hot pasta cooking water 5 and cook on a medium flame for 5 minutes. Remove the garlic clove once this time is up 6.

Save a few chickpeas for the decoration 7 and place the reamining chickpeas in a tall glass 8. Now add the ricotta 9.

Add a ladle of hot pasta cooking water 10. Blend the ingredients into a smooth and homogeneous cream 11 with an immersion blender 12.

In the same pan as the one you cooked the chickpeas in, add a drizzle of oil and the chickpeas you kept to one side for the decoration 13. Cook the chickpeas on a high flame for a couple of minutes, until golden 14. Remove and leave them to one side 15.

Place the pasta in boiling salted water and cook for around 10 minutes 16. In the meantime once more in the same pan you cooked the chickpeas in, add the cream and a ladle of pasta cooking water 17. Stir to amalgamate 18.
Once cooked, drain the pasta and add it to the pan with the chickpeas cream. Stir thoroughly, add another ladle of cooking water 19 (the chickpea cream tends to become firm fast, so it is important to add water as needed for a creamy result). Amalgamate the pasta and cream away from the stove 20. Serve the pasta and creamy chickpeas after adding the crunchy cooked chickpeas to taste, some more dry peperoncino and a drizzle of raw evo oil 21.
Storage

Pasta with creamy chickpeas can be stored in the refrigerator for one day. Freezing is not recommended.
Tips

You can also use dries chickpeas, in which case you'll need to soak them for 12 hours and then boil them for around one hour, or for long enough to soften them.
SHARE

/5


Source : www.giallozafferano.com