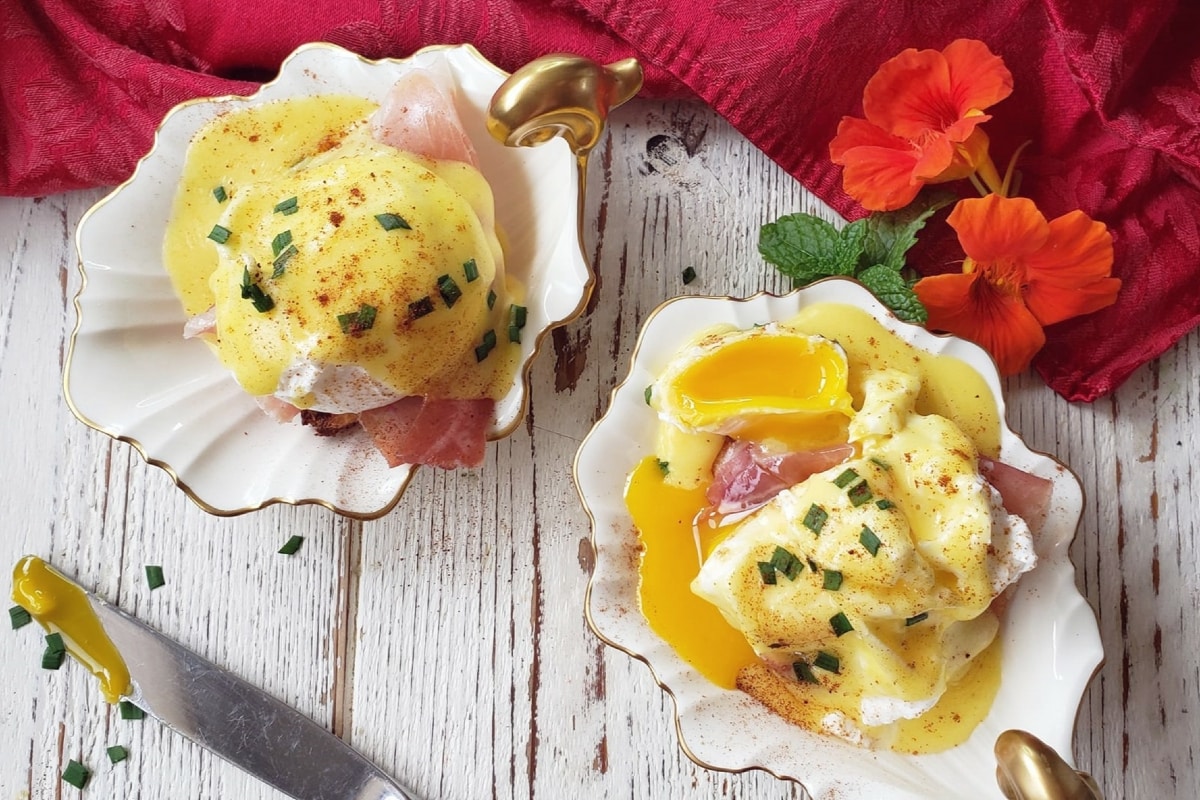 Difficulty: Average
Prep time: 30 min
Cook time: 5 min
Serving: 4 people
Cost: Low
PRESENTATION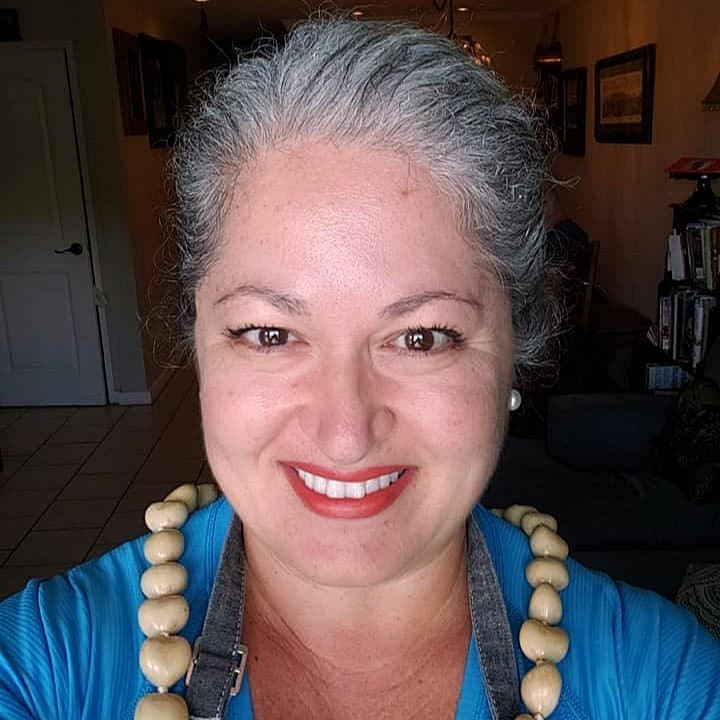 Recipe by
Rosalinda Mariotti
Eggs Benedict are an all time favorite, especially for brunch, in America. Certain celebrations, such as Mother's day, or Easter, would not be the same without this dish. It can be a little demanding in the preparation, as poached eggs are easy to overcook, but with our instructions you will do just fine. In addition, today we are proposing a new presentation to the classic: passion fruit hollandaise. The traditional recipe uses lemon juice, but passion fruit is as tart, tangy and ends with a sweet tropical note. 
The passion fruit is in season twice a year, from February to June and from late May to December. However, its puree (seeded or not) can be found frozen all year around. A little bit goes a long way. Start with the suggested quantity, and maybe you can also whip up a quick passion fruit Mimosa to go with this recipe. Cheers to that!
Surprise your guests for a summer party, or for a brunch during the holiday season: prepare something unique, fun and delightful such as these eggs Benedict with passion fruit hollandaise!
You may also like:
Eggs in bread
Scotch eggs
Omelette
INGREDIENTS
Ingredients
Hollandaise Sauce
to taste
– see recipe below
Bread
4
– brioche buns, or English muffins
Eggs
8
– Large
Prosciutto crudo
8
slices
Water
6
cups
(1500 ml)
White wine vinegar
2
tbsp
(20 ml)
– 5% acidity
For the passion fruit hollandaise
Egg yolks
4
– large
Passion fruit
2
tbsp
(20 ml)
– fresh pulp, seeds removed
Salt
1
pinch
Dijon mustard
1
tsp
(5 g)
Butter
8
tbsp
(110 g)
– unsalted, melted and kept warm
Chives
to taste
– for garnish
Smoked paprika
to taste
– for garnish
Preparation

Pre-heat oven to 200° or "warming" function.
Cut the buns or English muffins in half.
Spread some butter or mayonnaise on each of the cut side and pan fry or toast until golden. 
Place two slices on each plate.
Top each warm half bun/muffin with a slice of prosciutto. Keep warm.
Bring the water and vinegar to a light simmer, meanwhile crack all the eggs and place EACH one in a little container (mise en place bowls) to make sure they are whole. If any yolk breaks, discard or reserve for another use.
How to prepare the hollandaise sauce

Place a small pan with about 2″ of water on the stove, bring to a simmer.
In a small bowl, which should fit over the pan without touching the water, beat the yolks, salt, Dijon and passion fruit pulp until doubled in volume.
Continue whipping while you add the melted butter in a stream. 
Now place the bowl over the warm water and whip until the sauce starts to become more creamy and coats a spoon.
Remove from heat, set the bowl over a towel and stir. If you need to warm it up again, lightly place the bowl over the water while stirring.
With a whisk, create a vortex in the vinegar water (will help the egg white stay together around the yolk) and dump one egg at a time . Don't overcrowd the pan.
Simmer, don't boil for exactly 3 minutes, max 3 1/2 minutes. 
With a slotted spoon remove the eggs and place them over a cotton kitchen towel to absorb the excess water.
Remove bread from the warmer.
Tap the spoon and then slice the eggs over the prosciutto.
Stir the sauce, and pour it over the eggs.
Garnish with chives and paprika and serve immediately.
Repeat with remaining eggs.
Enjoy! 
How to store

You can prepare the Hollandaise sauce ahead of time.
Here is how you could keep it:
1- warm in a thermos and pour it over the eggs when ready
2- refrigerated and re heated bain marie, slowly
NOTE: do NOT use the microwave to re heat the sauce or you will end up with scramble eggs.
IF the sauce gets too thick, whip some warm water into it. Should do the trick.
 
Advice

Every step in this recipe has to be carefully executed or one risks to overcook the eggs (not runny) or the sauce (not smooth). Follow this timeline for best results!
SHARE

/5


Source : www.giallozafferano.com