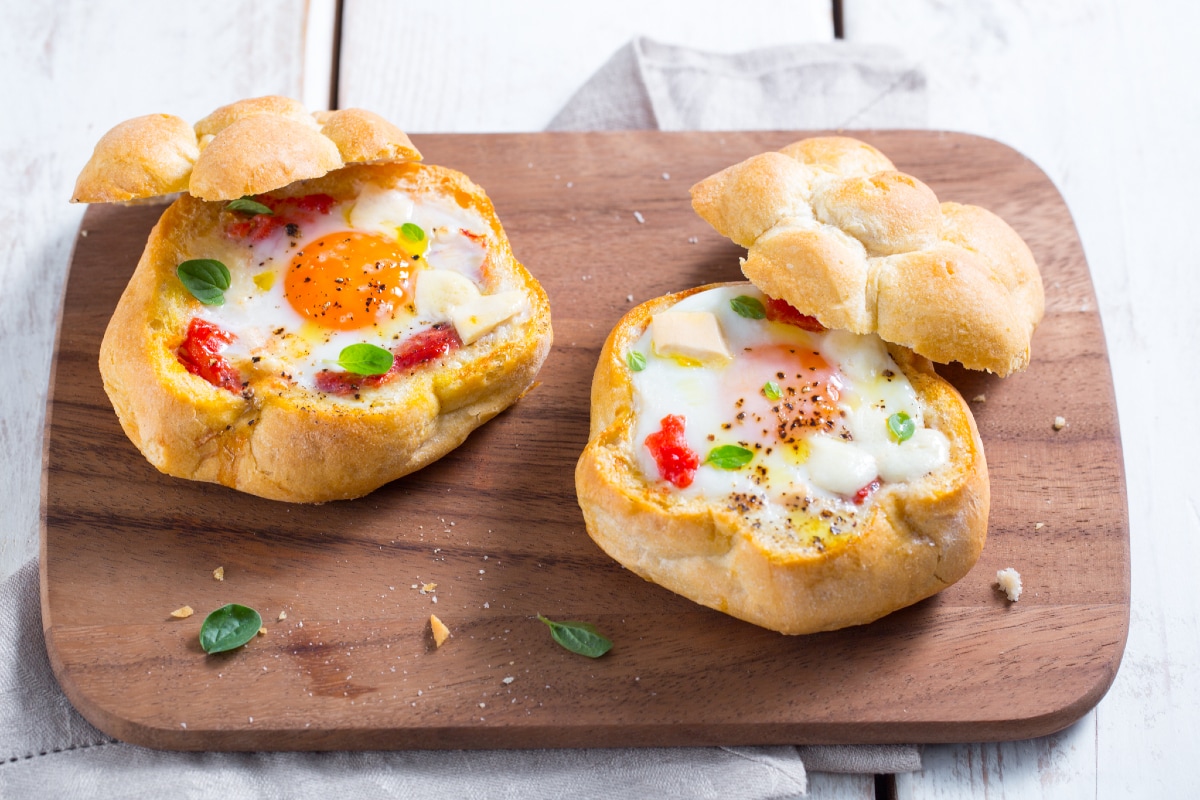 Vegetarian
PRESENTATION
How to cook eggs? In addition to all the classic ways, including boiled, here is a rich and complete second course you can prepare in 30 minutes: eggs in bread! We've chosen typical michetta rolls, a traditional hollow roll from the Lombardy region: their characteristic, crisp crust and soft inner with lots of space make them perfect for filling! We've chosen to enrich the eggs with smoked mozzarella (provola cheese) and tomato, which are all baked in the oven for a delicious and original dish: the mozzarella will melt and the egg yolk will stay nice and soft! In this captivating recipe you'll discover a new way to enjoy eggs, by making a sandwich that is simply delicious!
INGREDIENTS
Rolls
2
– (michetta bread)
Eggs
2
(110 g)
– (around 2 medium ones)
Mozzarella cheese
2
oz
(80 g)
– (smoked)
Peeled tomatoes
¾
cup
(100 g)
– (drained weight)
Extra virgin olive oil
to taste
Fine salt
to taste
Black pepper
to taste
Oregano
to taste
Preparation
How to prepare Eggs in bread


To prepare eggs in bread, dice the smoked mozzarella 1. Place in a colander to drain what little whey may still be present 2. Place the peeled tomatoes in a sieve and smash them with a fork to remove the liquid 3.  

Cut the top of the michetta rolls off 4, remove most of the crumb 5 and place them on a tray lined with parchment paper. Season the base of the michetta rolls with a drizzle of evo oil 6 and salt. 

Stuff with the peeled tomatoes 7 and add another drizzle of oil. Bake in a ventilated oven preheated to 374°F (190°C) for 5 minutes. Remove from the oven and add the diced mozzarella 8, then delicately pour the egg inside 9.

Add pepper 10, salt, and bake for around 10 more minutes, until the egg white is done. Remove from the oven, garnish with a few fresh oregano leaves 11 and serve your eggs in bread right away 12!
Storage

Eggs in bread are best enjoyed freshly made.
Tips

It is important you select michetta or rosetta rolls that are taller than 2.4 inches, so that they are easier to fill. Replace the smoked mozzarella with brie or a mountain toma cheese for a more decisive flavor.
SHARE

/5


Source : www.giallozafferano.com