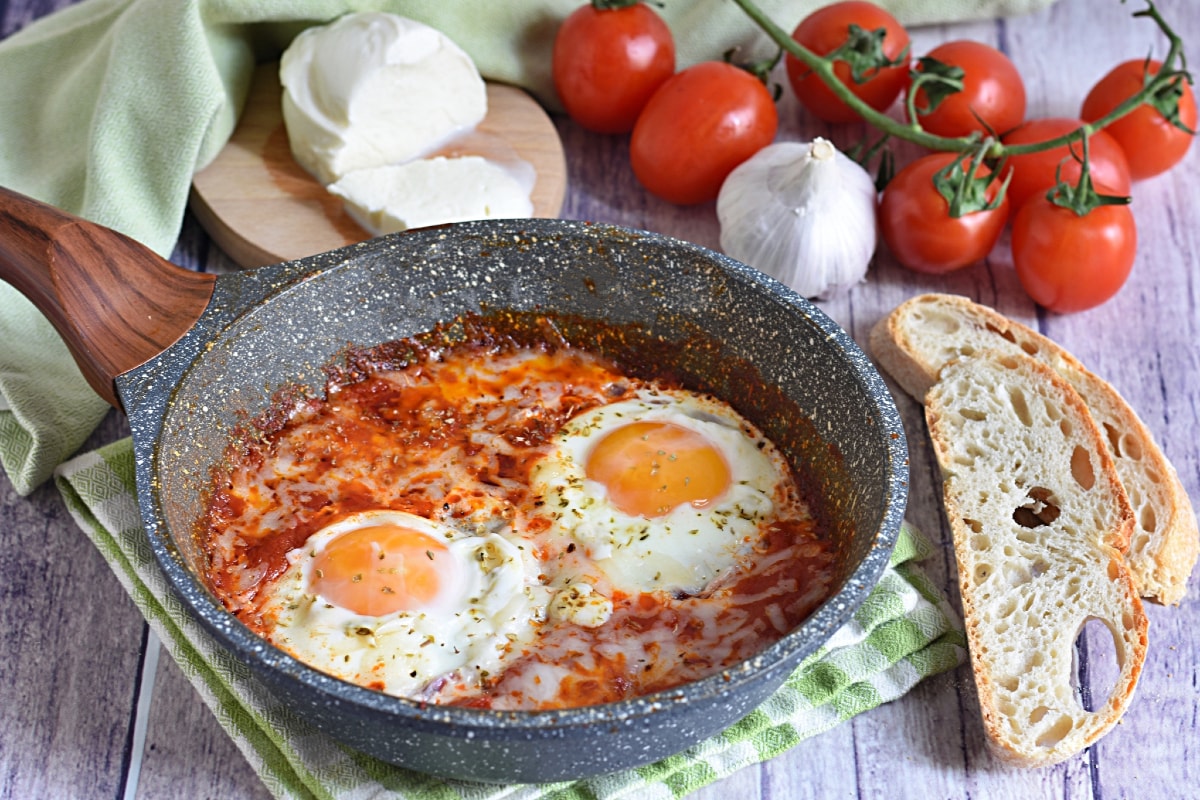 Gluten Free
Vegetarian
PRESENTATION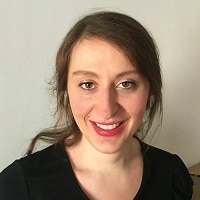 Recipe by
Francesca Meucci
Always present in the fridge, quick to cook and extremely versatile, eggs are undoubtedly one of the most consumed foods in the world and so also in Italy, where in addition to the classic frittata or poached eggs, they are sometimes combined with the flavor of tomato and cheese. As in the egg pizzaiola recipe, where the eggs are cooked sunny-side-up in a delicious tomato and oregano sauce, then garnished with plenty of mozzarella cheese. A very satisfying dish in its simplicity, excellent served with slices of toasted rustic bread!
Check out also:
Eggs in bread
Uova alla contadina
Fried egg yolk
INGREDIENTS
Eggs
4
Tomato puree
1
cup
(250 g)
Mozzarella cheese
1
cup
(150 g)
– shredded
Garlic
1
clove
Oregano
½
tsp
Extra virgin olive oil
2
tbsp
Salt
1
pinch
Pepper
1
pinch
Preparation
How to prepare Eggs pizzaiola

To prepare the eggs pizzaiola, start with the tomato and oregano sauce.
Put the extra virgin olive oil and the peeled garlic clove in a large pan (the same one in which you will cook the eggs).
Let it fry for a minute or two, then pour in the tomato sauce. Season with two pinches of salt, a pinch of pepper and the oregano.
Cover the pan with a lid and cook over low heat for about 15 minutes, until the sauce is a little thicker.
At this point, remove the garlic clove and reduce the heat to low. With a wooden spoon, make 4 holes in the tomato sauce.
Insert a shelled egg into each hole, being careful not to break the yolk.
Cover immediately with a lid and cook until the egg white is almost completely thick.
In the end add the shredded mozzarella cheese covering both the tomato sauce and the egg whites, but leaving the yolks free.
Cover again with the lid and let it cook just long enough for the mozzarella to melt.
Turn off the stove and serve immediately.
How to store

Eggs pizzaiola should be served freshly made.
You can prepare the tomato sauce even two or three days in advance and store it in the refrigerator in a glass container.
Advice

The cooking time for the eggs varies according to your taste: 3 or 4 minutes are enough to have the yolk still liquid. Perfectly cooked eggs take 7-8 minutes.
Eggs pizzaiola can be enriched in many different ways. You can add to the tomato sauce some olives, capers or sausages, for example.
For a stronger flavor, instead of using the whole garlic clove and then removing it, you can mince it. If, on the other hand, you don't like garlic, you can replace it with 2 tbsp of finely chopped onion.
SHARE

/5


Source : www.giallozafferano.com