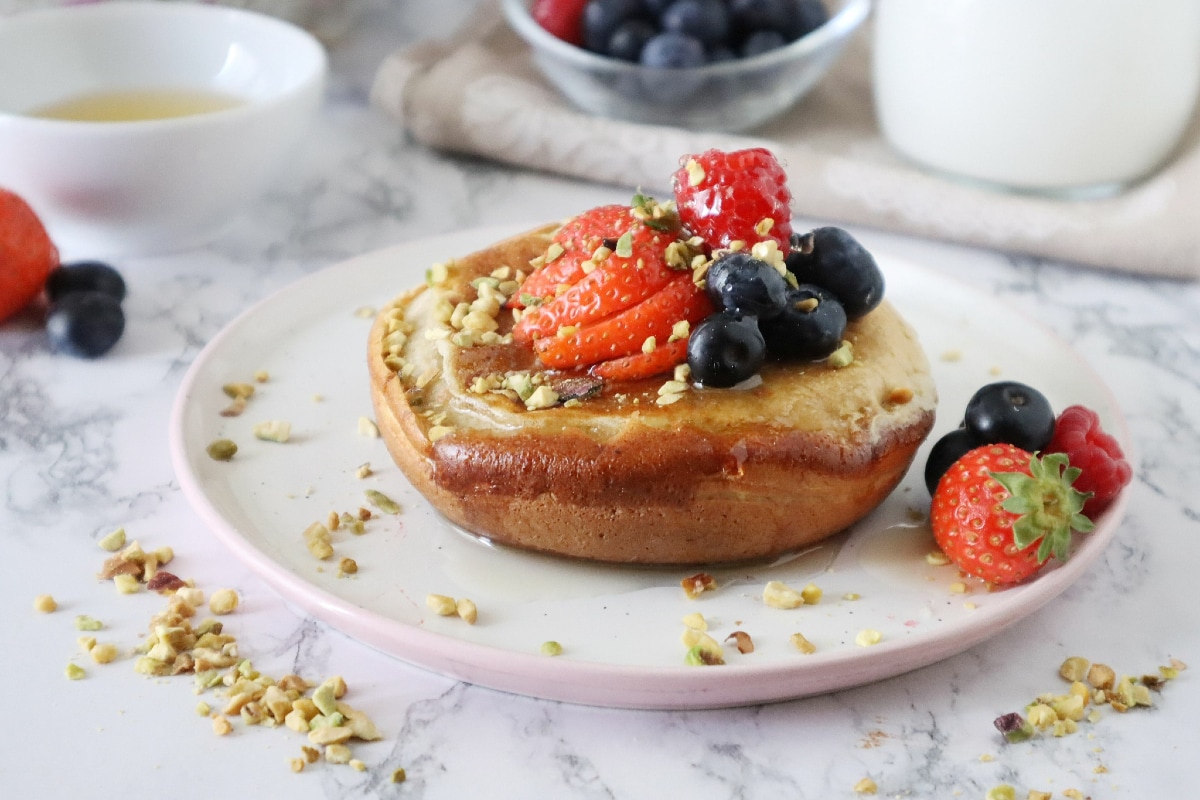 Vegetarian
PRESENTATION
Recipe by
Rossella Cosentino
The perfect breakfast for healthy and protein-rich recipe lovers! Tall, soft and delicious: Fluffy pancakes are more than a simple version of traditional American pancakes. They are made with egg whites, just like the omelette or sponge cake we've presented you with before. The classic stack of fritters is replaced by a single, more substantial pancake with oat flour and yogurt. The agave syrup and mixed fresh fruits add a sweet touch. Choose how to enrich the fluffy pancake, with ground pistachio like we have done, or with spreadable creams, toppings, or chocolate, like in the sacher fluffy pancake version.
 
INGREDIENTS
Oat flour
5
tbsp
(25 g)
Egg whites
2
(70 g)
– (room temperature)
Greek yogurt
2
tbsp
(30 g)
Baking powder
1
tsp
(4 g)
Agave syrup
2
tsp
(15 g)
Sunflower seed oil
to taste
For garnishing
Agave syrup
to taste
Berries
to taste
Ground pistacchio
to taste
Preparation
How to prepare Fluffy pancake


To prepare fluffy pancakes, separate the yolks from the whites and place the latter in a bowl 1. Beat the whites with a whisk 2 until frothy. Add the yogurt 3 and beat some more with the whisk.

Add the oat flour 4, the agave syrup 5 and the baking powder 6.

Stir just enough to obtain a homogeneous mixture 7. Grease a deep pan roughly 5″ in diameter with seed (or coconut) oil 8 and heat on the stove. Add the batter 9.  

Cover with a lid 10 and cook for around 10 minutes on a low flame, then delicately turn it over using a spatula or a fork, and finish cooking on the other side 11 for another 10 minutes.  Place the fluffy pancake on a serving dish 12.
 

Garnish with wild berries 13, agave syrup and ground pistachios 15. Serve immediately 15.  
Storage

Fluffy pancake is best enjoyed freshly made. If any is leftover, store in the refrigerator for 1-2 days a most.
Tips

Thoroughly crease the pan so that the batter does not stick to the sides. Oat flour can be replaced with rice flour, and greek yogurt with plant-based yogurt. The leftover yolks can be used to make an omelette, or to prepare a pastry cream.
SHARE

/5


Source : www.giallozafferano.com