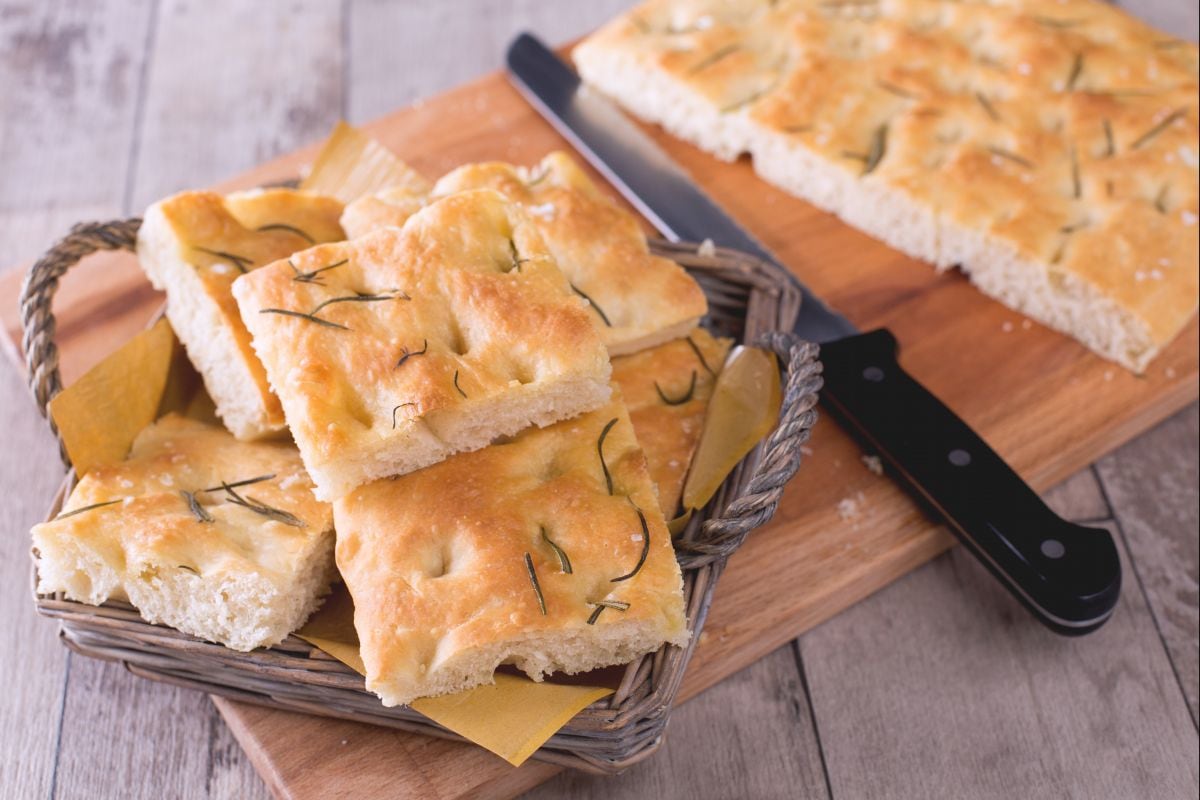 Vegetarian
PRESENTATION
Call it what you will: schiacciata, ciaccia, Italian street food or a time-tested recipe of the world, the fact remains that focaccia is simply inimitable! Freshly baked, this fragrant leavened bread will fill your home with its pleasant and inviting aroma. Children enjoy a piece wrapped in parchment paper as a mid-morning snack. It is also a popular pick-me-up among teenagers busy enjoying dive after dive into the water with their friends. Lastly, it is also the perfect ally for anyone enjoying a fresh beverage after work with colleagues, friends or a partner. Focaccia is always there for us, making our lives better thanks to its simplicity!
INGREDIENTS
Ingredients for the focaccia
Flour 0
3
cups
(470 g)
Brewer's yeast
1
tsp
(5 g)
Sugar
1
tbsp
(16 g)
Water
1
cup
(230 g)
– at room temperature
Whole milk
½
cup
(115 g)
Extra virgin olive oil
3
tbsp
(45 g)
–
Fine salt
2
tsp
(12 g)
For greasing and sprinkling
Rosemary
to taste
Salt
to taste
–
Extra virgin olive oil
3
tbsp
(40 g)
–
Preparation
How to prepare Focaccia


To prepare focaccia, start by stirring the yeast and sugar together in a bowl 1; add them to the bowl of a planetary mixer fitted with a leaf spatula, together with the flour 2. Switch the planetary mixer on, then gradually add the milk and water previously mixed together 3.

Gradually add the oil too 4. Continue to stir until the batter becomes firmer, then remove the leaf spatula 5 and replace it with a hook stirrer 6.

Add the salt 7 and knead for around 15 minutes 8, until the dough is firm and no longer breaks when stretched. The dough is moist so use a spatula to remove it from the hook 9.

Use a spatula to place it on a work top lightly sprinkled with flour 10 and fold it couple of time, so lift one edge up 11 and bring it to the middle 12. Now lift another edge up and bring it to the middle and repeat once more.

Place the dough in a bowl 13 and cover with plastic wrap. Place the bowl inside a switched off oven with the lights on and leaven for 2 hours, or until it grows to twice its original size 14. Grease a tray (we used a rectangular 14″x11″ tray) by thoroughly brushing the entire surface and edges 15,

add the dough and grease your hands to prevent the dough from sticking 16. Start spreading it out with your finger tips 17 to cover the entire surface and sides 18. Given that the dough is very moist, if you are unable to cover the entire mold, leave it to rest for a few more minutes before trying to spread it once more.

Cover with plastic wrap once finished 19 and leaven for another hour in a switched off oven with the lights on 20. Once the time us up, grease the tips of your fingers with oil and form dimples in the dough 21.

Drizzle with oil 22 and sprinkle with a little rosemary and salt flakes 23. Your focaccia is ready to be baked in a static oven set to 355°F (180°C) for around 35-40 minutes on the lowest shelf (check to see if it is done without opening the oven). Once baked 24, all you need to do is remove it and enjoy it, plain or filled!
Storage

Focaccia is best enjoyed freshly made. However, it can be stored for up to 2 days in a bag, in which case it is best to heat the focaccia in the oven for a few moments.
You can also freeze baked focaccia: simply defrost and heat it up before serving.
Tips

No time to leaven? No problem! Leave the dough to rest in the refrigerator covered with plastic wrap for up to 12 hours and the next day remove and bring to room temperature before proceeding with the recipe.
If you prefer a crisper focaccia, bake it after spreading the dough out on the tray;
if you want a tall and soft focaccia, after leavening for the last time, do not dimple the dough and bake the focaccia after greasing and sprinkling it with salt and rosemary. If you can't get your hands on salt flakes, don't worry, coarse salt will do just fine!
SHARE

/5


Source : www.giallozafferano.com