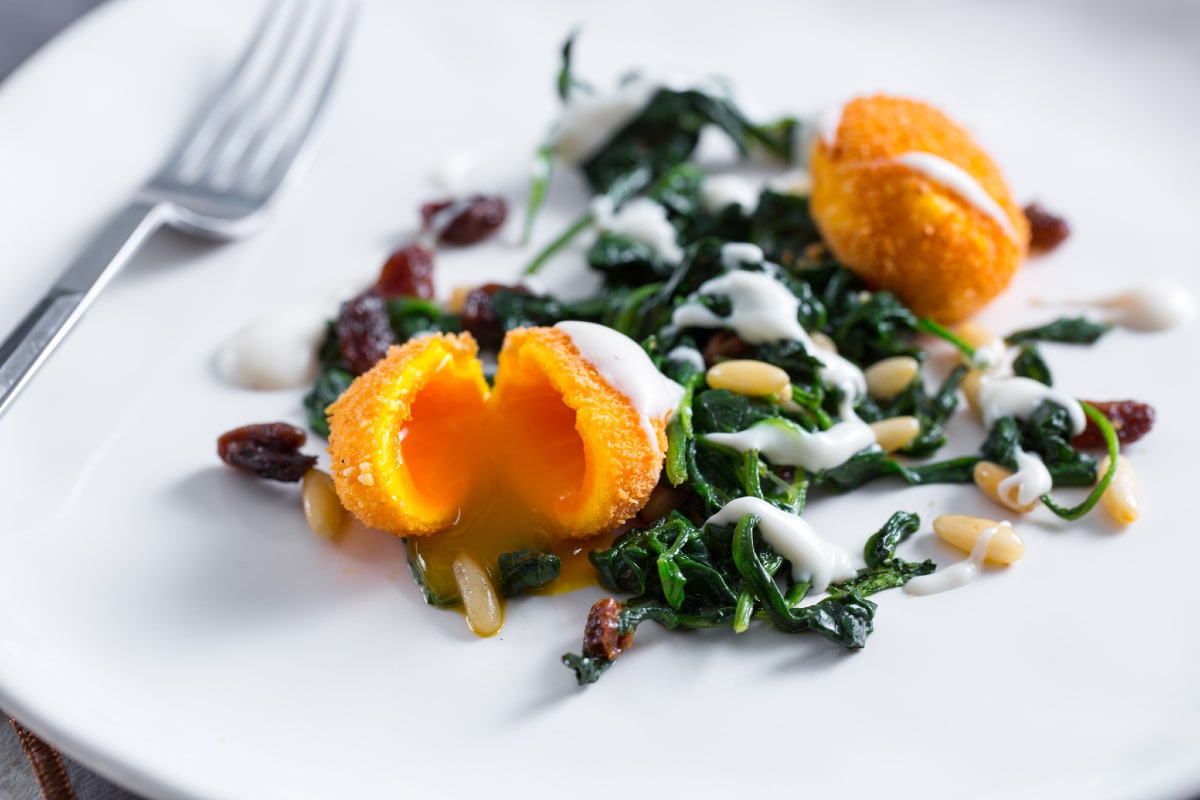 Vegetarian
PRESENTATION
If you are looking for a delicious and original recipe, well you've come to the right place… we're going to show you how to make fried egg yolk! The perfect base preparation for enriching lots of dishes, starters, first and second courses, just like the one we present you with today. If you're wondering how to fry a yolk without breaking it, the answer's simple. Simply coat it in breadcrumbs and freeze it: it will be far less delicate and much easier for you to immerse it in the oil. Once cooked they'll be crispy on the outside and soft on the inside. Be careful not to cook them for too long otherwise you'll lose this characterizing effect. Here's a serving suggestion: place them on a bed of spinach, enriched with raisins and pine nuts, and a black pepper béchamel to enhance all their flavor!
INGREDIENTS
Egg yolks
4
– (of 2 medium eggs)
Breadcrumbs
1
cup
(200 g)
Vegetable oil
to taste
for the spinach
Spinach
8
oz
(250 g)
Extra virgin olive oil
to taste
Pine nuts
2
tbsp
(20 g)
Raisins
2
tbsp
(20 g)
Fine salt
to taste
Black pepper
to taste
for the bechamel
Butter
1
tbsp
(20 g)
Flour 00
3
tbsp
(20 g)
Whole milk
¾
cup
(200 g)
Fine salt
to taste
Black pepper
to taste
Preparation
How to prepare Fried egg yolk


To prepare fried egg yolk, start by placing abundant breadcrumbs on a plate, or a tray. Use an egg to dimple the breadcrumb surface several times 1. Place the first yolk in one the dimples 2 and repeat with all the others. Coat them in breadcrumbs 3.

The yolks must be thoroughly covered; leave them in the freezer for at least 2 hours 4. Start preparing the béchamel once the 2 hours are up. Place an abundant grating of black pepper in a saucepan and toast for a couple of minutes on a low flame. Add the butter 5 and melt it, then add the flour all in one go 6.

Stir briskly with a whisk 7 to make the roux, and cook for a couple of minutes. Now add the milk 8 and stir some more. Cook until it starts to thicken 9.
Add a pinch of salt 10, stir and leave to one side. Now prepare the spinach. Wash and dry it thoroughly. Place it in a pan where you will have already heated a drizzle of oil. Add the pine nuts 12.

Now add the raisins too 13 and stir thoroughly 14. Add salt 15 and pepper to taste.

Cook for around 3-4 minutes until the spinach has nicely wilted 16. Now get ready to fry: pour the seed oil in a saucepan and heat to 356°. Remove the yolks from the freezer 17 and immerse them in the hot oil one at a time 18.

Cook for 2 minutes, until nice and golden 19. Do not cook them for too long as the yolk must remain soft on the inside. Drain the oil from the fried yolk and place it on a tray lined with absorbent paper 20 to remove any excess oil. Now arrange the plate: prepare a bed of spinach, add a little béchamel and top with the fried egg yolk 21.
Storage

The yolks can be stored in the freezer until ready to fry.  Once cooked, it is best to serve the dish right away.
Tips

The béchamel may thicken as it cools. If this happens, vigorously stir it before adding to the plate.
SHARE

/5


Source : www.giallozafferano.com