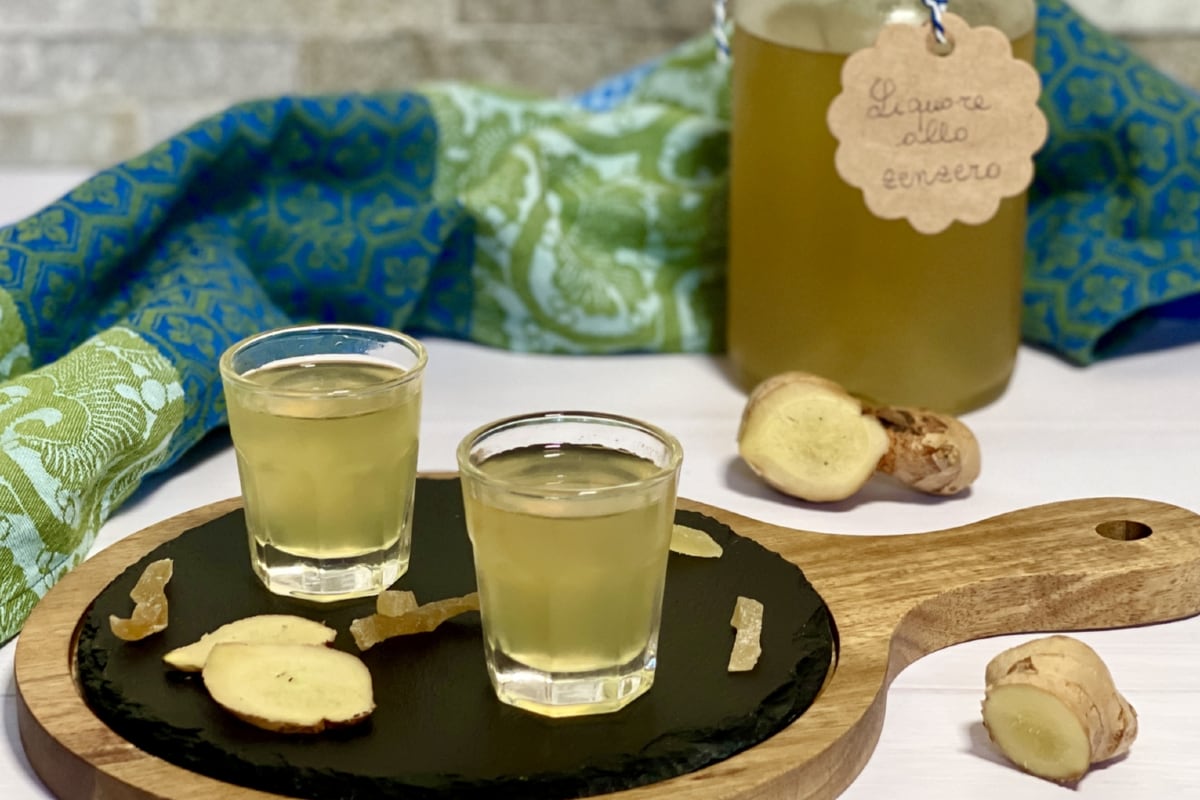 Gluten Free
Lactose Free
Vegetarian
PRESENTATION
Ginger liquor is an exotic tasting digestive that is pleasantly spicy, delicious served alone or used to flavor creams and desserts. It is very easy to make and requires very few ingredients: ginger root obviously, alcohol, water and sugar. Like with any good liquor, a lengthy maceration and resting time is necessary, so that all the flavors are absorbed and for it to become nice and golden in color. Delicious served cold, it will be an enjoyable treat at the end of your meal!
INGREDIENTS
Ingredients (for 4.25 cups)
Pure alcohol
2
cups
(500 ml)
– 95%
Fresh ginger
5
oz
(160 g)
– (weight after cleaning)
Water
2
cups
(500 ml)
Sugar
2
cups
(400 g)
Preparation
How to prepare Ginger liqueur


To prepare ginger liquor, start by peeling the ginger with a potato peeler 1 or a paring knife. Thinly slice it 2 and place in a large sealed glass container. Add the alcohol 3, which should fully cover it.

Put the lid on 4 and leave to macerate in a cool place in the dark for 3 weeks, shake the container a little every day. The alcohol should turn bright yellow in color 5. Once this time is up, prepare a syrup by heating the water and sugar for around 10 minutes on a medium flame. Stir occasionally.

The syrup must boil 7. Remove from the heat when it thickens and leave to cool. Filter the alcohol with a colander and remove the ginger slices 8. Now add the syrup which will have cooled to room temperature 9 and stir.

Place the liquor in a 33.8 oz bottle or two 19 oz bottles 10 11. Close with the lid. Leave to rest in the refrigerator for at least 15 days and stir the bottle frequently. The ginger liquor is now ready for tasting 12.
Storage

Store ginger liquor in the refrigerator for around 3 months. Freezing is not recommended.
Tips

Ginger liquor can be flavored with lemon peel, by adding the rind of an organic or untreated lemon to the ginger when it macerates in the alcohol.
SHARE

/5


Source : www.giallozafferano.com