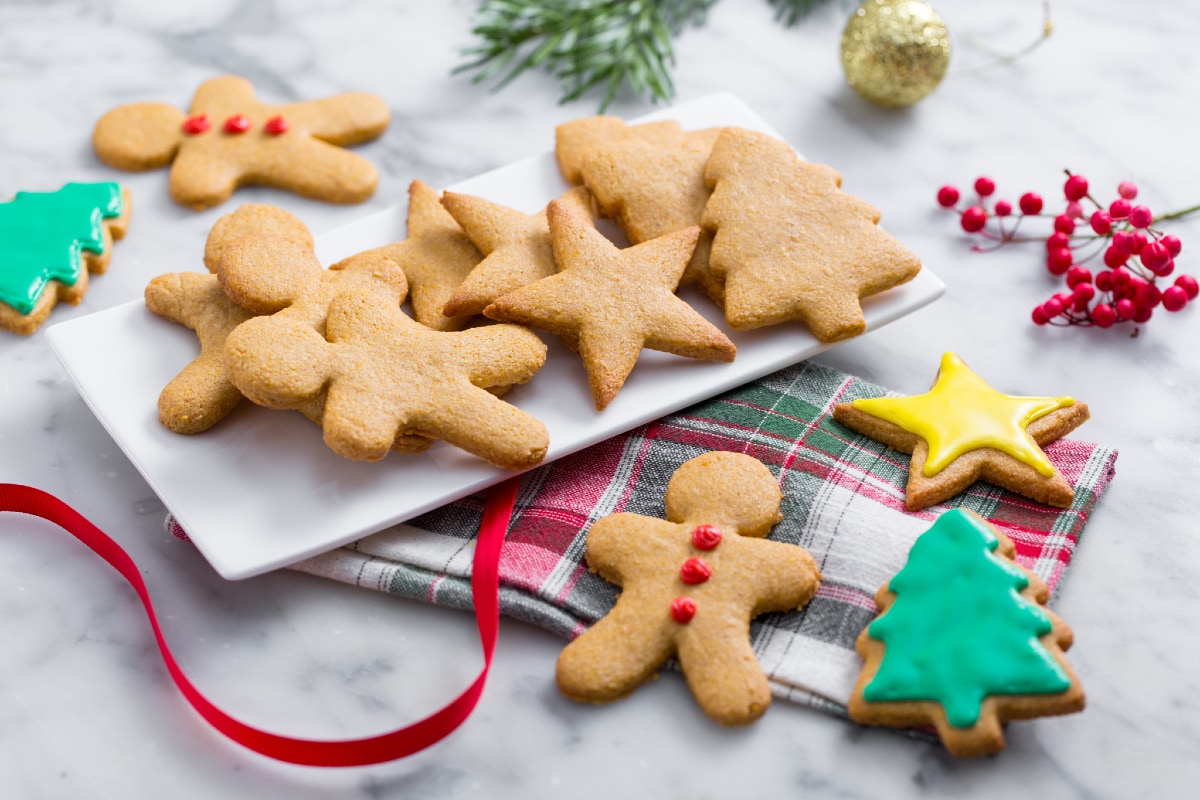 Vegetarian
PRESENTATION
Every year we look forward to making Christmas cookies, to give away for the holidays! Today we show you how to make gluten-free Christmas cookies, perfect for those who are intolerant! The spiced shortbread with cinnamon and ginger, as tradition dictates, is made with rice flour and cornmeal instead of the classic 00 flour. You will get really delicious and crumbly biscuits, perfect to serve with a hot chocolate or a good tea. You can leave the cookie natural, or decorate them with royal icing, sugar paste or even water-based icing. Make many different shapes and let your imagination run wild, together with the little ones too!
INGREDIENTS
Ingredients for 30 cookies
Rice flour
1
cup
(175 g)
Corn flour
1
cup
(175 g)
Butter
⅓
cup
(90 g)
– softened
Brown sugar
½
cup
(120 g)
Egg yolks
2
(30 g)
Eggs
1
(55 g)
– medium
Fine salt
to taste
Cinnamon powder
to taste
Powdered ginger
to taste
Lemon peel
1
Orange peel
1
Preparation
How to prepare Gluten-free Christmas cookies


To prepare the gluten-free Christmas cookies, pour the soft butter 1, the brown sugar 2 and a teaspoon of ginger 3 into a bowl.

Also add a teaspoon of ground cinnamon 4, the grated lemon 5 and orange 6 zest.

Add a pinch of salt 7 and mix with an electric whisk 8 until you have a homogeneous mixture. Add the whole egg 9 and mix again.

Also add the 2 egg yolks and work again until they are incorporated 10. Add the rice flour 11 and the corn flour 12.

Mix again with the whisk until the two flours are well absorbed 13. Once you have a homogeneous mixture, transfer it to a surface and compact it 14. Form a loaf, wrap it in plastic wrap 15 and place in the refrigerator.

Once the shortcrust pastry has hardened, take it back from the refrigerator 16. Transfer it onto a floured board and roll it out with a rolling pin 17 until you obtain a thickness of .5″ (1 cm) 18.

Shape the cookies, using the molds of your choice 19 and place them gradually on a baking tray lined with parchment paper 20. Bake in a preheated static oven at 365°F (185°C) for 12-15 minutes. When they are well browned, take them out of the oven 21, let them cool and serve them as they are, or have fun decorating them with royal icing.
Storage

They keep in a tightly closed box or tightly sealed glass container for about 2 weeks.
Tips

It is possible to add 1.5 tbsp (10 g) of cocoa to the cookies by eliminating 1.5 tbsp (15 g) of corn flour for a more delicious cookies!
SHARE

/5


Source : www.giallozafferano.com