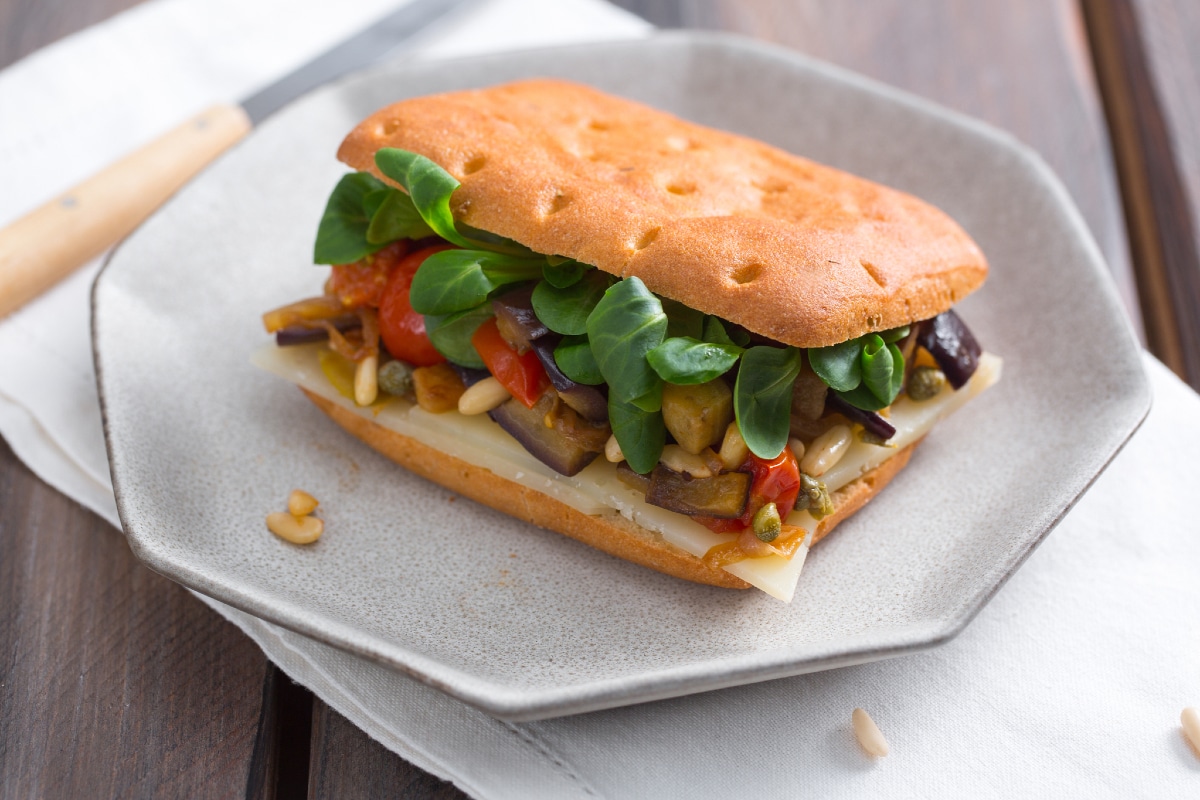 Gluten Free
Vegetarian
PRESENTATION
As lunchtime approaches we feel peckish and in need of a tasty idea that can satisfy our appetite in a genuine and nourishing way…Today we present gluten-free focaccia with caponata, a simple and delicious vegetarian recipe! A soft gluten-free focaccia is served with a vegetable filling, freely inspired by the typical Sicilian side dish, caponata. The filling is also enriched with a few slices of pecorino cheese and mâche leaves, which add a touch of freshness. A blend of Mediterranean flavors just waiting to be enjoyed bite after bite, perfect for a lunch break!
INGREDIENTS
Gluten-free focaccia
2
Pecorino cheese
2
oz
(80 g)
– semi-mature
Lamb's lettuce
3
tbsp
(30 g)
For the quick caponata
Eggplant
8
oz
(230 g)
– long
Cherry tomatoes
6
oz
(170 g)
Yellow onions
1
Salted capers
2
tbsp
(20 g)
Green olives
2
tbsp
(20 g)
– pitted
Pine nuts
2
tbsp
(20 g)
Basil
to taste
Extra virgin olive oil
to taste
Fine salt
to taste
Black pepper
to taste
Preparation
How to prepare Gluten-free focaccia with caponata


To make gluten-free focaccia with caponata, start with the ingredients for the quick caponata: peel and julienne the onion 1, tip and dice the eggplant into 0.8 inch cubes 2. Lastly, cut the tomatoes in half 3.

Place the onion in a non-stick pan with a drizzle of oil 4 and brown on a low flame for around 10 minutes. Add the eggplant 5, brown on a high flame for another 10 minutes, then add the tomatoes 6.

Flavor with the desalted capers 7, pine nuts 8 and coarsely chopped olives 9.

Add salt, pepper 10 and cook for another 10 minutes, then season with a few hand-torn basil leaves 11: Now place the focaccia on a tray and grill in the oven at 392° for 5 minutes 12.

In the meantime, cut the pecorino cheese into roughly 0.2 inch thick slices 13. Now you are ready to assemble the ingredients: slice the focaccia in half 14 and add the pecorino cheese slices 15.

Add 2 spoons of caponata 16 and complete with the mâche 17. Close the focaccia and repeat with the second piece. Your gluten-free focaccia with caponata is ready to be enjoyed 18!
Storage

Gluten-free focaccia with caponata is best enjoyed freshly prepared. The caponata can be stored in the refrigerator for 2 days, in a sealed container.
Tips

If you prefer you can replace the pecorino with a less mature cheese, such as caciocavallo.
SHARE

/5


Source : www.giallozafferano.com