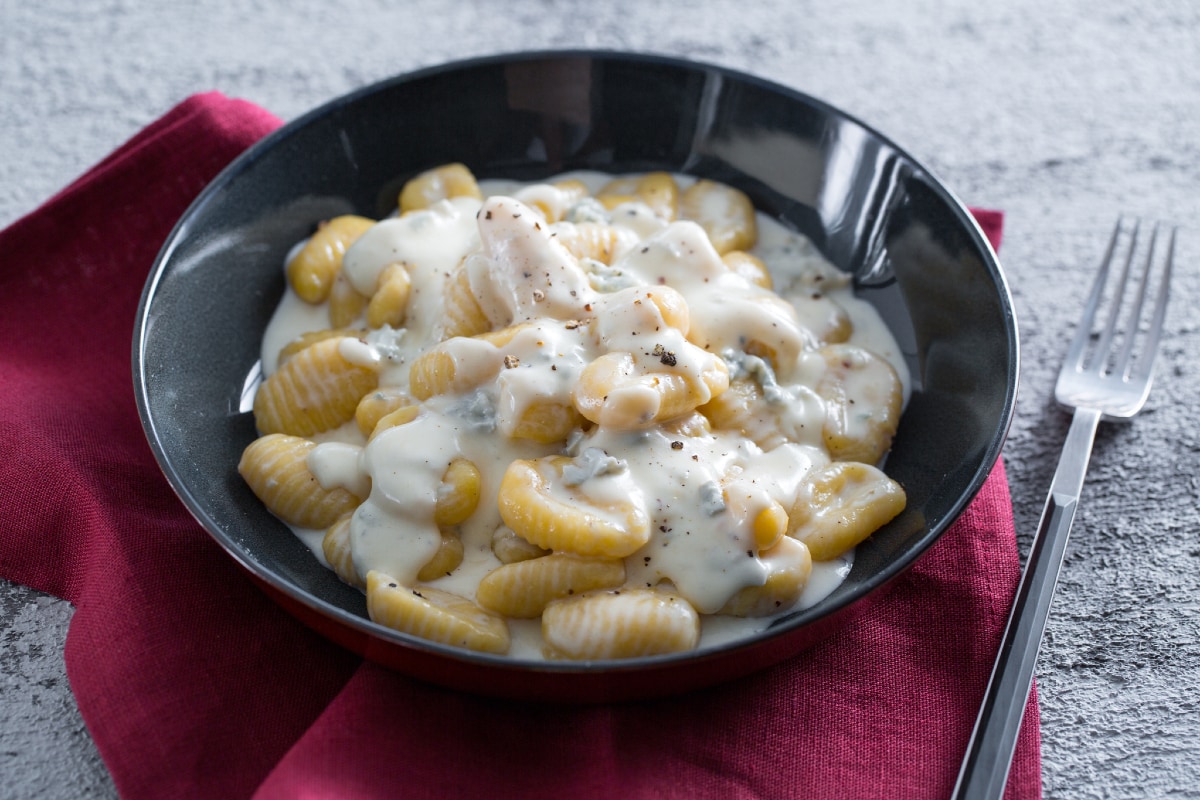 Vegetarian
PRESENTATION
The perfect sauce for home made potato gnocchi is a creamy and morish condiment, just like the one in this delicious recipe for gnocchi with gorgonzola cream. A delicious first course that will win you over with its intense flavor and velvety consistency, inspired by the traditional recipe for gnocchi with four cheeses. This simple and appetizing recipe is dedicated to lovers of this versatile and morish blue cheese.
INGREDIENTS
Potatoes
2
lbs
(1 kg)
Fine salt
to taste
Flour 00
3
cups
(300 g)
Eggs
1
For the gorgonzola cream
Gorgonzola cheese
14
oz
(400 g)
– sweet
Heavy cream
¾
cup
(200 g)
Fine salt
to taste
Black pepper
to taste
Preparation
How to prepare Gnocchi with gorgonzola cream


To prepare gnocchi with gorgonzola cream, start by boiling the potatoes 1 for around 30-40 minutes, depending on their size. Pierce with a fork, which should slide in easily if they are done, at which point you can drain them. Mash the potatoes while still hot, over the previously sieved flour on the pastry board, which you will have shaped like a well 2. Now add the egg and the salt 3.

Knead by hand 4 into a soft but firm dough 5. Take a part of the dough and roll it into 0.8 inch thick strips with your fingertips 6. Cut the strips into slices, take each piece and lightly press it against a gnocchi shaper with your thumb to make the classic shape. As you make the gnocchi, place them on a tray lined with a cloth lightly sprinkled in flour, far apart from each other.

Dice the gorgonzola into cubes after removing the crust 7. Place a saucepan filled with water on the stove and add salt when it starts to boil. Heat the cream in a saucepan 8 and add the gorgonzola 9.

Melt on a low flame, flavor with salt and pepper 10. In the meantime cook the gnocchi, a little at a time 11. Drain them as soon as they come to the surface 12.

Add the gnocchi to the sauce and leave to flavor for a few moments 13. Serve gnocchi with gorgonzola cream nice and hot 15.
Storage

We recommend enjoying gnocchi with gorgonzola cream right away. Potato gnocchi can be stored uncooked: leave them on a cloth for a couple of hours at most: they will take longer to cook because they will have dried out a little in the air. Gnocchi can also be frozen: place the tray in the freezer and after around 20 minutes place the potato gnocchi in a freezer bag; repeat until you have frozen them all. To cook, simply place them in boiling salted water, without defrosting.
Tips

Try using milk instead of cream, but you'll need to adjust the amounts for the same creamy consistency.
SHARE

/5


Source : www.giallozafferano.com