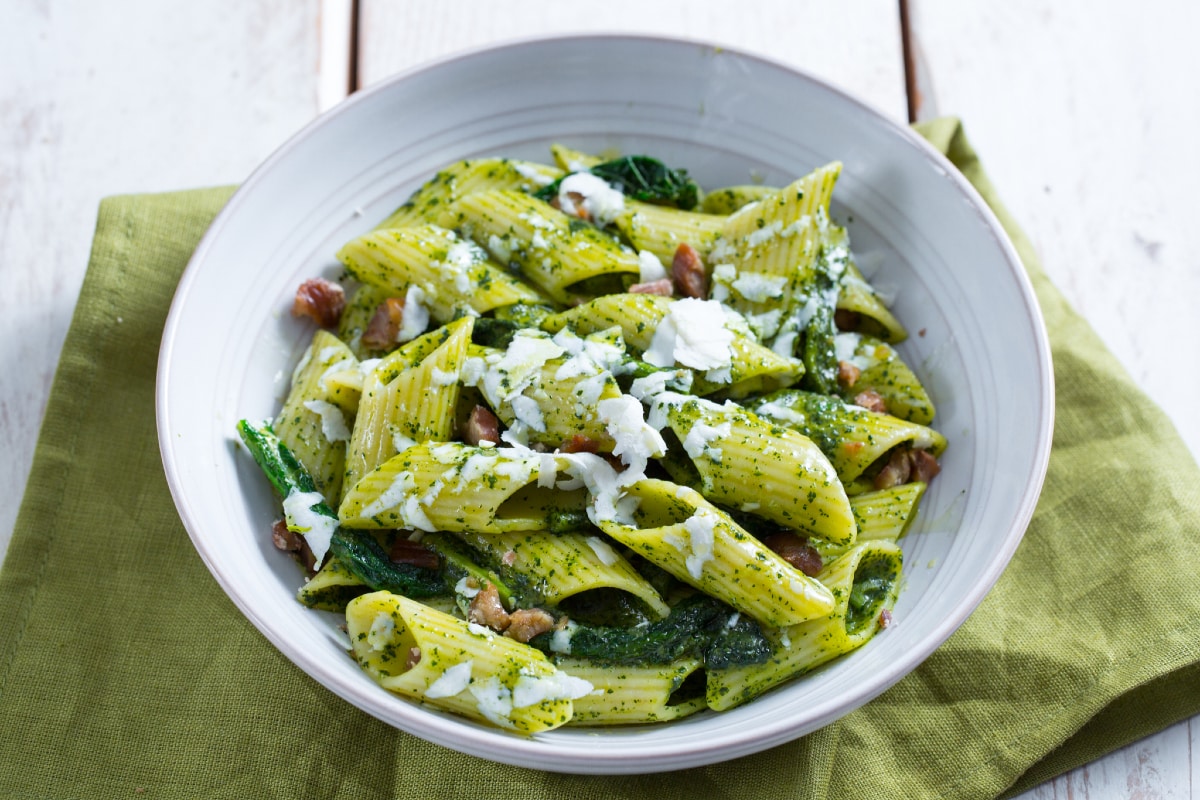 Vegetarian
PRESENTATION
Did you like pasta with kale? With just a few other ingredients you'll be able to make this first course, which is perfect for winter: kale and chestnut pasta! A super delicious pasta, thanks to the Italian kale cream made with a special ingredient: chestnuts! The stalks of the Italian kale can also be used to make this recipe…we'll show you how…for a zero waste dish! A grating of salted ricotta cheese before serving is all you'll need to complete this irresistibly creamy first course! For a truly original result we chose pennoni pasta, but opt for whatever shapes you like, long or short! 
Here are some other unmissable recipes with Italian kale:
INGREDIENTS
Pennoni rigati pasta
¾
lb
(320 g)
Italian kale (cavolo nero)
5
oz
(150 g)
Garlic
1
clove
Lemon juice
to taste
Precooked chestnuts
1
cup
(150 g)
Parmigiano Reggiano DOP cheese
2
tbsp
Extra virgin olive oil
to taste
For decoration
Salted ricotta cheese
to taste
Precooked chestnuts
to taste
Preparation
How to prepare Kale and chestnut pasta

To make kale and chestnut pasta, start by cleaning the Italian kale. Separate the kale leaves 1 and gently run your hand down the stalk to remove it 2. Don't throw the stalks away though: you'll need them for later. Leave aside the smaller and tenderest leaves too. Blanche the Italian kale in salted boiling water 3.

Drain with a colander after around a minute, leave the cooking water to one side, then place the kale in a bowl with water and ice 4. This way it will cool rapidly without losing its bright color. Now wring it out 5 and place it in a tall and narrow container 6.

Add half a peeled garlic clove 7, a few drops of lemon juice 8 and the precooked chestnuts 9.

Add the grated Parmigiano Reggiano DOP 10, a drizzle of oil 11 and a little of the water you cooked the kale in 12.

Blend into a smooth and cream 13 using an immersion blender 14. Leave to one side and prepare the Italian kale stalks. Thinly slice them 15.

Place a drizzle of oil in a pan with half a garlic clove. Add the Italian kale stalks and the tenderest leaves you saved for later 16. Add a pinch of salt and finish cooking. In the meantime, cook the pennoni in the kale cooking water after bringing it back to the boil 17. Remove the garlic as soon as the kale is tender, then add the cream you made with the leaves 18. Add a little cooking water too.

Drain the pennoni and add them straight to the pan 19. Season with salt 20, then serve on plates 21.

Finish off with the salted ricotta 22 and some crumbled chestnuts 23. Your pennoni are ready, enjoy them right away 24!
Storage

Pasta is best enjoyed freshly prepared, although it can be stored in the refrigerator for one day.
Tips

If you prefer you could use smoked instead of salted ricotta for a more decisive flavor, or even fresh ricotta for a more delicate flavor, by adding tufts of the cheese just before serving!
SHARE

/5


Source : www.giallozafferano.com