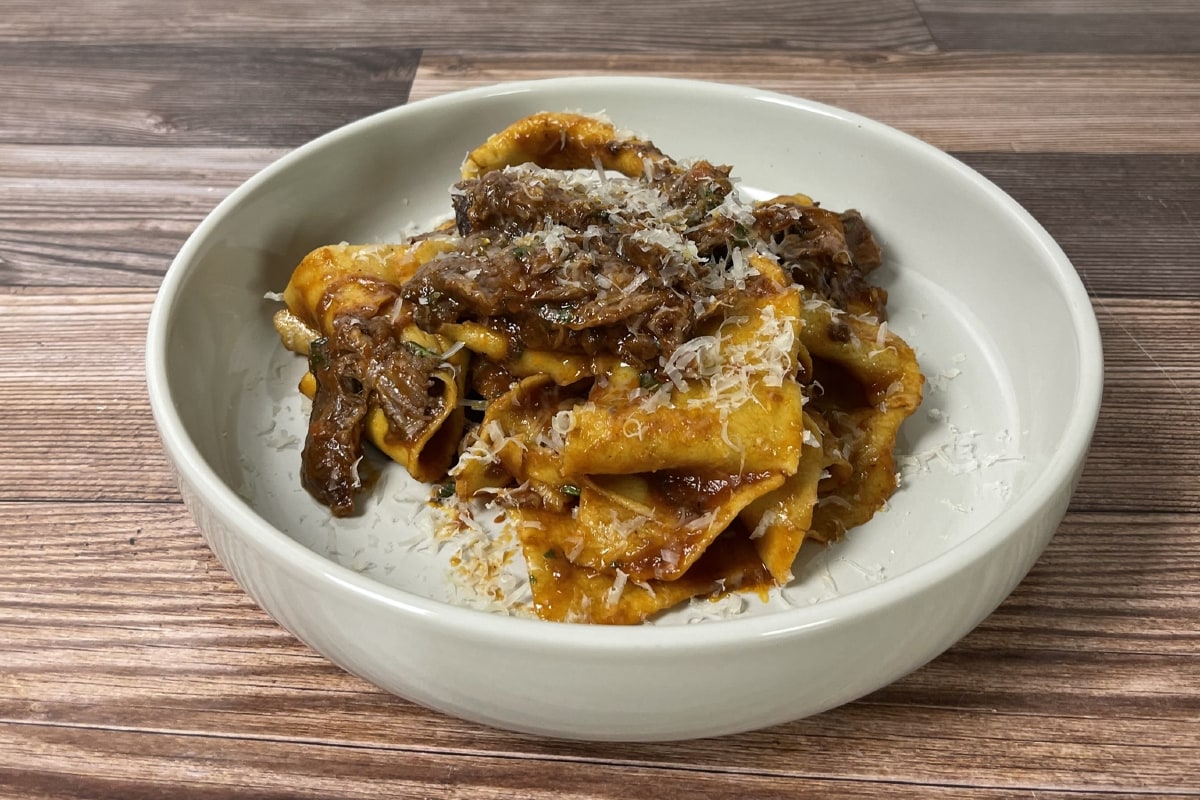 Vegetarian
PRESENTATION
Braised meat is always a good idea. Braising is a technique that involves meat soaked in liquid, cooked for a long time at a low temperature. Lamb shank pappardelle recipe is very Italian as the braising liquid is made from red wine and pureed tomatoes. Many cuisines use different types of liquids and flavoring. Stock is a predominant of many different recipes, as well as the trilogy of vegetables that Italians call 'soffritto' (onions, carrots and celery) with garlic. Asian dishes may use peppercorn, star anise and cinnamon while Italians or French will focus more on building flavor with fresh herbs as bay leaves, thyme or rosemary. Not a fan of gamey meat? No worries for this one, the lamb flavor that someone may describe as strong surely mellows downs when combined with wine and tomatoes. In this recipe the lamb shanks are tossed with pappardelle, similar to but larger than tagliatelle, but it can also be served with mashed potatoes, soft polenta or roasted potatoes. Buon appetito!
Check out more homemade pasta recipes:
Tagliatelle with porcini mushrooms
Fresh egg pasta with boar ragu
INGREDIENTS
For the sauce
Lamb shanks
4
lbs
(2 kg)
– (4 pieces)
Onions
1
– finely chopped
Carrots
1
– finely chopped
Celery
2
stalks
– finely chopped
Garlic
2
cloves
Red wine
2 ½
cups
(600 ml)
Tomato puree
24 ½
oz
(700 g)
Parsley
to taste
– finely chopped
Salt
to taste
Black pepper
to taste
Extra virgin olive oil
2
tbsp
(30 ml)
Parmigiano Reggiano DOP cheese
to taste
– grated
For pasta dough
Flour 00
⅔
cup
(200 g)
– (or all-purpose flour)
Semolina
½
cup
(150 g)
Eggs
4
Preparation
How to prepare Lamb shank pappardelle

Season lamb shanks with salt and pepper.
Heat oil in a large, heavy pot or Dutch oven over medium-high heat.
Cook shanks until brown on all sides, about 8 minutes. 
Add rosemary, carrots, onions, celery and garlic to the pot and sauté over medium heat until golden brown, about 10 minutes.
Add red wine on high heat and reduce by half.
Add tomato puree, mix everything.
Bring to a boil, cover, and cook in the oven at 325F for at least 2 hours, until the meat is fall off the bone tender.
Make the pasta dough.
Mix the two flours and put them on a counter or working surface and make a well.
Break the eggs into the well with a fork, whisk them, then gradually mix with the flours until a ball is formed. Knead by hand.
Flour the surface. Push the dough away from you with the palm of your hand, fold the dough over itself and turn it counterclockwise.
Continue pushing, folding, and turning until the dough is smooth and elastic, 15 to 20 minutes.
Wrap in plastic and let the dough rest for at least one hour.
Roll out the dough. Starting in the middle, push away from you with a rolling pin, easing up on the pressure as you approach the edge. Dust with some flour if dough sticks to rolling pin. Continue rolling the dough into a sheet, turning occasionally, until you can see your fingers through the bottom.
Cut the pappardelle. Dust the top of the sheet of dough with semolina flour and loosely roll it into a cylinder. Using a sharp knife, cut into 3/4-inch to 1 inch-wide slices.
Unwrap the noodles; dust with more semolina to prevent from sticking and gently toss to separate.
Place on a sheet pan and cover with a kitchen towel until ready to cook.
Take the lamb out of the oven. The meat should be so tender that you can separate it from the bone just with a fork. Remove all the meat from the bone and keep the sauce warm while you cook the pasta.
Bring a large pot of salted water to a boil. Add the pappardelle, one piece at the time so it doesn't stick. Pasta will float soon, cook for 2 minutes more than transfer into the lamb sauce.
Turn the heat on high and add a generous ladle of pasta water with a drizzle of olive oil. The starch from the pasta water will thicken up the sauce to a perfect consistency. Toss the pasta around in the sauce and cook for a few minutes so the pasta can absorb this incredibly delicious sauce. Add some fresh parsley.
Plate in your most beautiful pasta bowls and grate a generous amount of Parmigiano Reggiano. Buon appetito!
SHARE

/5


Source : www.giallozafferano.com