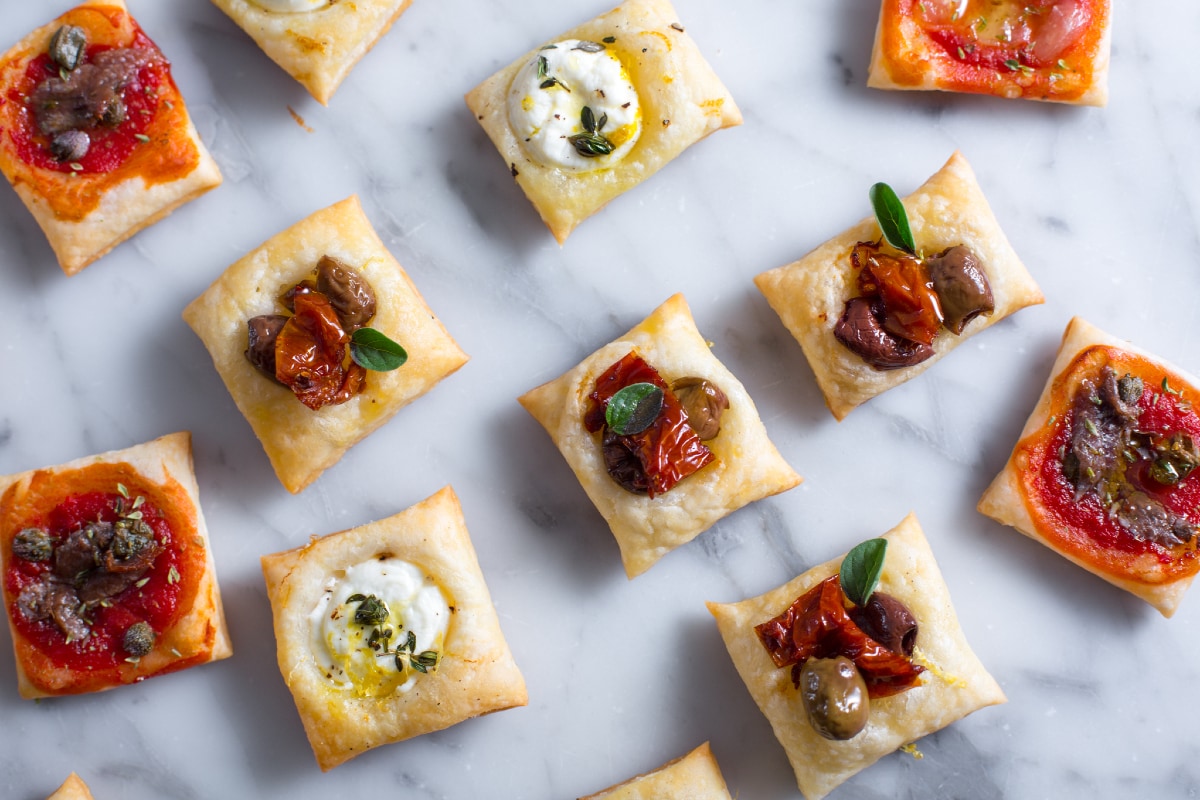 Difficulty: Very easy
Prep time: 15 min
Cook time: 20 min
Makes: 24 pieces
Cost: Low
PRESENTATION
Looking forward to drinks this evening? The perfect occasion for preparing mini puff pastry pizzas, a simple yet delicious starter! A fragrant puff pastry base, just waiting to be garnished with your favorite ingredients. We present you with these versions, two with and two without tomato, which will inspire you to create mini puff pastry pizzas that are different each time. Perfect for a birthday party, mini puff pastry pizzas are very easy and quick to make, a perfect idea even for less expert hands!
INGREDIENTS
Ingredients for 24 mini pizzas
Puff pastry
8
oz
(230 g)
– rectangular
Extra virgin olive oil
to taste
For the mini mozzarella pizzas
Tomato puree
3
tbsp
(50 g)
Mozzarella cheese
1
oz
(50 g)
– diced
Oregano
to taste
For the mini caper pizzas
Tomato puree
3
tbsp
(50 g)
Capers
18
Anchovies in oil
3
For the mini olive pizzas
Taggiasca olives
12
Sun-dried tomatoes in oil
3
Marjoram
to taste
For the mini cheese pizzas
Cream cheese
cup
(100 g)
Lemon peel
to taste
– grated
Thyme
to taste
Black pepper
to taste
Preparation
How to prepare Mini puff pastry pizzas


To make mini puff pastry pizzas, roll out the puff pastry sheet and cut it into roughly 1.2″x12." squares with a smooth cutter 1: you'll make 24 pieces. Place the squares on an oven tray lined with parchment paper in 4 rows of 6. Pierce the puff pastry with a fork 2 and top the first 2 rows with the tomato puree 3.

Add some diced mozzarella to the first row 4, with a pinch of oregano. Now garnish the puff pastry squares in the second row with the capers 5 and a piece of anchovy 6.

Garnish each puff pastry square in the third row with 2 olives and half a dried tomato 7. To finish, add a tuft of spreadable cheese on the puff pastry squares in the fourth row 8, and a grating of lemon peel 9.

Season with a grating of pepper 10 and a few thyme leaves 11. Garnish all the puff pastry squares with a drizzle of oil 12.

Bake in a preheated static oven at 392°F (200°C) for 20 minutes 13. Remove the mini pizzas when golden 14; garnish those with the olives with a few marjoram leaves and those with the mozzarella with some more oregano. Leave to cool until warm and serve you mini puff pastry pizzas 15!
Storage

Mini puff pastry pizzas can be stored in the refrigerator for 2 days, in a sealed container. Before serving heat them in an oven at 302° for a few minutes.
Tips

If you prefer a more golden result, brush the puff pastry pieces with some beaten eggs before topping and baking. You can create lots of different mini square pizza versions, by adding various ingredients!
SHARE

/5


Source : www.giallozafferano.com