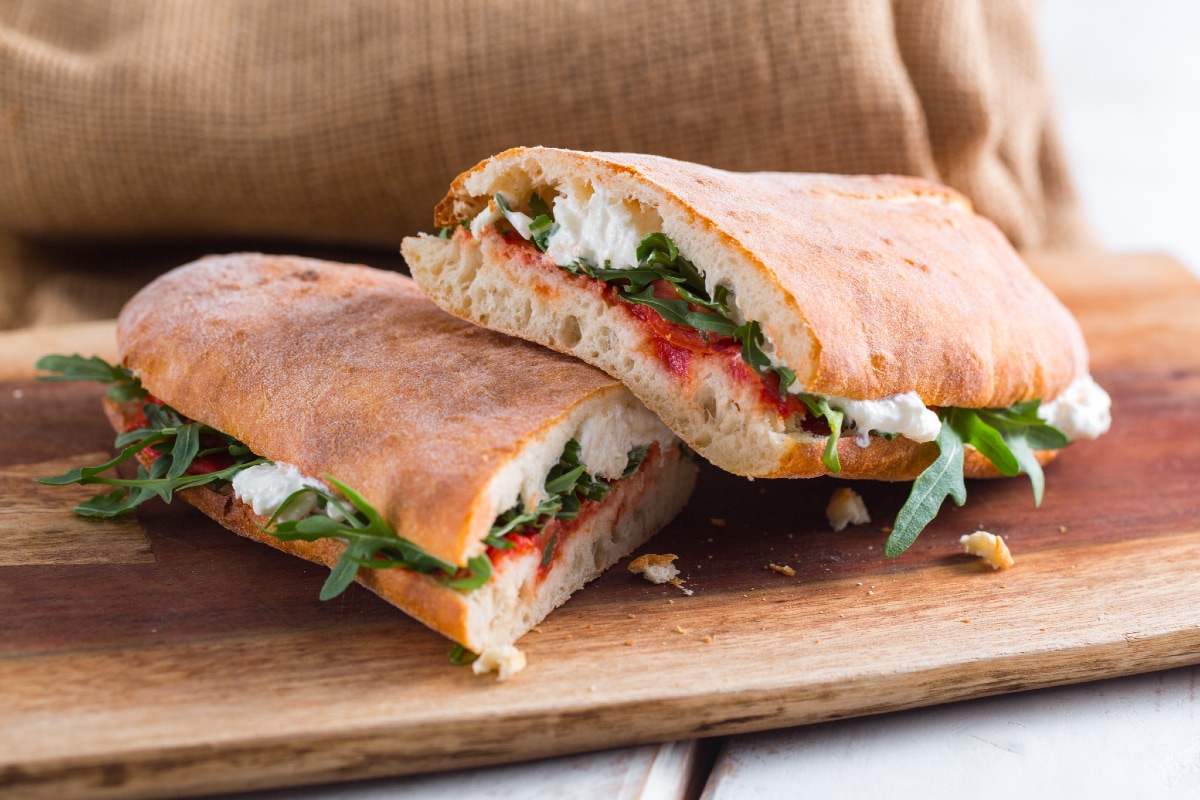 Vegetarian
PRESENTATION
If you believe that Saturday evenings in Naples are all about Margherita pizza and fried pizza then you've got it all wrong. There's another street food: Neapolitan Panuozzo, typical of the city of Gragnano. This municipality is renowned for the production of bronze die cut pasta and this very special baked product. Basically you could say that Neapolitan panuozzo is a sort of ciabatta bread, baked in a wood oven and filled with a variety of ingredients. People wait their turn in long queues, just to sit down and enjoy this delicacy in the company of friends and relatives who gather for this ritual of pure end enjoyable conviviality. With our homemade version of panuozzo, we guarantee you will bring a touch of genuine Neapolitan tradition to your table, so be sure to gather your nearest and dearest and pair this delicacy with the typical wine of Gragnano… even if you don't have a freezing cold glass, everything will be fine all the same! We present you with a simple filling: tomato, rocket and stracciatella cheese, but give your imagination free rein and try lots of different fillings: ham and cheese, or sausage and turnip greens, for example!
INGREDIENTS
Ingredients for panuozzo
Manitoba flour
3
cups
(215 g)
Flour 00
1
cup
(100 g)
Water
⅔
cup
(180 g)
– at room temperature
Brewer's yeast
1
tsp
(3 g)
Sugar
2
tsp
(10 g)
Fine salt
2
tsp
(10 g)
Semolina
to taste
For the filling
Tomato puree
¾
cup
(200 g)
Cherry tomatoes
5
oz
(160 g)
Arugula
3
tbsp
(30 g)
Stracciatella cheese
2
cups
(300 g)
Extra virgin olive oil
to taste
Fine salt
to taste
Preparation
How to prepare Neapolitan panuozzo

To prepare Neapolitan panuozzo, start with the dough. Place the manitoba and 00 flours in a bowl 1, add the yeast 2 and the sugar 3.

Stir 4. Now gradually add part of the water 5 and start kneading. After adding around half, add the salt too 6. 
Add the remaining water 7 and continue to knead until the flour absorbs the water. Place the dough on a pastry board 8 and knead for a few more minutes 9. 
You should make a smooth dough 10: you can still add a pinch of flour, just remember you need to make a soft ball, so not too firm. Place it in a bowl greased with oil 11; cover with plastic wrap and leaven to double its size 12, which should take 4-5 hours.
Now place it on a pastry board 13. Divide the dough in half 14. Take one half and fold it by bringing the outermost edges of the dough inwards to the middle 15. 
Rotate the dough and repeat the same procedure 16. Now round the dough 17 and try to achieve an elongated shape. Pierce the underside to thoroughly seal both ends 18. 
Place it on a tray with parchment paper, with the sealed part down 19, cover with plastic wrap 20 and leaven once more for half an hour or so. In the meantime, season the puree with salt and oil 21. 
Cut the thoroughly washed tomatoes into four pieces 22 and place them in a bowl 23. Heat a refractory stone in the oven set to 482°F. Place the stone on a grill on the penultimate shelf from the top, because during baking the panuozzo will grow and may stick to the roof of the oven if too high up. If you don't have a refractory stone, heat an oven tray. Once the leavening time is up, you'll notice that the dough pieces will have grown nicely. 
Place the first piece of dough in a container with the semolina 25 and turn it over 26. Place it on the pastry board 27.
Now pull and delicately press the dough by hand into a strip that is around 12″ long and 4″ wide 28. Place the dough on a paddle and then on the hot refractory stone. Bake at 482°F for around 12 minutes, be sure not to burn it. Remove from the oven when nice and golden 30.
Cut it in half 31, be careful not to burn yourself with the steam as it rises. Fill the base with half of the puree 33. 
Add half of the cherry tomatoes too 34. Place both pieces of bread back in the oven for a minute 35. Remove from the oven and add the rocket 36.
Now add the stracciatella cheese 37 and close the panuozzo 38. Cut in half and serve 39.
Storage

Neapolitan panuozzo should be enjoyed right away once filled. Alternatively, the ciabatta bread can be enjoyed within 1-2 days at most. The dough can be left in the refrigerator for 8-12 hours if less yeast is used. If you prefer, you can freeze the panini once cold.
Tips

If you don't have a refractory stone then you can use a classic oven tray, as long as you heat it first.
If you have a very powerful oven that can reach 572°F, you can bake the panuozzi for 5-7 minutes, be careful not to burn them.
If you want to use fresh instead of powdered yeast, use 0.25 oz.
Try lots of different fillings: sausage and turnip greens, a great classic of Neapolitan cuisine, or ham and cheese, which is always popular with everyone. 
SHARE

/5


Source : www.giallozafferano.com