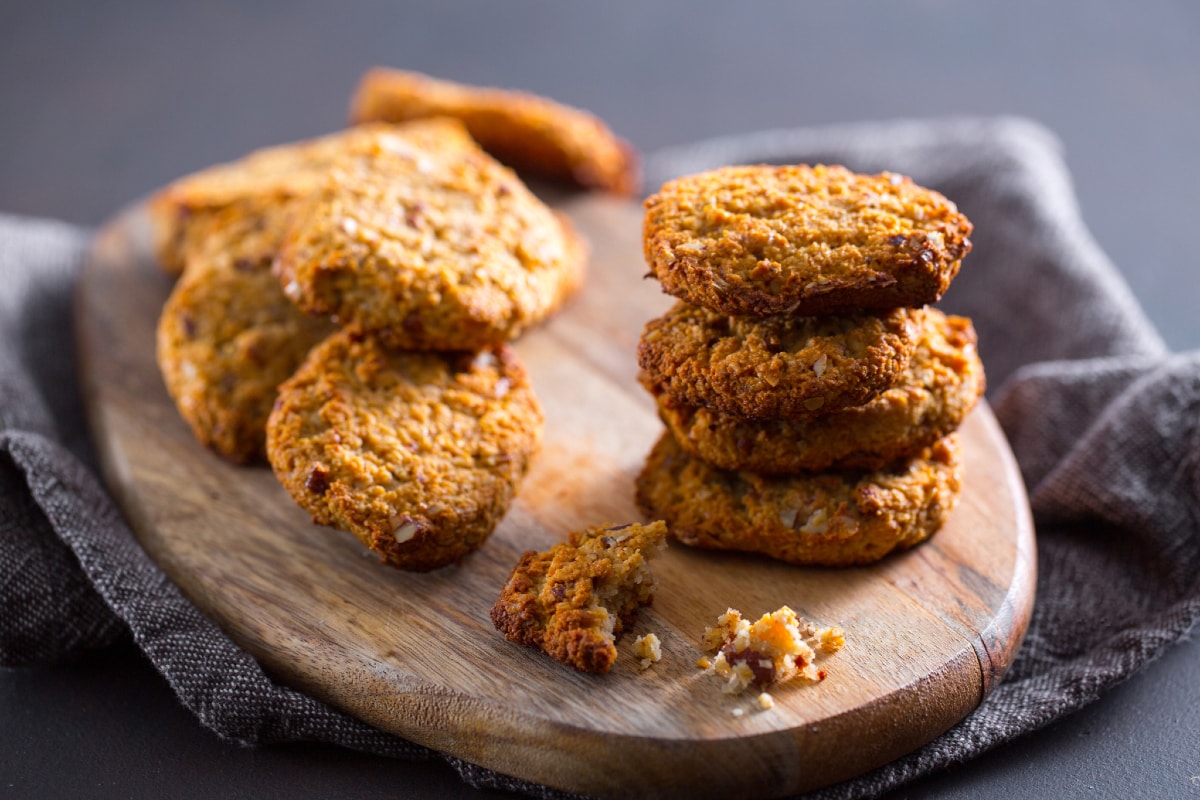 Lactose Free
Vegetarian
PRESENTATION
Our oat and walnut cookies are simple and genuine, perfect any time of day, for stocking up on all the fiber and flavor you need! The aromatic touch of honey will still sweeten this special oat bran, walnut and almond flour dough. With its typical shard structure, oat will add a unique crispiness to these delicious cookies, which will remain pleasantly soft on the inside. Oat and walnut cookies are perfect for breakfast everyday, or for a light and delicious snack you won't need to feel guilty about! Discover just how easy it is to make them!
INGREDIENTS
Ingredients for 16 cookies
Oat bran
3
oz
(100 g)
Oat milk
½
cup
(100 g)
Almond flour
2
cups
(200 g)
Pecans
1
cup
(100 g)
– chopped
Sunflower seed oil
4
tbsp
(50 g)
Wildflower honey
7
tbsp
(150 g)
Baking powder
1
tsp
(6 g)
Fine salt
1
tsp
(5 g)
Preparation
How to prepare Oat and walnut cookies


To prepare your oat and walnut cookies, place the almond flour 1, the oat bran 2 and the finely chopped walnuts 3 in a bowl. 

Add the baking powder 4, the salt and give it all a quick stir with a spoon. Now add the sunflower seed oil 5 and the milk 6.

Lastly, flavor with the honey 7. Stir into a homogeneously mixture 8. Lay two pieces of wrap out on the top and place the dough on them 9.

Shape into a sausage shape roughly 16″ in length, then thoroughly roll the plastic wrap around them and gently press down on the dough from the edges inwards 12, while firmly holding the edge of the plastic wrap. When nice and compact it will be 14″-16″ long and 2.5 inches in diameter 12. Place it on a tray and leave to rest in the freezer for 30/40 minutes. This step will help you cut it.

Once the necessary time is up, cut the plastic wrap away with a knife 13 and cut into discs that are roughly 0.4 inches thick 14. It doesn't matter if they are not exactly the same shape 15, you can mold them as you place them on the tray.

Now place them on a tray with parchment paper 16, be sure they are not too close together 17, because they tend to grow a little during baking. Bake in a static oven preheated to 350°F (175°C) for 15-20 minutes. Remove from the oven when nice and golden and leave them to cool at room temperature. When your biscuits have cooled, they will be ready for you to enjoy 18.
Storage

Store them covered at room temperature for 3-4 days.
Tips

For a more decisive flavor, use chestnut or eucalyptus honey. Replace the yeast with the same amount of bicarbonate and a little less cream of tartar!
SHARE

/5


Source : www.giallozafferano.com