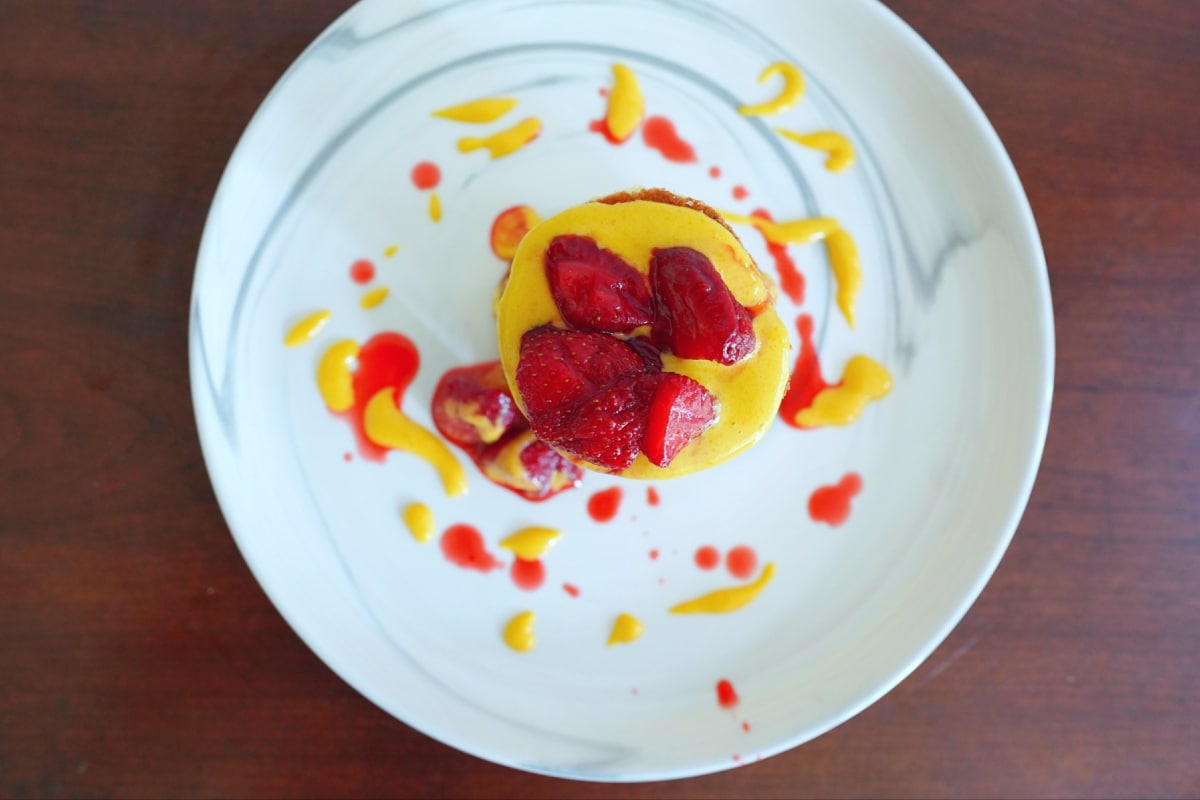 Vegetarian
PRESENTATION
Olive oil cake with strawberries and zabaglione is a very Italian variation of the classic strawberry shortcake. Olive oil cake, a classic vanilla cake with hints of lemon that uses olive oil instead of butter, adds a unique twist to this beloved dessert. The use of olive oil lends a subtle, delightful richness to the cake's texture and flavor, setting it apart from traditional recipes.
To elevate this indulgent treat even further, it is topped off with zabaglione, a velvety egg-based sauce known as the mother of all Italian sweet sauces. The zabaglione's luxurious creaminess and delicate sweetness perfectly complement the freshness of the strawberries and the softness of the olive oil cake, creating a harmonious symphony of tastes and textures.
So, get ready to savor every bite of this unforgettable delicacy that will leave you and your guests enchanted! Let's head to the kitchen and bring this delectable treat to life!
If you love this recipe, you might also like:
Strawberry cake
Strawberry crumble
Fresh strawberry tart
INGREDIENTS
For a 9" inch olive oil cake
Olive oil
½
cup
(160 g)
All-purpose flour
1
cup
(113 g)
Sugar
1 ⅓
cup
(167 g)
Egg whites
0.3
cup
(105 g)
Egg yolks
2
tbsp
(38 g)
Lemon juice
2
tbsp
(30 g)
Vanilla extract
2
tsp
(4 g)
Salt
1
pinch
For the strawberry sauce
Strawberries
1
lb
(450 g)
Port wine
½
cup
(120 g)
Sugar
3
tbsp
(30 g)
Lemon juice
1
tbsp
(20 g)
For the zabaglione
Egg yolks
6
Marsala wine
¼
cup
(60 g)
– dry
Sugar
¼
cup
(50 g)
How to prepare the cake

Pre-heat the oven to 325F.
Combine 110 g of sugar, egg yolks, lemon juice and vanilla paste in stand mixer with whisk attachment. Mix on medium speed until incorporated.
Gradually add flour while mixing on medium speed. In a slow stream, pour in olive oil.
Once thoroughly mixed, transfer to a large bowl and set aside.
Clean and dry the stand mixer bowl and whisk attachment. Add egg whites and salt to bowl of stand mixer. Mix on high speed until eggs form a light foam.
Gradually add 57 g sugar. Mix until stiff peaks form.
Using a spatula, gently fold the egg whites into the batter a third at a time.
Coat a 9-inch springform pan with butter. Dust with flour and tap pan on counter to remove excess flour. Pour batter into pan.
Bake for 45-55 minutes.
How to prepare the strawberry sauce

Wash the strawberries, cut the top part off and cut in half.
Add the strawberries to a saucepan with sugar and lemon juice on medium heat.
When the sugar melts, turn the heat on high and add the Port Wine.
Cook for 5 minutes, until the liquid is reduced by half. Set aside.
How to prepare the zabaglione

In a medium-size heatproof bowl, whisk the egg yolks, marsala and sugar until smooth.
Place over, not in, barely simmering water and continue beating (switching to an electric handheld mixer, if you like) until the mixture is pale yellow, frothy and falls in thick ribbons when the whisk or beaters are lifted, about 8 minutes if you are whisking by hand or about 4 minutes if you are using an electric mixer. It is important to whisk continuously, or the egg yolks will cook and the mixture will appear curdled.
Remove the sauce from over the heat and serve immediately, either spooned into individual coupes or over fresh fruit or berries.
How to assemble

Use a round cookie cutter to cut out some biscuit-sized pieces of cake.
For each plate put a small spoon of zabaglione in the middle with the first piece of cake on top so it doesn't slide.
Then put some more zabaglione on top of the cake followed by some strawberries to cover the piece of cake.
Lay a second piece of cake on top. This time put the strawberries first and then finish with a nice drizzle of zabaglione.
How to store

The olive oil cake can be stored for a few days wrapped in plastic wrap or in cake stand with a lid.
Zabaglione doesn't hold very well, but it is so delicious that usually there are no leftovers.
Strawberries, because of the sugar content, can stay in the fridge up to 5 days.
Advice

You can use any cake you like for this!
If you prefer, you could just serve the cake in slices and spoon some strawberries on top with a nice drizzle of zabaglione to finish, but it also looks very fancy if you serve it like a shortcake.
You can cook peaches or cherries in the same way, instead of strawberries.
SHARE

/5


Source : www.giallozafferano.com