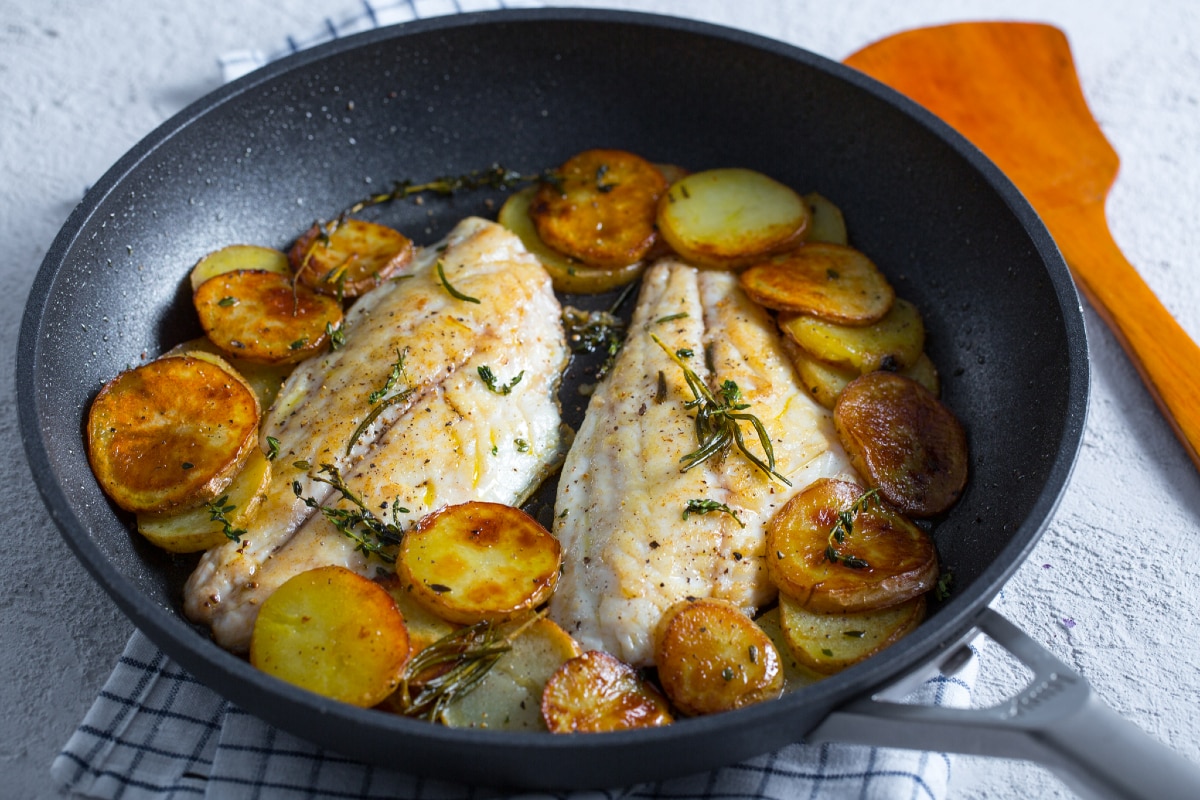 Gluten Free
Lactose Free
PRESENTATION
Fancy a classic and delicious fish dish like roast sea bream, but using nothing but a pan? Here's how you can pan fry sea bream fillets and potatoes, a delicious second course that is easy to make! A second course and side dish all in a single pan, classic potatoes are loved by everyone and are perfect served with pan-fried sea bream: thanks to the rapid cooking they'll be tender and succulent… pan-fried fish fillets will be ready in just a few minutes! A dish characterized by simple flavors, perfect on all occasions. The step requiring the most attention is definitely cleaning the sea bream, but if you're not pro level in fish filleting then simply but the fish fillets, ready for this simple recipe, perfect for beginners in the kitchen!
INGREDIENTS
Sea bream
1
Potatoes
1
lb
(500 g)
Extra virgin olive oil
to taste
Fine salt
to taste
Black pepper
to taste
Garlic
1
clove
Rosemary
1
sprig
Thyme
1
sprig
Preparation
How to prepare Pan-fried sea bream fillets and potatoes


To prepare pan-fried sea bream fillets and potatoes, start by thoroughly washing the potatoes 1; cut them into roughly 0.2 inch slices, without peeling 2. Place them in a bowl and season with salt 3, black pepper and oil.

Add the peeled garlic clove too, along with the thyme and rosemary sprigs 4. Place the potatoes in a large pan and cook on a medium to low flame for around 30 minutes. Try not to turn them over to avoid breaking them up: sauté them only. Clean the sea bream in the meantime. Gut and descale the fish using the special tool 6, or a knife, using the blunt side.

Place the sea bream on a cutting board 7 and cut the first fillet using a knife 8. Turn the fish over and cut the other fillet out. Trim both fillets to remove the part under the belly 9.

Use special tweezers to remove any spines too 10. Once the potatoes are soft and have browned 11, place them in a container and leave them to one side 12.

Place a drizzle of oil in the same pan you used to cook the potatoes and place the sea bream fillets in the middle 13. Cook for around 10 minutes on a low flame and gently turn the fillets over half way into the cooking time 14. Add salt and pepper to taste 15.

Add the potatoes 16 when the fillets are done 17. Heat them up 18 and serve your pan-fried sea bream and potatoes!
Storage

Sea bream fillets are best enjoyed freshly prepared, although they can be stored in the refrigerator for one day.
Tips

If you don't feel confident about filleting the fish then simply buy the fillets. You can also use frozen fillets, just defrost them before cooking.
SHARE

/5


Source : www.giallozafferano.com