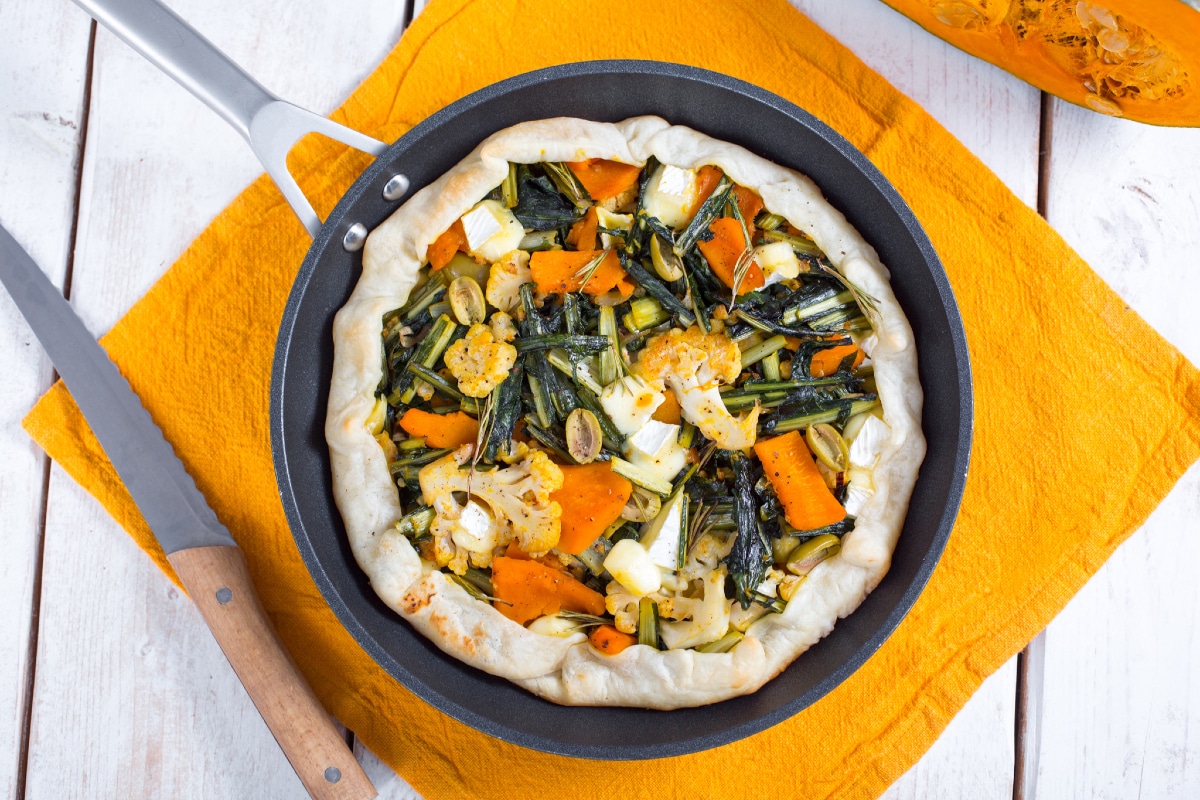 Vegetarian
PRESENTATION
Pan-fried vegetable pie is a rich and hearty dish, served as a starter or a vegetarian second course. Unlike all other savory cakes, this savory cake in a pan will amaze you with it alternative, simple and practical cooking method! Simply unroll a puff pastry sheet and top it with soft and stringy cheese, and lots of colorful seasonal vegetables: pumpkin, cabbage and herbs in the winter; zucchini, eggplants and french beans will be perfect in the summer. 
INGREDIENTS
Ingredients for a 9″ diameter pan
Puff pastry
11
oz
(320 g)
– round
Chicory
15
oz
(450 g)
– to be cleaned
Cauliflower
11
oz
(330 g)
– to be cleaned
Delica pumpkin
11
oz
(320 g)
– to be cleaned
Brie cheese
7
oz
(200 g)
Red onions
1
Extra virgin olive oil
to taste
Green olives
6
tbsp
(60 g)
Fine salt
to taste
Black pepper
to taste
Rosemary
to taste
Preparation
How to prepare Pan-fried vegetable pie


To make pan-fried vegetable pie, clean the chicory and remove the lower and stringier part of the stalk, so that you end up with around 12 oz, then cut the stalk into roughly 0.8 inch pieces 1, and the leaves into irregular pieces. Peel and slice the onion 2. Remove the outermost leaves of the cauliflower; you should end up with around 9 – 9.5 oz 3. 

Cut into roughly 0.4 inch thick slices 4. Peel the pumpkin so that you are left with around 7.8-8.1 oz 6, then into roughly 0.2 inch slices 6. 

Place the sliced onion in a large pan, add a drizzle of oil 7 and brown for around 2 minutes. Add the cauliflower 8 and cook on a high flame for around 3 minutes. Add the sliced pumpkin to the pan too 9 and continue to cook on a high flame for another 3 minutes. Add salt and pepper to taste. 

Lastly, add the chicory to the other vegetables in the pan 10, cover with a lid 11 and cook on a medium flame for another 5 minutes. Remove from the heat and leave to cool 12. 

Dice the brie cheese 13. Place the rolled out puff pastry sheet in a 9 inch diameter pan 14. Fill the puff pastry casing: add a few pieces of brie 15. 

Add half of the cooked vegetables 16, some more brie chees, and half of the olives 17. Finish off with the remaining vegetables, leftover diced brie cheese, and the remaining olives on top. Fold the puff pastry edge over the vegetables to create a frame 18 and place on the stove. 

Cook the savory cake on a medium flame for around 30 minutes with the lid on 19. Check the puff pastry is done at the base and along the edge. Remove from the heat and leave to cool until warm without the lid on 20 21. Place the cake in a serving dish or a cutting board and serve your pan-fried vegetable pie!
Storage

Pan-fried vegetable pie can be stored in the refrigerator for 2 days. You can even freeze it, as long as you have used nothing but fresh ingredients to make it.
Tips

When cooking check the base often to make sure it doesn't darken too much. Seasonal vegetables can be replaced, just stick to the same total weight. Instead of brie you can use other cheeses, like grated provola or caciocavallo. 
SHARE

/5


Source : www.giallozafferano.com