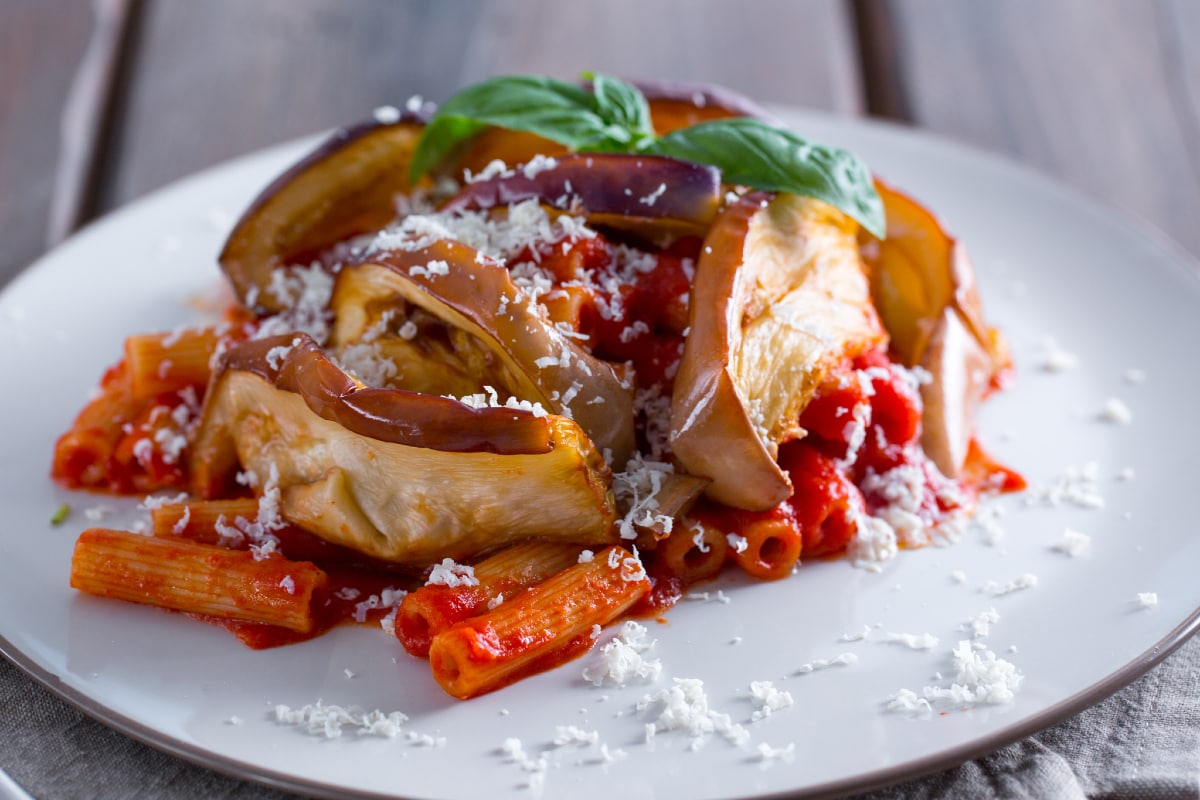 Vegetarian
PRESENTATION
The aromas and flavors of Sicily, a magical, magnetic island that's sunny and beautiful from north to south and east to west. And it's precisely from the eastern part where this recipe has its origins: pasta alla Norma. This dish is one of the symbols of Sicilian cuisine, a specialty from Catania created as a culinary tribute to one of the most beautiful operas by the celebrated composer and Catania native Vincenzo Bellini: Norma. A tasty first course pasta dish served with a fresh tomato sauce and fried eggplant, traditionally cut into slices. But it wouldn't be pasta alla Norma without the addition of a clove of garlic, fresh basil leaves, and, of course, a generous grating of salted ewe's milk ricotta – Sicilian, obviously – added directly to the plates. Melina, the owner of the family-run trattoria U Fucularu in Cantina, together with her daughter Alessia, shows us and explains the simple secrets to this extraordinary dish that she's been making in her restaurant for decades, like she would for her family!
 
Discover our other versions, such as light pasta alla Norma and tomato-less pasta alla Norma! 
INGREDIENTS
Sedani Rigati pasta
1
lb
(500 g)
Eggplant
1
Sheep's milk ricotta cheese
⅔
cup
(150 g)
– salted
Fine salt
to taste
For the sauce
Tomatoes
3 ⅓
lbs
(1.5 kg)
Garlic
4
cloves
Fine salt
to taste
Basil
1
bunch
For frying
Extra virgin olive oil
to taste
Preparation
How to prepare Pasta alla Norma


To make pasta alla Norma, first wash and dry the eggplant well, and trim it 1. Cut it into slices around .30 inch (8 mm) 2 and transfer to a colander 3.

Sprinkle with salt 4 and leave to drain for at least 15 minutes. In the meantime, turn to the tomatoes: Wash them and remove the stems 5. Cut in half 6.

Place in a pot with a pinch of salt 7, 3 cloves of garlic (you can use fewer if you prefer, but the garlic characterizes pasta alla Norma) 8, and a handful of basil 9.

Let this cook over low heat for 30 minutes without adding anything else; the tomatoes will release their liquid 10. After 30 minutes, remove the garlic and basil 11. Transfer the tomatoes to a food mill fitted with the finest disc and grind them 12.

Once you've got your purée 13, transfer it to a pot, add another clove of garlic 14 and a sprig of basil 15. Let it cook for another 40 minutes, stirring every once in a while. 

At this point, you can rinse the eggplant well, drying it with paper towel. Next, pour the extra virgin olive oil in a deep pot and bring it to a temperature of around 340-350°F (170-180°C). Immerse a few slices of eggplant at a time in the oil 16 and turn them every now and then. It will take a few minutes for them to turn nicely golden 17. At this point, remove the eggplant from the pot with kitchen tweezers and transfer to a tray lined with paper towel 18. Continue frying the eggplant, and in the meantime, put a pot full of water on the stove, which you'll use to cook the pasta. 

Once the sauce is fairly thick, remove the basil 19, add a spoonful of the oil the eggplant was cooked 20 in and a drizzle of fresh olive oil 21.

Cook the pasta until it's al dente 22, drain, and pour into the sauce 23. Flip the pan quickly to cover the pasta with the sauce 24.

Transfer the pasta to the plates, add the fried eggplant 25, plenty of grated ricotta salata 26, a basil leaf, and then your pasta alla Norma is ready to be served 27!
Storage

We recommend eating the pasta alla Norma as soon as you make it.
Tips

If the sauce is a little acidic, add a flat teaspoonful of sugar.
How can you make the perfect pasta alla Norma?

Chef Melina from the restaurant U Fucularu has explained to us the simple secrets of the quintessentially traditional pasta alla Norma:
While the ideal tomato to use is the Catanese variety ribbed tomato, you can also use other kinds…
It's very important to grind it in a food mill with a very fine disc to get a velvety sauce.
For the pasta, you can use sedanini, fusilli, spaghetti… Fresh pasta is best, but you can use dried pasta like we have in this recipe.
The garlic gives the typical flavor to pasta alla Norma, although you can use fewer cloves if you'd like.
The eggplant can be cut into rounds or small cubes, but the traditional version calls for slices.
 
Just a drop of the eggplant frying oil added to the tomato purée is the secret to a Norma sauce with a sensational flavor!
U Fucularu Restaurant

U Fucularu is a typical, family-run trattoria in Catania that you can't visit without trying the caponata (fried eggplant and vegetables in sweet and sour sauce). Even The New York Times recommends trying it if you're in Catania. The same goes for the pasta alla Norma, for the artfully way it's prepared, using local ingredients, a tribute to the real tradition. Owner Melina cooks using the recipes handed down in her family for generations, giving them her personal touch without betraying Sicilian culinary culture… On the contrary, she brings out its highest expression in flavors and aromas. A place where you can enjoy home cooking and also feel right at home.
SHARE

/5


Source : www.giallozafferano.com