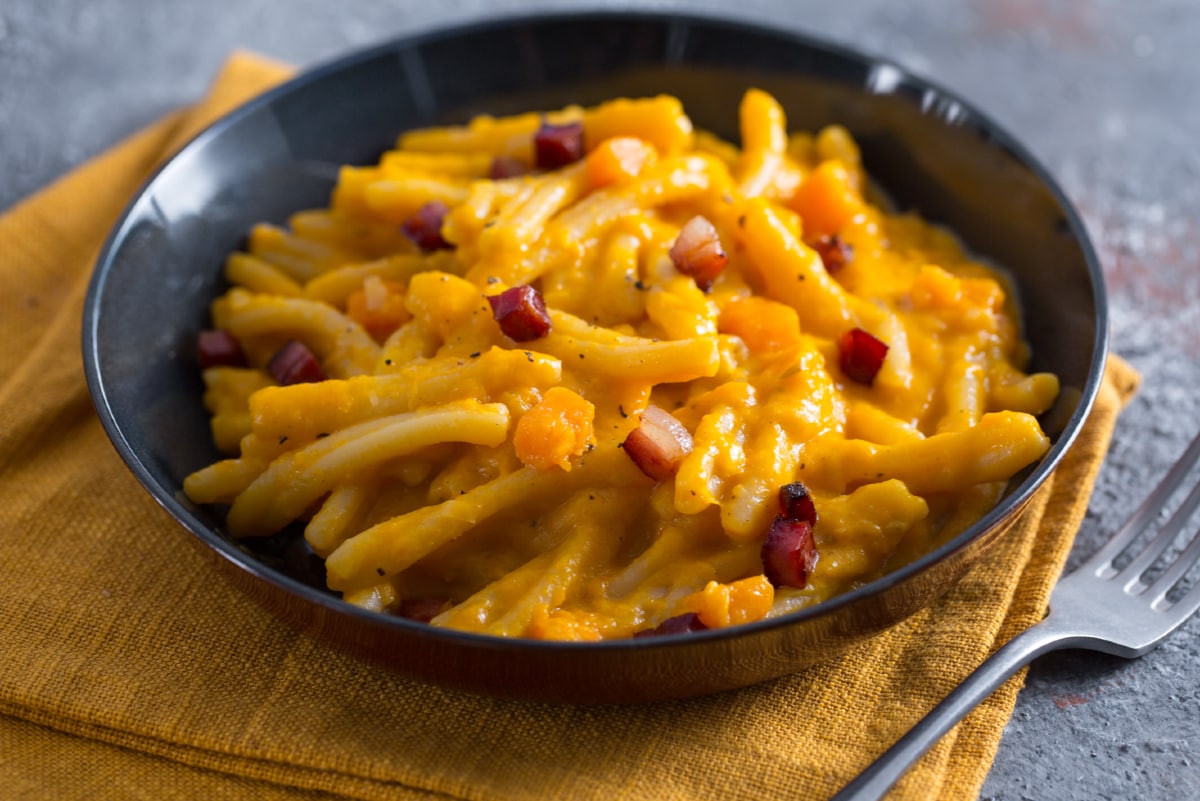 Difficulty: Easy
Prep time: 15 min
Cook time: 30 min
Serving: 4 people
Cost: Average
PRESENTATION
Sweet, delicate and creamy, butternut squash makes even the simplest first courses special! After enriching pasta with butternut squash with breadcrumbs, mushrooms and bechamel, today we'll delight you with pasta with butternut squash and speck. Just two ingredients, balanced to perfection in terms of flavor and consistency: the rich and velvety sauce, thanks to the cream, is perfect paired with the savory touch of the crispy diced speck! Also ideal as a last minute dinner idea, pasta with butternut squash and speck will be a hit on your autumn menu.
INGREDIENTS
Casarecce pasta
11
oz
(320 g)
Butternut squash
14
oz
(400 g)
– (already cleaned)
Speck
6
oz
(180 g)
Leeks
3
oz
(100 g)
Heavy cream
3
tbsp
(50 g)
Sage
to taste
Extra virgin olive oil
to taste
Fine salt
to taste
Black pepper
to taste
Preparation
How to prepare Pasta with butternut squash and speck


To prepare pasta with butternut squash and speck, slice the butternut squash, remove the skin and then cut into irregular pieces 1. Peel and thinly slice the leek 2. Add a drizzle of oil to the saucepan and sweat the leek 3.

Add the butternut squash 4 and brown it. Add the water to cover the butternut squash 5 and cook on a medium flame, until the butternut squash becomes soft 6, which will take around 20 minutes; if it becomes too dry, add more water as needed. In the meantime, bring a saucepan filled with water to the boil and add salt.

Cook the pasta so that it is firm to the bite 7 and dice the speck in the meantime 8. Add a drizzle of oil in a pan and then the speck 9.

Flavor with the sage leaves 10. Brown the speck for a few minutes, until crispy 11. Once ready, add the cooked butternut squash 12, be sure to save some for garnishing.

Add some cooking water to the sauce, just enough for it to take on a more fluid consistency 13. In the meantime, drain the pasta and add it to a pan 14, followed by the fresh liquid milk 15, pepper to taste and salt, then stir briefly to amalgamate.

The pasta with butternut squash and speck is ready 16: garnish the plates with the speck you saved 17 and serve nice and warm 18.
Storage

Pasta with butternut squash and speck is best enjoyed freshly made. Storing cooked pasta is not recommended. Cooked butternut squash can be stored in the refrigerator for one day, in a sealed container.
Tips

You can flavor the speck with rosemary instead of sage!
If you don't like cream, used a creamy cheese, like robiola.
SHARE

/5


Source : www.giallozafferano.com