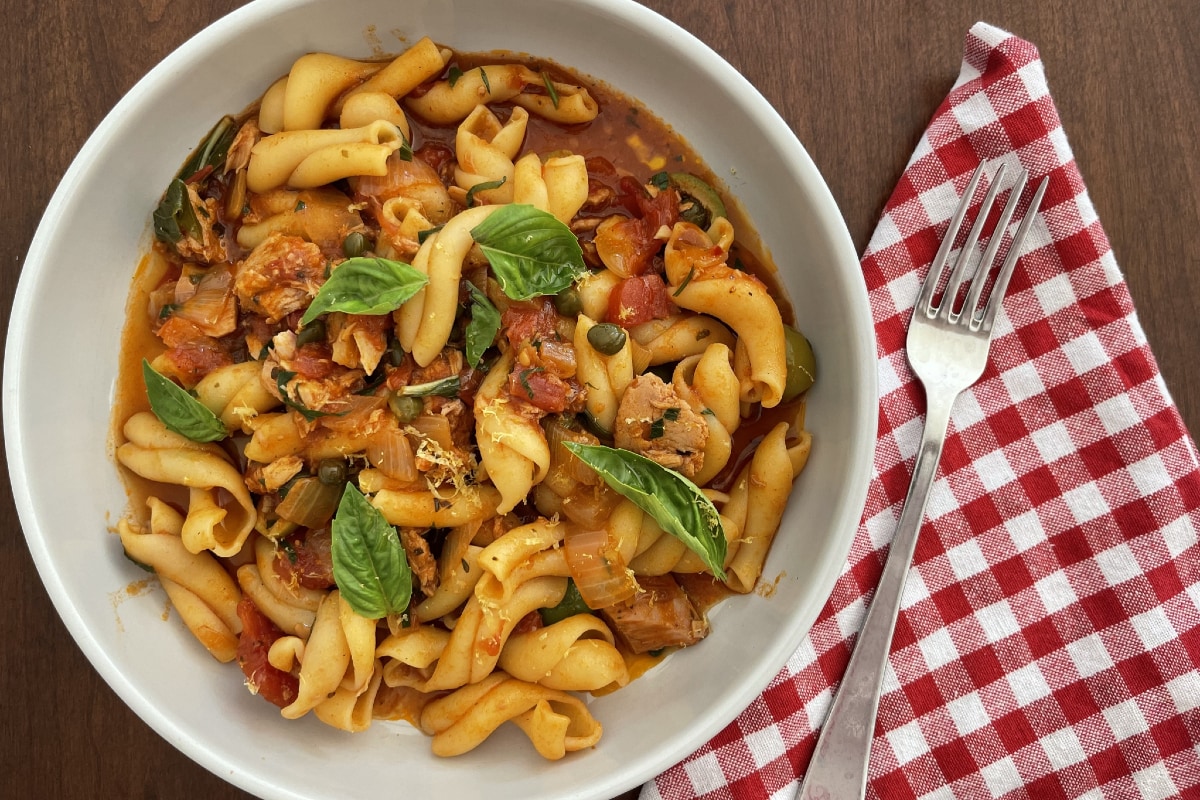 Difficulty: Easy
Prep time: 10 min
Cook time: 20 min
Serving: 4 people
Cost: Low
PRESENTATION
This pasta recipe with canned tuna, olives, capers and tomatoes, flavored with herbs, is one of Italian family's favorites. It's the best after a long day at work because most of the ingredients are usually in jars or cans. It is very tasty, inexpensive, and super-fast. It's ready to eat in 15 minutes flat, from start to finish.
You may also want to try:
Pasta with tuna
Cold tuna pasta
Mediterranean pasta salad
INGREDIENTS
Pasta
12
oz
(340 g)
– trecce
Tuna in oil
5
oz
(140 g)
Tomatoes
1
– (diced)
Anchovies in oil
4
fillets
Black olives
½
cup
(90 g)
– (chopped)
Salted capers
2
tbsp
(30 g)
– (rinsed and drained)
Onions
1
– small (finely chopped)
Garlic
2
cloves
– (minced)
Fresh chili pepper
½
Basil
1
small bunch
– fresh
Parsley
1
small bunch
– fresh
Extra virgin olive oil
to taste
Salt and Pepper
to taste
Preparation
How to prepare Pasta with canned tuna, olives, capers and tomatoes

In a large skillet, heat a couple of tablespoons of olive oil over medium heat. Add the chopped onion and sauté until it becomes translucent, about 2-3 minutes.
Stir in the minced garlic, anchovies, and red chili pepper and sauté for another minute until fragrant.
Add the diced fresh tomato, olives and capers to the skillet. Cook for about 5 minutes, allowing the flavors to blend.
Turn off the heat, add the parsley and basil. Save some extra for garnish. Taste for seasoning and add salt and pepper as needed.
Cook the pasta in a large pot of salted boiling water until al dente, following the package instructions.
Drain and set aside, reserving a cup of pasta water.
Toss the cooked pasta into the skillet, mixing it with the sauce.
Gently fold in the flaked tuna into the sauce. If needed, add a splash of reserved pasta water to create a smooth and well-coated sauce.
Serve the pasta hot, garnished with more basil and parsley and a nice drizzle of olive oil.
How to store

pasta with canned tuna, olives, capers and tomatoes can last in the fridge for a couple of days, and it makes for a delicious leftover dish, even cold.
Advice

You can use salmon or sardines instead of tuna.
You could use canned tomatoes instead of fresh.
You can make this into a cold pasta salad: follow all the instruction, but don't cook the tomato, instead mix the ingredients when everything is cold and add cherry tomatoes.
SHARE

/5


Source : www.giallozafferano.com