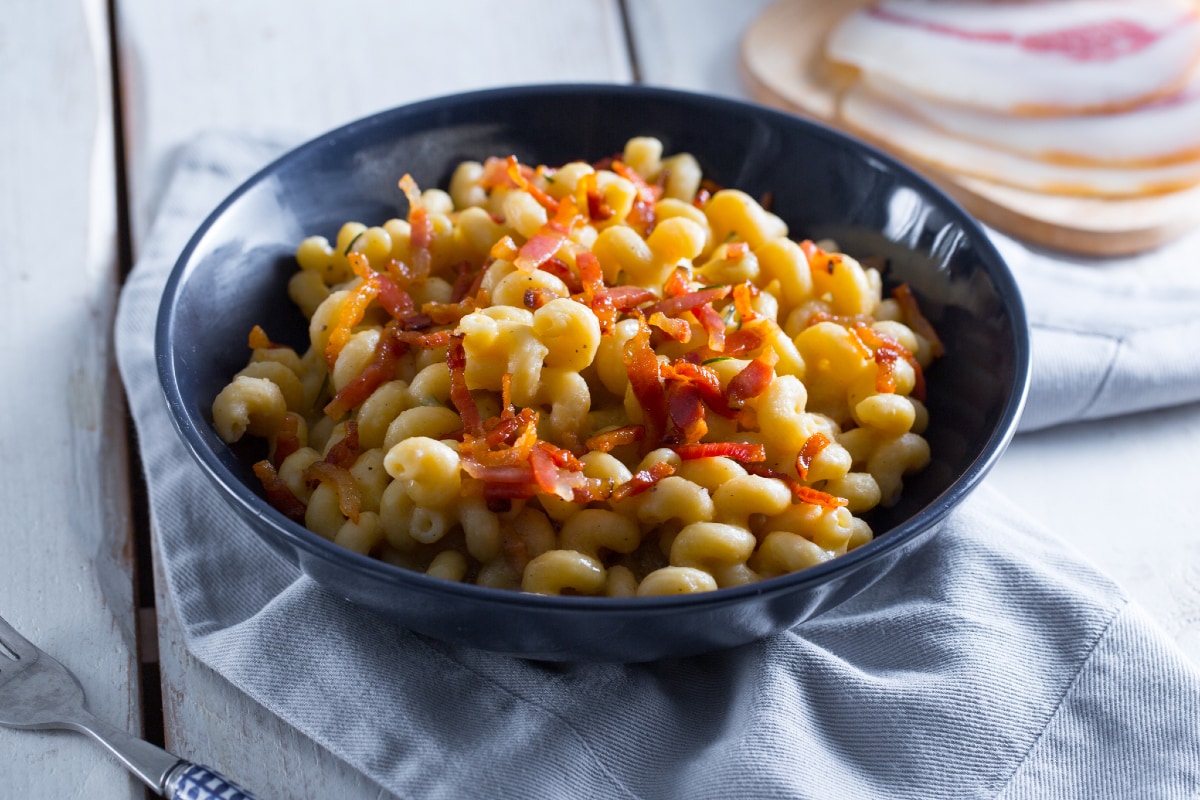 Vegetarian
PRESENTATION
If you love pasta and chickpeas, don't miss out on the recipe for pasta with chickpea cream and guanciale! A delicious tomato-free version of this great classic, made even more flavorsome by replacing pancetta bacon with guanciale. Use canned chickpeas for a much faster preparation: with the help of a simple immersion blender you'll make a super creamy sauce that will envelop your pasta to perfection! Rustic and genuine, pasta with chickpea cream and guanciale is different from usual ideas for serving pulses, in all their goodness.
INGREDIENTS
Cellentani pasta
¾
lb
(320 g)
Precooked chickpeas
2
cups
(320 g)
– (drained weight)
Guanciale
5
oz
(150 g)
Water
¾
cup
(180 g)
Garlic
2
cloves
Rosemary
to taste
Extra virgin olive oil
to taste
Fine salt
to taste
Black pepper
to taste
Preparation
How to prepare Pasta with chickpea cream and guanciale


To make pasta with chickpeas and guanciale, start by browning the garlic clove in a pan with a drizzle of oil for a few minutes, on a medium flame 1. In the meantime, remove the rind from the guanciale and cut it into slices that are around 0.2 inches thick 2 and then into strips 3.

Add the guanciale to the pan 4 and brown thoroughly 5. Once the fat has dissolved and the jowl is brown, remove it from the pan, without the baking sauce 6.

Add the precooked and drained chickpeas to the same pan 7 along with a sprig of rosemary 8; flavor for ten minutes or so, once again on a medium flame. Once this time is up, add the water 9 and cook for another 10 minutes. Place a saucepan filled with water on the stove and add salt when it comes to the boil, for cooking the pasta.

Once the chickpeas are cooked 10, remove the rosemary and place them in a glass with their juice. Use an immersion blender 11 to blend into a puree 12.

In the meantime, cook the pasta in the boiling salted water 13 and remove 2 minutes before the cooking time indicated on the packet. Drain the pasta and add it to the pan with the chickpea puree 14; cook on a medium flame. Finish cooking the pasta; be sure to add a ladle of the cooking water 15.

Lastly, flavor with pepper 16, a drizzle of oil and salt. Add a part of the guanciale to the pan, stir thoroughly and arrange onto plates. Garnish the plates with the remaining jowl 17 and serve your pasta with chickpea cream and guanciale nice and hot 18!
Storage

Pasta with chickpea cream and guanciale can be stored in the refrigerator for 2 days, in a sealed container.
Tips

If you like spice, add some peperoncino to the chopped vegetable base!
SHARE

/5


Source : www.giallozafferano.com