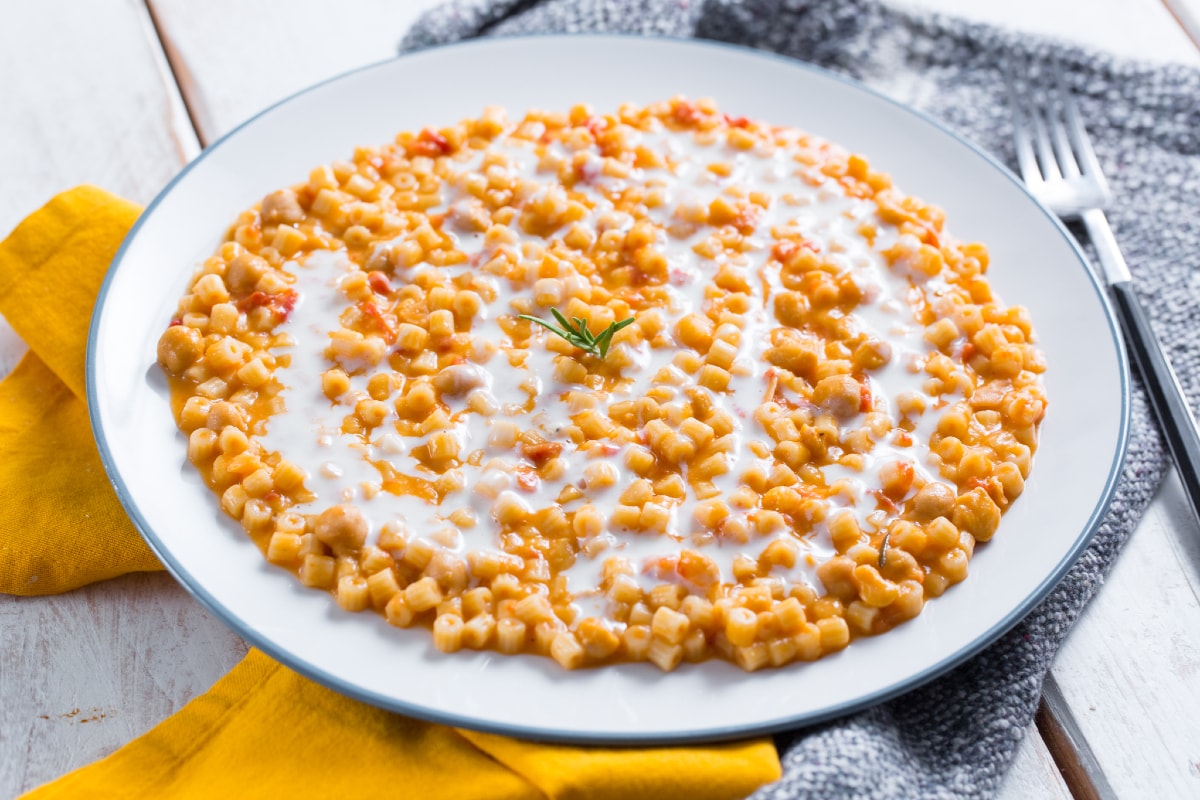 Difficulty: Easy
Prep time: 10 min
Cook time: 30 min
Serving: 4 people
Cost: Low
PRESENTATION
How can you turn a typical home comfort food, like pasta and chickpeas into a restaurant-worthy dish? With the recipe for pasta with chickpeas and taleggio cheese, for example! A creamy and refined version of this classic first course, garnished with a velvety and decisively flavored cheese sauce. Easy to make and highly presentable, pasta with chickpeas and taleggio cheese is suitable on all occasions, informal or important, and are a delicious idea for an original yet genuine menu!
INGREDIENTS
Ditalini
11
oz
(320 g)
Precooked chickpeas
2
cups
(400 g)
– (drained weight)
Taleggio cheese
9
oz
(270 g)
Whole milk
3
tbsp
(50 g)
Peeled tomatoes
3
Garlic
2
cloves
Rosemary
1
sprig
Extra virgin olive oil
to taste
Fine salt
to taste
Black pepper
to taste
Water
to taste
Preparation
How to prepare Pasta with chickpeas and taleggio cheese


To make pasta with chickpeas and taleggio cheese, start by draining the precooked chickpeas; place half in a bowl, add a little water 1 and oil 2 and blend into a puree using an immersion mixer 3.

Brown the rosemary and unpeeled garlic cloves in a saucepan, with a drizzle of oil 4. Smash the peeled tomatoes by hand 5, add a drop of water, then the whole chickpeas 6.

Cook for 5 minutes 7, then add the chickpea puree 8 and stir. Add salt 9, pepper and cook for another 5 minutes.
Once this time is up, add the ditalini pasta 10 and cook for another 10 minutes, adding water as needed 11 and frequently stirring all the while 12.

Remove the rind from the taleggio cheese and cut it into small pieces 13, then place them in a saucepan. Add the milk 14 and melt in a bain-marie, stirring with a whisk to obtain a smooth cream 15.

When the pasta is cooked, remove from the heat, add a drizzle of raw oil 16 and stir. Arrange onto plates, with the taleggio sauce 17 and a sprig of rosemary. Your pasta with chickpeas and taleggio cheese is ready to be served 18!
Storage

Pasta with chickpeas and taleggio cheese can be stored in the refrigerator for 2 days, in a sealed container. It is best to add the taleggio cheese sauce just before serving.
Tips

If you want you can season the taleggio cheese sauce with a pinch of pepper or nutmeg! If you prefer to use dried chickpeas, soak them over night for at least 12 hours.
SHARE

/5


Source : www.giallozafferano.com