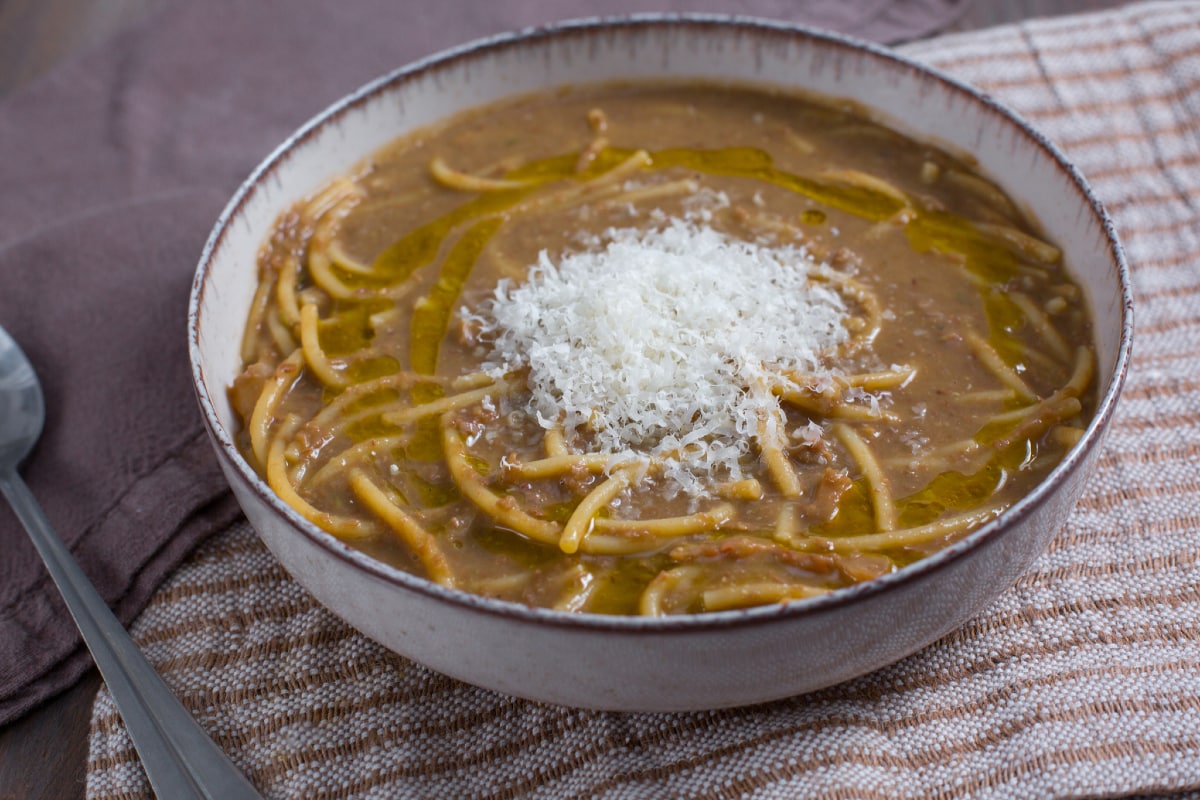 Vegetarian
PRESENTATION
The land of Umbria is famous for its bucolic rural landscapes and excellent products, like salami, lentils and extra virgin olive oil. Pasta with creamy lentils is a simple and genuine recipe that pays tribute to all this goodness! Compared to classic pasta e lenticchie, in this version the pulses are turned into a velvety cream enriched with the decisive touch of jowl bacon. A rustic and hearty pasta dish to which we have added snapped spaghetti, just like grandma used to! Ideal for warming the body and soul, pasta with creamy lentils will let you relive all the flavor of tradition.
INGREDIENTS
Spaghetti
¾
lb
(320 g)
Dried lentils
2
cups
(400 g)
Guanciale
5
oz
(150 g)
Garlic
2
cloves
– unpeeled
Rosemary
2
sprigs
Dried chili pepper
to taste
Parmigiano Reggiano DOP cheese
to taste
– for grating
Extra virgin olive oil
to taste
– unfiltered
Preparation
How to prepare Pasta with creamy lentils


To prepare pasta with creamy lentils start by soaking the lentils for around 3 hours 1. Drain and rinse 2 the lentils once this time is up. Brown the unpeeled crushed garlic cloves, rosemary sprigs and peperoncino in a large saucepan with a drizzle of extravirgin olive oil 3.

Add the lentils 4 and cover with water 5. Lower the heat just before bringing to the boil and cook for around 20 minutes, or for however long it says on the packet 6.

Cut the guanciale bacon into strips in the meantime 7. Brown the jowl bacon in a thoroughly heated pan 8 until the fat becomes transparent 9.

Place the guanciale bacon on absorbent paper and leave to one side 10. Once the lentils are done, remove the garlic and blend 11 into a homogeneous cream 12. Bring salted water to the boil in a saucepan to cook the pasta.

Snap the spaghetti 13 and cook until firm to the bite 14. At the end of the pasta cooking time add the guanciale bacon to the lentil cream 15.

Add the spaghetti too 16 and stir thoroughly 17. Arrange onto plates and complete the pasta with creamy lentils with some grated Parmigiano Reggiano PDO and a drizzle of raw extravirgin olive oil 18!
Storage

Pasta with creamy lentils can be stored in the refrigerator for 2 days, in a sealed container.
Freezing is not recommended.
Tips

If you prefer, you can replace guanciale with pancetta.
SHARE

/5


Source : www.giallozafferano.com