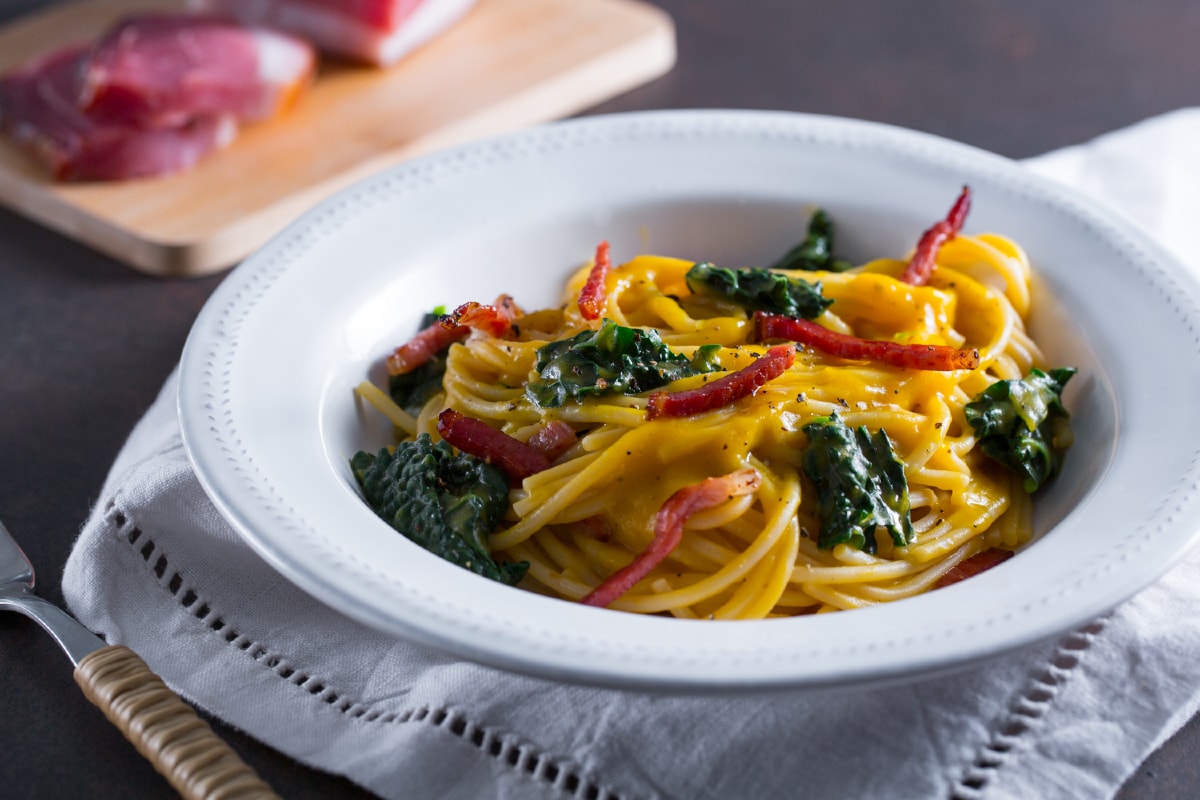 Lactose Free
PRESENTATION
Pasta with delicata squash cream and black cabbage is a first course that contains all the flavors and colors of autumn. Squash, the undisputed queen of this season, is one of the ingredients featured in this pasta dish. Its sweet flavor is delicious paired with the decisive taste of black cabbage and sapidity of the speck. We've made lots of recipes with squash, but we're especially fond of this one. The spaghetti are enveloped in a delicious cream flavored with thyme, made all the more inviting by the crispy speck! This pasta dish is simple to prepare and is genuinely good, an autumn treat that everyone will love!
INGREDIENTS
Spaghetti
¾
lb
(320 g)
Delica pumpkin
1
lb
(500 g)
Italian kale (cavolo nero)
5
oz
(150 g)
Speck
5
oz
(150 g)
Garlic
1
clove
Thyme
2
sprigs
Fine salt
to taste
Extra virgin olive oil
to taste
Black pepper
to taste
Preparations


To prepare pasta with delicata squash cream and black cabbage start by cleaning the squash, removing the seeds and skin. Cut it into slices and then into large pieces, around 0.8 inches thick 2: you should end up with around 14 oz. Drizzle some oil in a pan, then add the garlic and sprigs of thyme 3.

Add the squash and brown it on a high flame for a few minutes. Add salt 4, pepper and 2 ladles of water 5. Lower the flame and cover with the lid 6.

Continue cooking for around 15 minutes, until the squash is soft. Now remove the garlic and thyme 7. Place the squash in a tall and narrow container 8 and add half a cup of hot water 9.

Blend into a smooth cream 10 with an immersion blender and leave to one side. In the meantime, cut the speck into slices that are around 0.2 inches thick, then into 0.2 inch strips 11. Brown on a high flame in the same pan you cooked the squash in and add a drizzle of oil if necessary 12.

Brown thoroughly, then remove from the heat 13. Blanch the Italian kale leaves in boiling salted water for 3 minutes 13, then remove with a pair of tongs 15. Save the water to cook the pasta.

While waiting for the water to return to the boil, chop up the Italian kale 16. Now add the pasta 17 and cook so that it is firm to the bite. Place the speck in a bowl 18.

Remove the pasta as soon as it is done with a pair of tongs and add it straight to the saucepan you cooked the speck in 19. Add a couple of ladles of cooking water 20 and add the cream of squash too. Stir thoroughly.

Add the black cabbage 22 and a drizzle of oil 23. Once the pasta is done, add some more water if necessary. Arrange onto plates when ready, garnish with the crispy speck 24 and a grating of pepper if you like. The dish is ready to be served, nice and hot.
Storage

This pasta dish can be stored in the refrigerator for 1-2 days at most.
Tips

Add a pinch of peperoncino for a spicy note!
SHARE

/5


Source : www.giallozafferano.com