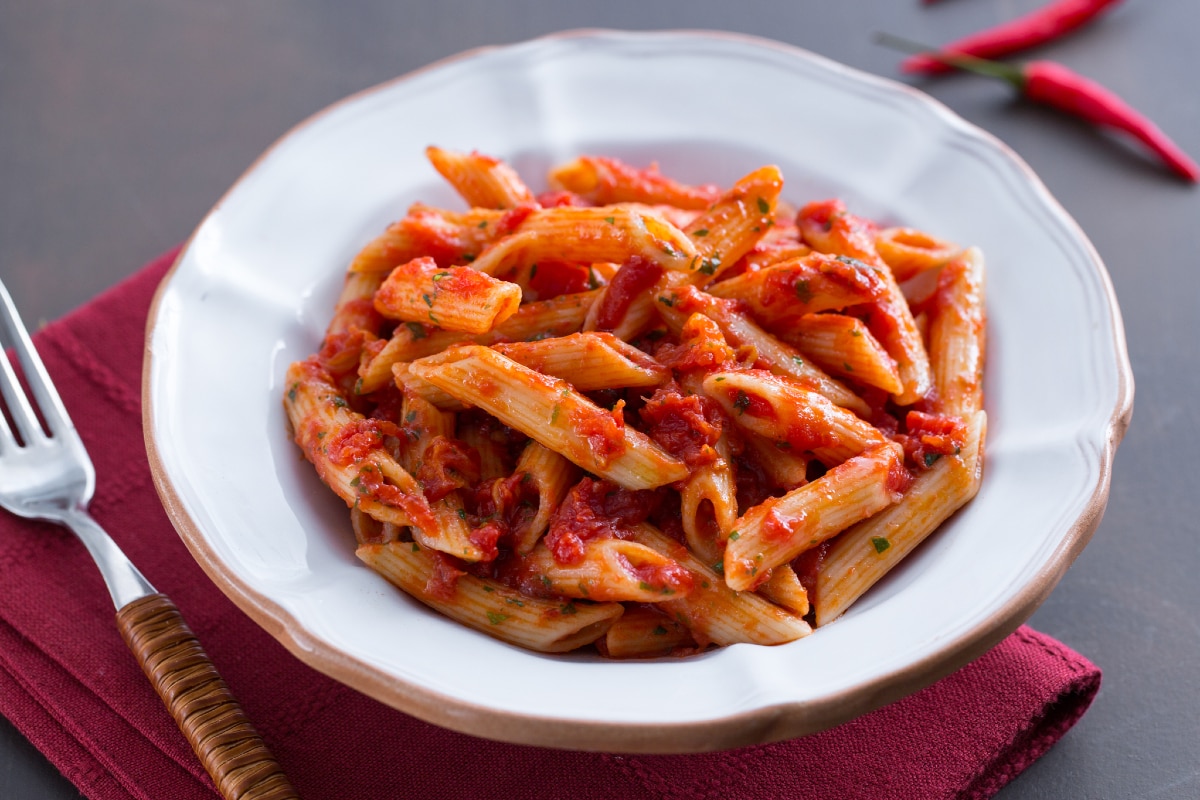 Vegetarian
Lactose Free
PRESENTATION
Penne all'arrabbiata (penne in a garlic and chili tomato sauce) is typical of Roman cuisine, but known everywhere in Italy and even further afield. By now, it's become famous enough to join the ranks of classic pasta dishes such as spaghetti cacio e pepe, pasta alla puttanesca, and pasta alla carbonara. It's a pasta dish that comes together quickly using just a few simple ingredients, with an unmistakable flavor. You'll quickly see that you've created a real work of culinary art! And it's even the star of unforgettable Italian films such as La Grande Abbuffata, directed by Marco Ferreri, or 7 chili in 7 giorni ("7 Kilos in 7 Days"), directed by Luca Verdone. Penne all'arrabbiata is a much-loved recipe, often used as a throw-together snack when friends get together since it's quick and easy to make.  The name "arrabiata" is unique. In Italian, it means "angry," and it seems to come from the fact that someone eating it runs the risk of having their face turn red thanks to the chili in it, giving them the look of a person whose face has turned red out of anger! Some restaurants recommend adding plenty of Pecorino Romano cheese, so feel free to do so yourself.
INGREDIENTS
Penne Rigate pasta
¾
lb
(320 g)
Peeled tomatoes
¾
lb
(380 g)
– drained
Garlic
1
clove
Dried chili pepper
3
– small
Parsley
to taste
Extra virgin olive oil
to taste
Fine salt
to taste
Preparation
How to prepare Penne all'arrabbiata


 
To make penne all'arrabbiata, start by draining the peeled tomatoes. Transfer them to a bowl 1 and crush them with a fork 2 to break them up 3.  

 
Next, crumble the dried chili 4. Place a pot full of water, salted to taste, on the stove to cook the pasta. Meanwhile, pour a drizzle of oil 5 into a pan and add the peeled garlic clove 6.

Now add the chili 7 and fry it lightly over low heat 8, then add the tomatoes 9.

 
Stir 10 it and add salt to taste 11. Cover the pan with a lid 12 and let this sauce cook for around 12 minutes, stirring every so often. 

 
When the sauce is nearly ready, put the pasta on to cook as well. Cook it al dente, following the cooking times stated on the packaging 13. Once 12 minutes have passed, take the lid off the pan 14 and remove the garlic 15. 

Drain the pasta and pour it directly into the sauce 16. Heat through for a minute 17, adding some of the cooking water if necessary 18, then turn off the heat. 

 
Add the chopped parsley 19, stir once more 20, and serve your penne all'arrabbiata while still hot 21. 
Storage

 
We recommend eating the penne all'arrabbiata as soon as you've made it. Alternatively, you can keep it for one day in the fridge. 
Tips

 
Use fresh chili instead of dried and garnish every plate with Pecorino Romano cheese! 
SHARE

/5


Source : www.giallozafferano.com