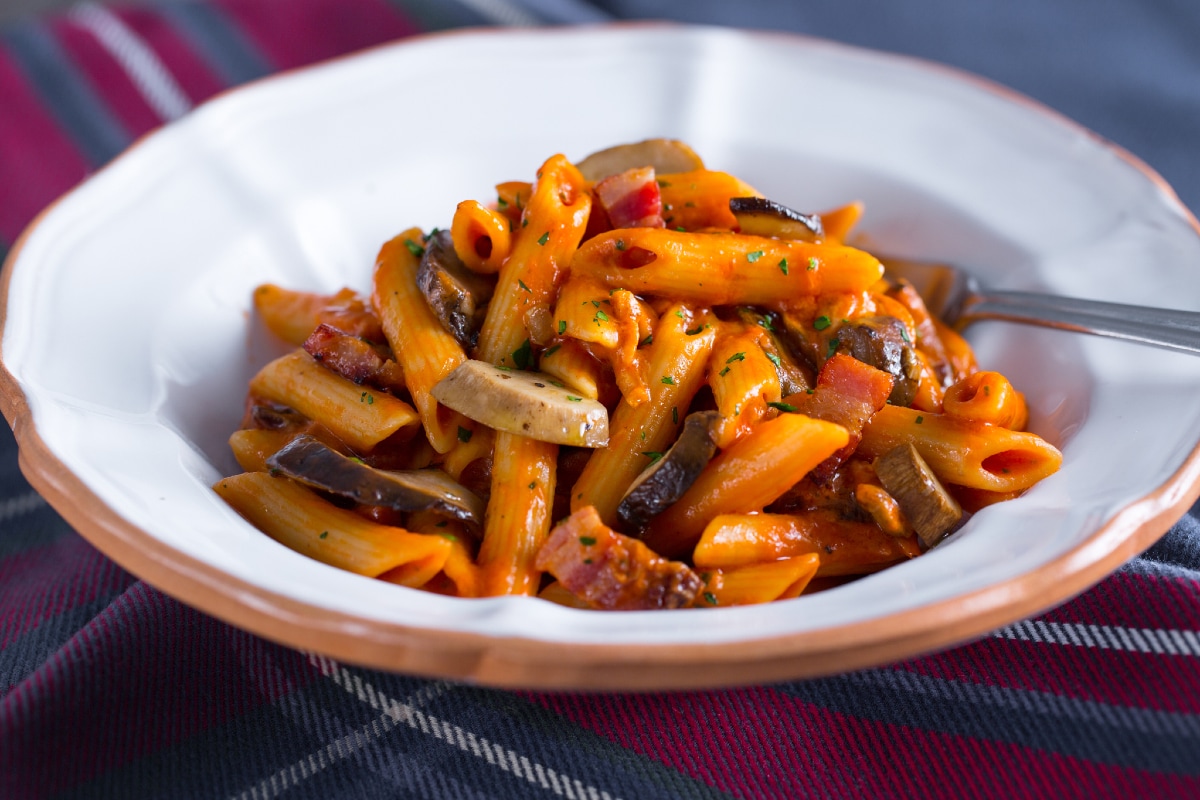 Difficulty: Very easy
Prep time: 30 min
Cook time: 25 min
Serving: 4 people
Cost: High
PRESENTATION
The wonderful aroma of the forest in the fall, that intense, musky smell. To recall that atmosphere, there's nothing better than making a nice, hearty pasta dish: pennette alla boscaiola! The creamy sauce in this dish includes one of the most prized ingredients offered by the forest during the fall season. We're talking about porcini mushrooms, which already feature heavily in sauces for egg pasta, creamy soups, strudel, or simply cooked in oil, garlic, and parsley. In today's recipe, they become the stars of the boscaiola sauce, a creamy sauce made with other tasty ingredients such as pancetta and tomato purée that will make you regret not having doubled it because everyone will want seconds – take our word for it! So, now you just need to make our version of pennette alla boscaiola yourself and let us know if you liked it or how you personalized the recipe!
INGREDIENTS
Pennette rigate pasta
¾
lb
(320 g)
Porcini mushrooms
1
lb
(400 g)
Smoked pancetta
7
oz
(200 g)
Tomato puree
1 ½
cup
(400 g)
White onions
1 ¼
cup
(60 g)
Heavy cream
2
tbsp
(30 g)
Extra virgin olive oil
3
tbsp
(40 g)
Parsley
to taste
Fine salt
to taste
Black pepper
to taste
Preparation
How to prepare Pennette alla boscaiola


To prepare the pennette alla boscaiola, start by cleaning the mushrooms. Remove any excess earth, first with a small knife 1, then with a slightly damp cloth (or a special brush) 2. Then cut them into slices around 1/4 inch (5 mm) thick 3.

Bring a pot full of water to a boil and season with salt. Meanwhile, turn to the pancetta: Slice it and then cut it into cubes of about ¼ inch (0.5 cm) 4. Warm the oil in a frying pan and fry the pancetta over high heat, stirring often 5. This will only take a few minutes; then you can set the pancetta aside 6.

Peel and chop an onion 7, then add it to the pan that you used to fry the pancetta: Let it soften 8 for a few minutes before adding the mushrooms 9. Brown for around 5 minutes, stirring every so often.

Now add the tomato purée 10 and cook over low heat for around 5-10 minutes. Once the sauce has reduced, add the pancetta you set aside 11, and then cook for 5 more minutes 12. In the meantime, start to cook the pasta, which you should drain once it's al dente.

Keeping the heat low, finally add the cream 13 to the sauce and stir to combine 14. Chop the fresh parsley 15

and then drain the pennette and add them straight to the pan with the sauce 16. Stir the pasta into the sauce and sprinkle over the chopped parsley 17 and pepper (and salt if needed) to taste. Give the pennette alla boscaiola a couple of minutes in the pan to make it extra creamy, and then it's ready to be served 18!
Storage

If you'd like, you can keep your pennette alla boscaiola for a day in the fridge, although remember that this could have an impact on the consistency of both the pasta and the sauce.
Tips

You can find pennette alla boscaiola in the regions of Umbria and Tuscany in particular, as well as in other regions of northern Italy. Every place has its own version: without cream, without tomato, with speck instead of pancetta or ham, with other kinds of mushrooms, or the addition of cheese, olives… So, you can change up the ingredients based on whatever you have available, or on your idea of the perfect boscaiola sauce!
SHARE

/5


Source : www.giallozafferano.com