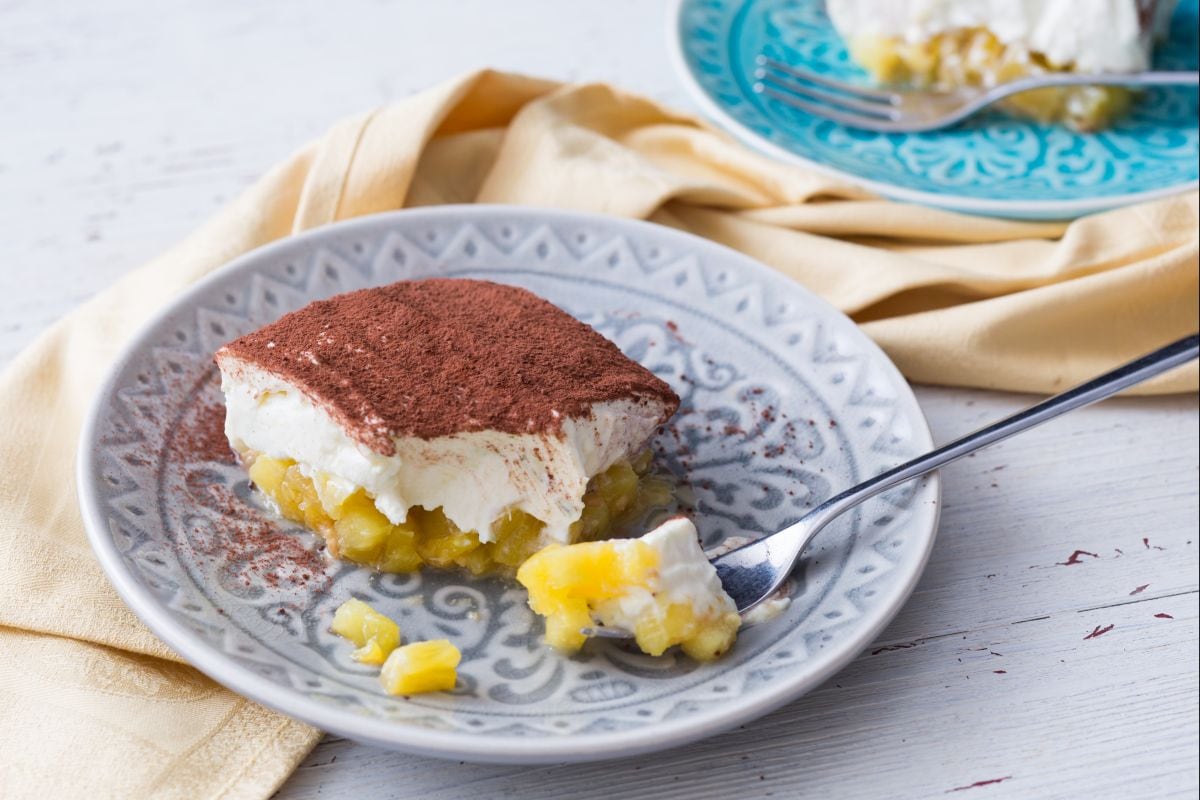 Vegetarian
PRESENTATION
The king of Italian pastry preparations: tiramisu! The most well-known in the world, and also the most recreated in many different flavor variations. We have already made it with lemon, strawberries, orange… in this recipe, we have thought of an exotic version: pineapple tiramisu. It is made only with mascarpone and syrupy pineapple puree, flavored with lime zest. This soft, creamy and enveloping layer will hide a bed of pineapple cubes and ladyfingers. An unusual and refreshing flavor to serve tiramisu in an always new way!
Check out these other tasty variations of classic tiramisu:
Pistachio tiramisu
Orange tiramisu
Lemon tiramisu
Strawberry tiramisu
Strawberry tiramisu without eggs
Eggless tiramisu
Vegan tiramisu
Chocolate tiramisu
Chocolate cream tiramisu
Nutella tiramisu
Gourmet tiramisu
Ricotta tiramisu
Tiramisu with dry cookies
Five spice tiramisu
Tiramisu truffles
Tiramisu semifreddo
Wild berry tiramisu
Pandoro tiramisu
Pandoro tiramisu with baileys
Pandoro tiramisu with wild berries
Colomba tiramisu
INGREDIENTS
513
Calories per serving
Ingredients for a 9"x 6" baking dish
Pineapple
18
oz
(500 g)
Mascarpone cheese
18
oz
(500 g)
Lime peel
1
Ladyfingers
2 ½
oz
(68 g)
– (about 8)
Unsweetened cocoa powder
– to taste
Preparation
How to prepare Pineapple tiramisu


To prepare the pineapple tiramisu, start by draining the canned pineapple from its syrup 1. Then, cut the slices into small pieces 2 and drain again 3 for about 5 minutes.

Blend 1/3 of the diced pineapple with an immersion blender 4 until you get a puree. Combine the puree with the mascarpone cheese 5 and mix to combine with a spatula 6.

Once ready 7, grate the lime 8. Arrange the ladyfingers in a 9"x 6" baking dish 9,

Distribute the diced pineapple 10 and compact everything 11. Then pour the mascarpone cream 12

and level it 13. Garnish your pineapple tiramisu with some unsweetened cocoa powder 14. Put your tiramisu in the fridge for at least 1 hour before enjoying it 15.
How to store

Store the pineapple tiramisu in the fridge and consume it within 2 days at most. Freezing is not recommended.
Tips

If you don't like the combination with bitter cocoa, you can replace it with shredded coconut.
SHARE

/5


Source : www.giallozafferano.com