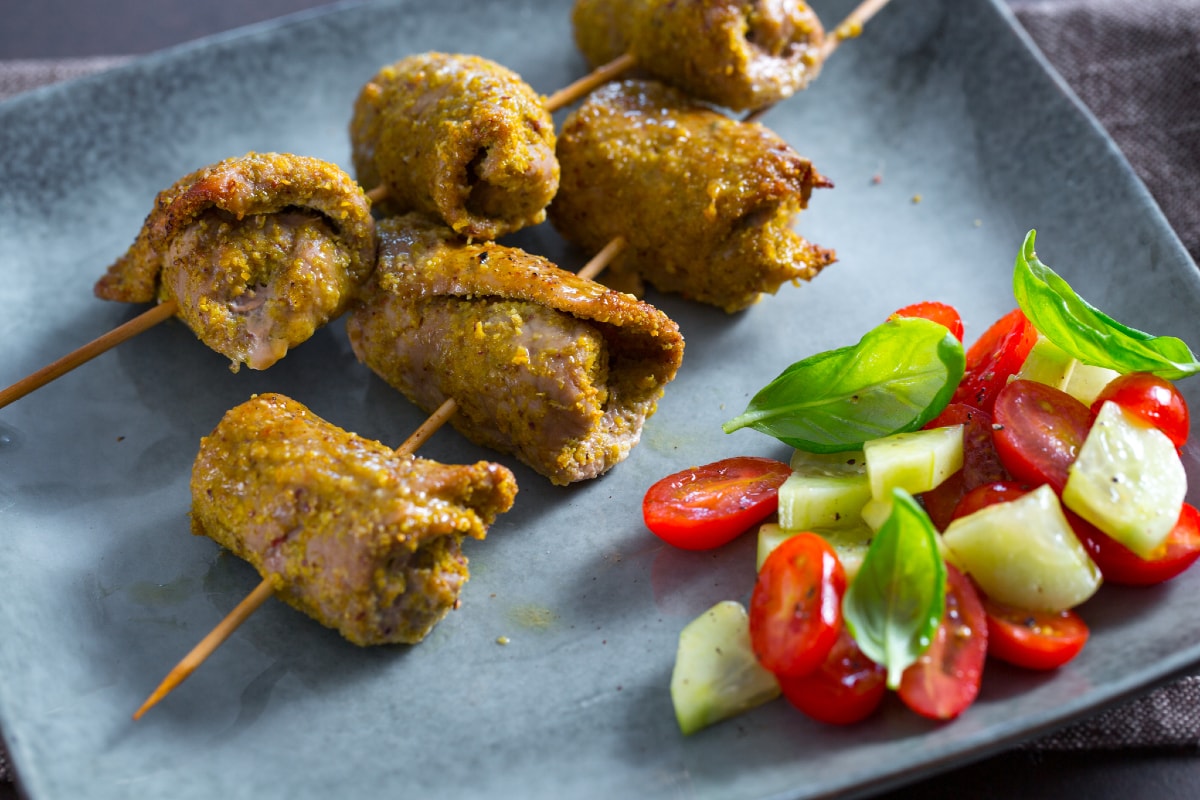 Difficulty: Easy
Cook time: 20 min
Cost: Average
PRESENTATION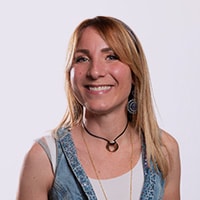 Recipe by
Luisa Orizio
Rolls or skewers? Solve this delicious dilemma with our appetizing pistachio roll skewers.They are easy to prepare and cook in the oven in no time at all, for a delicious and easy meat-based second course. The breading is not made with classic breadcrumbs, but with pistachio flour, which adds a gourmet touch to your dish. Here too we have added the fundamental melted cheese touch: discover these rolls filled with scamorza cheese, bite after bite!
 
INGREDIENTS
Ingredients for 4 roll skewers
Sliced veal
1
lb
(500 g)
– (thinly sliced)
Pistacchio flour
1
cup
(250 g)
Scamorza (provola) cheese
4
oz
(120 g)
Extra virgin olive oil
to taste
Fine salt
to taste
Preparation
How to prepare Pistachio roll skewers


To prepare pistachio roll skewers, start by dicing the scamorza cheese 1. Place the pistachio flour in a bowl and coat the veal slices 2 on both sides. Place each slice on a cutting board 3.
 

Add salt 4 and place a cube of scamorza cheese on the tip of a slice of meat 5. Fold the edges of the long side inwards and roll the meat to create the roll 6.  

Add 3 rolls to each wooden skewer 7. Place the skewers on a tray lined with parchment paper, drizzle with olive oil and cook in a ventilated oven preheated to 390°F for 25 minutes. Once cooked, remove your pistachio roll skewers from the oven and serve hot and melted 9!
Storage

Pistachio roll skewers can be stored in the refrigerator for a couple of days. You can assemble the skewers uncooked a couple of days or hours in advance and store them in the refrigerator until you are ready to cook.
Tips

For this recipe it is best to use pistachio flour rather than finely chopped pistachios, as the finer consistency means it adheres better to the meat. The veal slices must be very thin: flatten them with a meat mallet if necessary.
SHARE

/5


Source : www.giallozafferano.com